(Pictured left to right, Dr. Tim McAdams, Jeff Ferguson and Manny Rivera)
INDIANAPOLIS – Out of all the information that comes out of the NFL Scouting Combine, Scot McCloughan places the biggest emphasis on the medical information provided from 49ers head athletic trainer Jeff Ferguson and his staff.
Sure, all of the hours upon hours of personal interviews and on-field workouts at the Combine play a part in the General Manager's thought process, but not as much as the medical information he receives prior to draft day.
According to McCloughan, what makes him trust Ferguson and the information he receives is because of the trainer's top-notch communication skills.
"I think it's important to remember everyone we see typically has a problem," Ferguson said. "With the problems, you have to be able to communicate. You have to be able to have that interaction with the players to put them at ease."
"All NFL trainers and doctors are certified, and all have good backgrounds, but with our guys, I think it comes down to how they communicate with each other and how they trust each other," McCloughan said.
Ferguson's team consists of assistant athletic trainers Nate Breske and Manny Rivera, along with specialists from Stanford Hospital and Clinics.
"We have Dr. Dan Garza, who is our medical director, and he's responsible for all the general medical issues, we have Dr. Tim McAdams and Dr. Gary Fanton, who are our head team orthopedists," Ferguson said. "They're responsible for all the bone and joint issues."
Ferguson utilizes Garza, McAdams, and Fanton to determine which specialists are needed if players need consultation, whether at the draft or back in the Bay Area during the rigorous NFL calendar.
"It's been a fantastic relationship with Stanford's hospitals, clinics and Stanford's School of Medicine," Ferguson said. "We are a little biased, but they're the best. And we want the best as 49ers."
For the past four years the 49ers and Stanford have paired up to give McCloughan and the 49ers all the medical information they can possibly handle when it comes to making draft day decisions.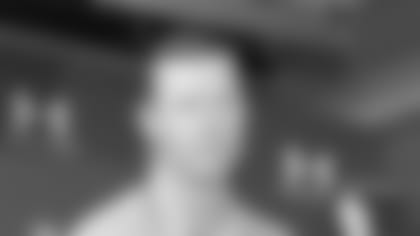 "With Stanford and the 49ers, it's really smooth. What they do is a huge part. We're investing millions of dollars in guys and it would be like buying a used car that you wouldn't check out before you buy, compared to a new car," McCloughan said. "That's how I look at it. If we're going to invest millions, especially in our higher picks, the information they provide is very vital in our draft process."
Not only does Ferguson's disposition make it easier for players to trust him and feel relaxed in his presence, but he also has the conviction when it comes time to stating his opinions.
"It's such a smooth relationship with our medical staff," McCloughan explained. "Everyone does their job and they're all comfortable saying what they really believe."
With this week being one of the busiest for the 49ers training staff, each medical evaluation is crucial in building the roster through the draft.
"We have an opportunity to medically examine and evaluate over 300 young men that we have a potential chance of drafting," Ferguson explained. "It's very important that our physicians and doctors from Stanford are able to do an evaluation and really get a good idea on any injuries, past medical history that would affect their longevity or their durability."
Ferguson and his staff, first review each player's extensive medical history and then give the player a general medical exam that involves a number of things. Last but not least, the players go through an orthopedic exam where muscular, skeletal, bone or any joint issues are investigated.
"Our responsibility is strictly medical, it's up to Coach Singletary and Scot to make the decisions," Ferguson said. "What we do is try to arm those guys with enough information from a medical standpoint that they can make the decisions that they need."
Once Ferguson's work is done in Indianapolis, "That's when the fun starts," he said with a smile.
Ferguson's staff will take all the information gained at the Combine and then they'll go through all the studies that were done, such as MRIs and X-rays.
"I think the key is that we, all of us, enjoy what we do. And it's fun. We don't look at this as work, we look at it like we enjoy it. Not only do we have the professional relationship with the doctors and my assistants, but we've developed that personal relationship as well and that's key."