Joe Staley and Vernon Davis Attend Halloween Heroes Trick-or-Treat Party for At-Risk Youth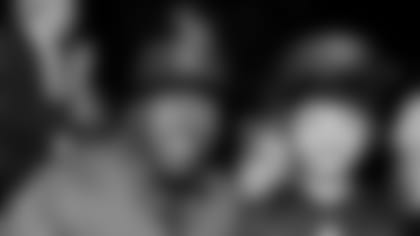 Last week, San Francisco 49ers linebacker Patrick Willis and tight end Vernon Davis were Honorary Chairs and Celebrity Heroes of the Wender Weis Foundation For Children at the annual Halloween Heroes Trick-or-Treat Party in San Francisco's Exploratorium.
The Wender Weis Foundation has been producing Halloween Heroes since 1996. Each year, they partner with one or two organizations that are committed to assisting at-risk children to develop self-esteem, self-confidence, and a sense of camaraderie.
Willis and Davis arrived at the event and didn't get more than five feet from the door before they were swarmed with children dressed up in various costumes, from policemen to Snow White, asking for autographs and pictures. In addition to receiving autographs and pictures of their favorite Bay Area athletes, the children were also able to take part in decorating pumpkins, trick-or-treating, and making Halloween masks. The Exploratorium also had a number of interactive science and art activities available for the kids to engage in.
"I like to go to events like this because when I think about when I was young, I wanted the same thing, to interact with athletes like us," Davis said. "Some people are less fortunate than others and they don't have access to us, and the ones that can get it, they will cherish it for the rest of their life. Anything that has to do with kids, I'm all about it."
Despite their busy practice and meeting schedules throughout the week, Willis and Davis understand the importance in giving back and taking a few hours when possible to give back to their community.
"For us it is important to give back to the community," Willis said. "I know I wish I could do more but sometimes you get so caught up in the job that you have to do here that you don't get to do as much as you want to. But when the time presents itself and an opportunity arises, then I try and do all that I can, and I know other players are the same way."