On Tuesday, September 23 the 49ers partnered with the Bank of America to help build Habitat for Humanity Silicon Valley's 49th home in Santa Clara, and contributed a combined $49,000 towards the completion.
Habitat for Humanity Silicon Valley began construction on three homes on Gianera Street in Santa Clara back in November 2007. Before the efforts on Tuesday, two of the homes had already been framed and were halfway to completion.
San Francisco 49ers owner John York, members of the 49ers secondary including Nate Clements, Walt Harris, Donald Strickland, Mark Roman, Reggie Smith, Tarell Brown, wide receiver Isaac Bruce, and staff helped lay the structure for the last home which included shoveling and laying rocks and sand.
Clements discussed the importance of him and his fellow teammates lending a helping hand to Habitat for Humanity Silicon Valley.
"It feels good to know that you've helped somebody who's less fortunate than you are," said Clements. "The tables could be turned very easily so I just cherish moments like this: going out and helping somebody else. This is the second year I've worked with Habitat for Humanity. We've built homes for lower-income families, and these homes are energy-efficient homes so it's a good thing as well. But the main goal is just to build homes for lower-income families so they can own and enjoy them."
Roman relayed a similar message about giving back to the community.
"We're helping out as best we can," said Roman. "We're doing our part. It's Habitat for Humanity, it's a great cause."
Also participating in the build were Bank of America volunteers and one very excited future homeowner and recipient of one of the Habitat for Humanity Silicon Valley homes, Abraham Negash. Abraham was working alongside some of his favorite players in the hopes of achieving his dream of having a home he could one day call his own.
During the build, Abraham discussed the efforts put forth by the 49ers to help make his dream a reality.
"It's great – the 49ers coming here and helping Habitat for Humanity. I am very, very happy. They are very hard working guys and they are doing a lot of work for Habitat for Humanity today. I thank them."
As mentioned, not only have the players, owners and staff of the 49ers spent time volunteering to help physically build the home but the 49ers and Bank of America jointly donated $49,000 to Habitat for Humanity Silicon Valley so they can continue to build and provide homes for families in need.
According to Robert Freiri, Executive Director of Habitat for Humanity Silicon Valley discussed how the donation will be applied.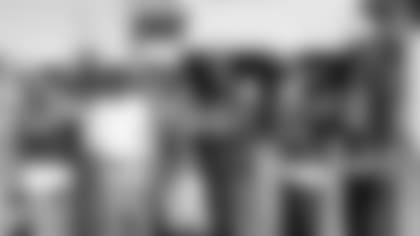 "The donation will go toward building materials for these homes. And so it's very exciting that we get the opportunity to get such a large donation. It's really expensive in our county to build homes. It's one of the most expensive places to live, but also one of the most expensive places to build and so it's great to get that large donation and support from both the 49ers and the Bank of America organizations.
The San Francisco 49ers have partnered with Habitat for Humanity the past two years and are looking forward to continuing this partnership. In the words of Clements to his fellow workers as he left the construction site, "Same time, same place next year."
While the 49ers won't be at the exact location next year, the team will still be helping a hand at a local Habitat for Humanity event in 2009.