When your team is 5-11, it's easy to get overlooked for the NFL's Pro Bowl, but without question 49ers punter Andy Lee and linebacker Patrick Willis deserve to be in Hawaii this week.
"Andy had a great year and he and I were talking when he got in because he has continued to get better and that's what you look for in young players," said AFC head coach Norv Turner and former 49ers offensive coordinator. "He had a great year when I was there and he was even better this year. And then Patrick, what can you say? We've studied him very hard and we actually interviewed him at Indianapolis. It's fun to see a guy like him go out and have the kind of success he had."
As one of three rookies at the Pro Bowl, the 49ers linebacker has amassed several poolside tabs this week from the older veterans, outnumbered however by the admiration he earned after leading the NFL in tackles in his rookie campaign.
"I think it's scary because as soon as I met him, I told him his energy is amazing," said Baltimore linebacker Ray Lewis. "I love Patrick. When we played them earlier in the year in San Francisco, we met after the game, shook hands and exchanged numbers. We've been friends ever since. I think it's a great relationship because I believe I can help him a lot, not just on the field but off the field as a man as well. He's probably one of the greatest people you can ever meet and probably one of the greatest athletes in the league."
That's high praise coming from the perennial Pro Bowler who has been considered the best linebacker in the league over the last decade, but just about everyone had flattering comments about the Associated Press Defensive Rookie of the Year.
"He came out and played hard," recalled Steelers Pro Bowl offensive lineman Alan Faneca, who competed against Willis early in the season. "He definitely showed himself as a new force in the league and he really played a good game. It was a long time ago, but I do remember that."
Pro Bowl wideout Chad Johnson caught Willis late in the season, but nicknamed him Bam-Bam from the Flintstones after studying tape early in the week for the 49ers/Bengals Saturday night game.
"Bam Bam - he's one of the best to play the game at a very early age," praised Johnson. "It's very rare that someone comes in and makes that type of impact. The last person I saw make that type of impact in his first year, and I wasn't even playing yet, was no. 52 in Baltimore. It's kind of early to compare him to no. 52 in Baltimore but I see signs of the same thing."
Willis has earned an equal amount of respect from players and coaches for his humility, something that remained intact even after a trip over the water this week.
"It means a lot to me to hear those compliments because those are guys I look up to and they are great guys," said Willis. "I have really enjoyed having conversations with these guys and getting to know them. We're down to Earth and we're people just like the rest of the world and we've talked and had a good time this week."
The NFC squad is also happy to have Lee on their side in Sunday's all-star game, after all guys like Cardinals defensive tackle Darnell Dockett wound up watching his offense start deep a few times this season because of Lee's strong leg.
"Any time you have a great defense, the punter always plays a big key in it," said Dockett. "He played very well this season and he's been doing his thing, putting the defense in great situations to win ball games."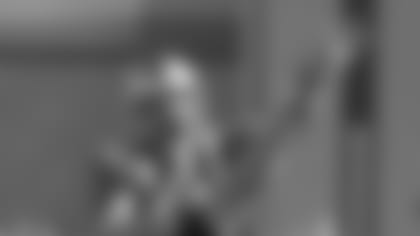 Former 49ers linebacker Julian Peterson, now up in Seattle, said he too was impressed with the way his former teammate has developed.
"It's been a great turn around," said Peterson. "Andy just did a great job. When I was there, he was still kind of wet behind the ears a little bit, but now he's blossomed to one of the best punters in the league. I know when we played him two times during the year, our coach said, 'You might not even get a return off of him because this guy puts so much air under it.' Their team does a good job getting down there because of the punter. He did a good job and hopefully he continues to do that for us this weekend."
Lee will be kicking to Joshua Cribbs, the Browns specialist who shredded the 49ers in the season finale.
"It's very important that I put up good hang times on Sunday because Cribbs hurt me in the last game of the season against Cleveland so I know what he can do," said Lee. "I'm just going to try to pin him on the sideline a little bit and hopefully he won't have much room to run once our guys get down to cover."
Lee's long snapper for the week, Redskins Ethan Albright, doesn't think the NFC squad should have any problems covering.
"Andy's got a great leg," said Albright. "I watched him yesterday. He has a 5.5 second hang time so we'll be able to cover that punt. It's huge to have someone like Andy because, especially in this game, you have great return guys. A guy like Andy who gets great hang time really makes it easier to get guys down field and corral the return man."
Of course, things do get interesting in coverage because although the Pro Bowl features the best of the best the NFL has to offer, it's not usually guys who have much experience playing on special teams.
"It was kind of funny because in the first meeting when the depth chart came out you heard some groans and moans because those guys don't normally do that kind of stuff, but we don't have anyone else here to do it," said Lee. "There's not an in depth game plan though. It's fairly simple so these guys should be able to stick to it even though they haven't done it much, but it will be interesting."