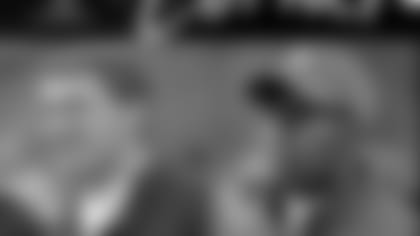 What better way to find out about the type of speed a defensive back must possess than to ask one. So, I went to our starting right cornerback Shawntae Spencer and asked him a few questions about the subject at hand. *
Q: How important is speed at your position?
A: It's extremely important! During the course of a game a defensive back may get out of position when covering a receiver, but if you possess good speed you could possibly get back into position to make a play. I consistently work on my speed during the off-season.
Q: As a DB, how important is straight line speed?
A: Straight line speed is important to a certain degree, particularly on go routes. If a player has great straight line speed, it will allow him to close on the receiver quicker on deeper routes. As a DB, we need to be able to mirror the movement of a wide receiver while initially moving backwards. For example, a wide receiver may run a comeback route. Well, I need to be able to start off in a back pedal and be prepared to run with the receiver as he gets in and out of his breaks.
Q: So, you really need to be able to move efficiently in all directions?
A: Definitely! Personally, I think backpedaling is a lost art form. The key to executing an effective back pedal is possessing good feet and hips. For example, a DB needs to be able to change direction explosively out of a back pedal. A DB needs to be able to react to what they see. Eyes are very important to performing well at the position.
Q: Is it the receivers who are the fastest and the toughest to cover?
A: Not necessarily. Some of the toughest players I have faced haven't been burners. Normally the guys who do not possess great speed possess great technique. I believe proper route running technique is 90% of what contributes to a being good receiver.
Q: By the way, what's your best 40?
A: 4.36
As we just learned, a defensive back must possess an ability to move forward, backward, laterally and start and stop with minimal loss of speed, power, and balance. How do you develop good feet and hips as Spencer alluded to as being extremely important to excelling at the position? That's a question we will answer next week. Go Niners!
This week's featured Fitness Q&A with Coach Parker…
Q: Will the new strengthening and performance training help the injury situation encountered last season? Second is the team as a unit better conditioned this year as compared to the previous year, and how are the players responding to these new systems?
Coach Parker Answers: Strength and conditioning has a lot to do with injuries because health favors the conditioned athlete. The more diligent a player is over a course of a year in his conditioning, the more likely he is to have a healthy, successful season. Also, the more scientifically grounded the program is that he adheres to, the more likely the program is to help him achieve his goals, which are injury prevention and improved performance. I believe our system will do that. I can't comment on what it was like before or say that we are better conditioned than last year because I wasn't here. I just know Coach Carlisle and I conditioned the team based on the needs we saw from the level our players were at when we first started to work with them. I have no idea about conditioning in the past. Any true athlete appreciates being challenged and players have an intuitive sense to what is helpful to them and their career and what is not. So far, they've been very receptive and very cooperative and really have given us their blood.