The 49ers held a light practice on Friday, marking the end of their preparations for Saturday's game against Green Bay.
Even though preseason doesn't count in the final standings, the 49ers offense looks to rebound from last week's inability to punch it into the end zone.
"It's all about scoring points on offense, and we didn't get that accomplished last week," said tackle Joe Staley. "This week against Green Bay we want to move the ball and score points."
Tight end Vernon Davis said it's a matter of execution.
"We want to make plays, pretty much execute every play coach gives us," said Davis. "Blocking well, running the right routes, catching every ball, and having the quarterback throwing the ball well."
The first-team defense enjoyed a strong showing last week, particularly cornerback Walt Harris who broke up two deep balls in his first quarter play against the Raiders, momentum that the starting unit hopes to build upon.
"For the most part, we really want to play as one, eliminate all the mental mistakes and small errors that we make on the field," said Harris. "It's going to be a pretty good game. The first group is going to be playing a lot more than we did in the first game. Playing against Green Bay is a good challenge for the secondary because they are a team that likes to throw the ball a lot, they have a history of getting the ball down the field."
The 49ers watched a limited amount of film on the Packers, but cornerback Marcus Hudson quickly noticed the difference between the Raiders and Green Bay's passing attack.
"They do throw the ball," said Hudson. "They have four receivers in the game at one time and three receivers in the game on early downs which are normally running downs. They are a pass-oriented offense. We're expecting them to come out with a lot of passes."
Hudson also showed up last week, preventing Oakland from taking it all the way to the house on an explosive run play. This week, Hudson would prefer the second-team unit keep those plays from happening at all.
"Our run game wasn't up to par like we normally do," said Hudson.
Head coach Mike Nolan said that some of that came down to a lack of communication, something he has made players like Hudson aware of during this week of practice.
"The more you communicate, it's almost like checks and balances, if you're speaking to one of your teammates and you're telling him what to do even if you're wrong they can turn around and tell you what to do," explained Hudson. "That just goes to show how much communication helps. If you say the wrong thing, at least somebody is hearing what you're thinking and they can correct you. It's definitely something that the second team needs to do."
Improving as a team is first and foremost, but most every player on down the line has their own personal goals as well.
Staley said he was unhappy with his first start over on the left side after spending his rookie year at right tackle.
"I didn't play up to my standards last week," said Staley. "I've been working hard to correct everything I did wrong in that game. There were some positives, but there were also some negatives and I want to correct those. I didn't play as aggressive as I needed to play."
Linebacker Takeo Spikes also looks forward to a chance to suit up on Saturday in his first game with the 49ers.
"It's going to be a good opportunity. I was looking forward to this the whole week," said Spikes. "I crunched in a lot of the defense and some stuff on the field that I'm still trying to get sharp at, but when we get out there I should be straight."
Saturday night's game will kickoff at 6PM PST at Candlestick Park.
Highlights

If his lightning fast reaction on the goal line was any indication, linebacker Joe Staley is already ready for game action. The Pro Bowl backer jumped in front of a receiver, and then showed quick hands to swipe a Kyle Wright pass during a team period.
Cornerback Reggie Smith earned some "There you go Reggie," from his teammates on Friday with a couple of pass break ups. Smith got the inside position on his former Oklahoma teammate, tight end J.J. Finley and then went airborne to knock down a touchdown pass in the corner of the end zone. Smith also took one away from Robert Ortiz, nearly picking it off.
Tight end Vernon Davis had a leaping touchdown reception during 7-on-7 work, while linebacker Dontarrious Thomas picked off a pass down by the goal line. Thomas lateraled the ball to defensive lineman Ronald Fields for a few extra return yards.
Running back Michael Robinson did some light running on field one, under the supervision of the 49ers athletic trainers and strength and conditioning staff.  Robinson has been recovering from a knee scope.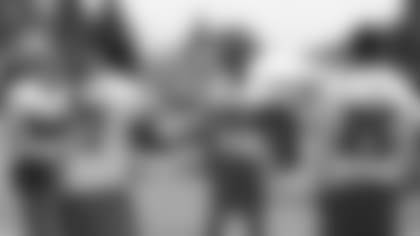 The secondary continues to be a quality source for the Seen and Overheard portion of the practice report. On Thursday, we caught safety Mark Roman playing hopscotch. On Friday, Roman was joined by all of his teammates for a round of a game, similar to hot potato. The defensive backs formed a circle and used two balls that they rapidly fired at each other. The person who dropped the ball had to leave the circle.
The 49ers athletic training staff employs extra hands during training camp to help take care of the 81 players. One of their primary functions is to keep the players hydrated. In recent days, some of the interns are proving to be more popular than others.
"Well we have all of these different flavors of Gatorade so we like to see them mix them up for variety," explained cornerback Marcus Hudson. "We don't just want regular Gatorade in the water bottles anymore because we've got white Gatorade, red Gatorade, blue Gatorade, G2 Gatorade – you name it. So, we want to see them bring their A-game when it comes to mixing this stuff up."
Based on the number of repeated shouts, it appears that Omar Saad is so far the best Gatorade mixer.
"Yeah, he knows what he's doing," said Hudson.
Injury Updates, Playing Time

Although some reports are circling that J.T. O'Sullivan will play the entire first half, Nolan actually said that the first-teamers could play up to the end of the first half. Coach plans to let the game dictate the actual playing time. So, if the offense were to put together a couple of long drives in the first quarter, that could be the end of the evening for O'Sullivan and company.
The only exception to that is for Isaac Bruce and Frank Gore. Nolan said he doubted that either of them would play an entire half, regardless of circumstances.
Cornerback Tarell Brown hurt his hip in Thursday's practice and sat out on Friday. Brown will be a game time decision.
WR Arnaz Battle (hamstring), WR Bryant Johnson (hamstring), WR Ashley Lelie (calf), S Lewis Baker (thigh), G David Baas (pectoral) and RB Michael Robinson (knee) have been ruled out of the game.
Quarterback Alex Smith was excused from practice to attend a funeral in San Diego. He will rejoin the team on Saturday morning.