Some said relief, some said excitement, but really all the 49ers players were feeling in the locker room was joy.
After going four weeks without coming away with an interception, the 49ers defense came up with five of them in a 10-6 home victory over the Chicago Bears on Thursday night in front of a sold out crowd at Candlestick Park.
"There was excitement in the locker room, not so much a relief," wide receiver Josh Morgan said of the 49ers mood after snapping a four-game losing streak. "We felt like, 'Yeah, that's how you finish.' That's what we had to do tonight, finish, and that's what we did."
A national audience watching the game on the NFL Network saw five different 49ers (4-5) intercept Bears (4-5) quarterback Jay Cutler in the team's first victory since a Week 4, 35-0 shutout win over the St. Louis Rams.
"Our DBs tonight – I love them. They had stick 'em on their hands," linebacker Joe Staley said. "Our front line was getting after Cutler, making him scramble and making him move. When you can get the quarterback moving and running, sometimes that messes up their vision and people can come out of nowhere – and our guys did that tonight."
Cutler's fifth interception to strong safety Michael Lewis on the game's final play secured the 49ers win. Head coach Mike Singletary called it "the opposite of the Minnesota game."
While the 49ers ended up on the losing end of a Brett Favre touchdown pass in a Week 3 defeat, the 49ers defense did not let their opposition score on the game's final possession this time around.
"[Defensive coordinator] Greg Manusky and the staff really did a great job coming up with a plan that was effective enough to get turnovers," Singletary said.
The Bears final drive began with 2:47 on the clock and the ball on their 20-yard line. After a defensive holding penalty was negated on what appeared to be a fourth down stop by the 49ers defense, Cutler moved the Bears all the way down to the 49ers 12-yard line with 13 seconds left in the game.
Cutler then tried to find his tight end Greg Olsen over the middle but the play was broken up by Lewis. On the next play, Lewis prevented Olsen from making the game-winning touchdown grab by catching it himself.
It capped a forgetful day for Cutler, who completed 29-of-52 attempts for 307 yards and five interceptions, giving him 17 for the season.
His counterpart, Alex Smith, fared better after committing four turnovers in the 49ers most recent defeat to the Tennessee Titans last week.
In a short turnaround, Smith only threw one interception, but completed 16-of-23 passes for 118 yards.
"I'm happy for this team to get this done and obviously the defense tonight played lights-out," Smith said. "To do what they did in the fourth quarter when the game is on the line was great to see."
The 49ers struggled at times against the Bears, totaling 216 yards on offense for the night, but ultimately had success when it counted most. With a four-point lead and the ball on their 18-yard line, the 49ers offense chewed more than six minutes off the clock, while primarily running out of the shotgun formation. It was then, according to Smith, that the offense made its most significant contribution to the win.
"Our offensive line played well, it's hard to really tell without looking at film. But I thought they played well, especially in the fourth quarter when we were running the ball in that last drive," Smith said.
After insisting his offensive line was making strides despite implementing two new starters in recent weeks, Singletary was happy to see his line perform well in the game's waning moments.
"That was very good to see, because that's exactly what I'm talking about, we just have to do it more effectively," he said. "But our offensive line is continuing to gel and I'm excited to get back and look at the film."
Behind an improved offensive line, running back Frank Gore carried 25 times for his 17th career 100-yard game (104 yards) and a touchdown.
Gore scored the game's only touchdown from 14 yards out after cornerback Tarell Brown picked off Cutler when his intended receiver, Devin Hester, fell down coming out of his route.
"He ran a double move, stutter comeback and I just tried to jump the route and he slipped coming out of his break," Brown said of his first interception of the season and third of his career. "I was just trying to make a play and do the best that I could for the team."
Brown's interception followed one on the Bears previous drive, when defensive tackle Aubrayo Franklin got his first-career interception by picking off Cutler in front of the end zone.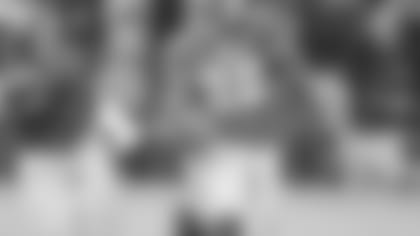 "I was pretty tired out there, we had been on a long drive. Luckily, God blessed me to get the pick. I tried to run with it but I didn't have any legs left to go anywhere," Franklin joked of his 10-yard interception return.
In the second half, safeties Dashon Goldson and Mark Roman added interceptions of their own with Lewis' pick sealing the win.
Roman's interception set the 49ers up inside of Bear territory and from there, the 49ers added to their lead with a 21-yard field goal by Joe Nedney making the score 10-6.
The field goal would not have happened without the hustle of Morgan, who pounced on a Gore fumble.
Gore carried the ball 25 yards down the right sideline before being stripped from behind by Chicago cornerback Spencer Tillman. But Morgan's excitement over Gore's run paid off as he found himself in the right place at the right time.
"I was going down to celebrate with him if he broke it," Morgan said with a little chuckle. "I thought he was going to cut it back inside and I was really planning on blocking someone if he cut it back. I saw the ball popped out and I just hopped on it."
Morgan's effort was the epitome of an all-around team effort. With the 49ers offense able to move the ball late in the game, combined with five forced turnovers and excellent special teams coverage against Hester – the team has a lot to be proud of.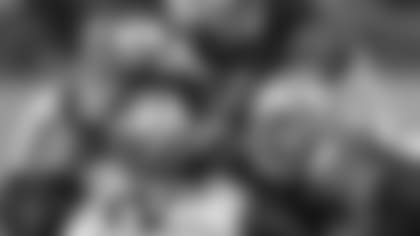 "We played alright, but we still can play better defense," Willis said. "We still have to stop giving up the big play."
The 49ers gave up several large gains to Bears running back Matt Forte via the screen game, but overall the run defense bottled him up, holding him to 41 yards on 20 carries. Forte's only explosive plays in the passing game as he finished the game with a game-high eight receptions for 120 yards.
And while his team was able to snap their losing streak while not being distracted by storylines he was involved in, Singletary was pleased to win "the next game on the schedule."
"I think, for us, we took a step. Anytime you're in a game against a good football team… I think we hung in there, we fought, we didn't lose our poise," he said. "We have to continue to work to eliminate those because great teams don't do that and that's what we're aspiring to be. We just have a lot of work to do and I just think that our young guys did step up and I was very pleased with the way they fought and finished it."
Postgame Injury ReportThe 49ers PR staff released the following injury report following the Bears game:
Takeo Spikes (hamstring sprain), Adam Snyder (AC strain), Curtis Taylor (knee contusion), Michael Lewis (stinger) and Arnaz Battle (quad strain).