The 49ers special teams played their most solid game of the preseason, scoring on a 52-yard Joe Nedney field goal and off a 101-yard kickoff return by Delanie Walker, but a mishap in the final few minutes ended up costing San Francisco the game.
With returner Allen Rossum sidelined with a chest contusion, first-year receiver Robert Ortiz saw action as the team's returner and unfortunately muffed a Mark Scifres' do-over punt. San Diego quickly converged on the ball, setting their offense up at the 49ers 17-yardline with 2:20 left in the game.
"It was bouncing, it took a bad bounce and it then it bounced high enough that I thought I could pick it up," said Ortiz. "I couldn't hold on to it and that's just how it went. I just felt confident in my ability and I tried to make a play. I wasn't thinking I have to make a play, it was nothing like that. It was more, I saw an opportunity and I tried to make a play. I just hope I never do that again."
The 49ers backup defense twice forced the Chargers into fourth down situations, and nearly picked off two passes on the drive, including a ball that went in and out of the hands of rookie linebacker Larry Grant. But San Diego prevailed as quarterback Charlie Whitehurst, who played all but one series of the game, dropped a 2-yard touchdown pass over the head of corner Marcus Hudson and into the awaiting hands of running back Eldra Buckley for a 20-17 go-ahead score.
"It was a hard fought battle," said linebacker Dennis Haley. "On the last play he made a good catch. There was good coverage but he made a good catch. It was real frustrating, preseason or not you want to win. It was a good effort but you're definitely disappointed when they score a final touchdown."
Third-string quarterback Shaun Hill had 22 seconds to work with after Walker's return, and completed passes to Jason Hill and Dominique Zeigler to advance to the Chargers 33-yardline. With two seconds left, head coach Mike Nolan forewent the tying field goal and instead kept the offense on the field. Hill aired one out to Ashley Lelie in the end zone, but the ball was picked.
Nolan explained his decision after the game.
"In the preseason, we play to win," said Nolan. "And the other thing was after the fumbled punt we went back out there, which we would have liked to have seen our offense back out there, I don't know what the extent of Parys' injury but that happens two plays later. I didn't want to make this thing any longer than it had to be. I wanted to win it, but I wanted to win it going for it as we did."
In a night where both teams rested most of their key starters, quarterback Alex Smith finally got his chance to start a preseason game. It was a shaky first half for the former starting quarterback with Chargers cornerback Cletis Gordon picking him off twice, and dropping a third.
"I did feel comfortable tonight," said Smith who finished 12 of 17 for 146 yards, one touchdown and two interceptions. "I was trying to let the ball go. I'm seeing things well, there's a couple of things I'd like to change."
Smith rebounded in the second half and marched his mostly second-string offense 90 yards in 11 plays to score on a 22-yard touchdown pass to tight end Billy Bajema.
"Alex trusted to me to go make a play. We both had our hands on the ball and I was able to pull it away from him and come down with it," said Bajema. "Once I was able to take it away from the defender there was no one around so I was able to march in and score the touchdown."
Smith retired for the night after the touchdown, which gave the 49ers a 17-13 advantage, their first lead of the night.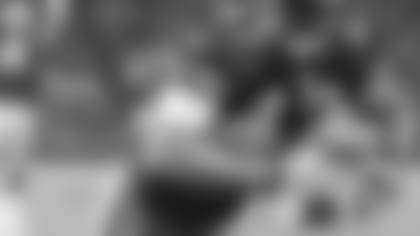 "It was great to get that many reps with those guys out there and getting some tempo," said Smith. "We some drives together and obviously we'd like to capitalize on them a little more. It was good to be out there."
Hill had an opportunity to extend that lead on the following series, but he was intercepted on a 3rd and 8 throw to Bajema at the Chargers 24-yardline.
Still, the 49ers held onto that lead until the final minute when they committed their fifth turnover
Hill finished 6 of 10 for 69 yards and two interceptions.
Billy Volek started the game in place of Phillip Rivers for San Diego and engineered a 12-play, 79-yard scoring drive to take an early 7-0 lead. His 6-yard touchdown pass to fullback Mike Tolbert was his final throw of the night, and kept him perfect with 6 of 6 completions for 55 yards.
An illegal celebration by Tolbert set Smith and company up at their own 41-yardline to start the game on offense. Receiver Bryant Johnson made his debut with the 49ers with a 23-yard catch on the first play of the game, which set the 49ers up in San Diego territory. Johnson also caught a 10-yard pass to set Nedney up for his long field goal.
With 5:55 to go in the second quarter, San Diego extended their lead 10-3 with a long Nate Kaeding field goal from 49 yards out.
But Walker made it look easy on the ensuing kickoff return, reversing from his left to his right to take advantage of a block by Michael Robinson and go the distance. Kaeding could have stopped the 49ers tight end, but he pulled up and let him go for the game-tying touchdown.
"I have to thank Mike Rob. He had a big block for me," said Walker. "Once he opened it up, I got around that corner, I saw Jeff Ulbrich, he set the edge for me, I saw the kicker and I think he saw 250 pounds coming his way, he stopped and I just kept going down the sideline and that's where I ended up in the end zone."
The Chargers kicker helped his team take back the lead on the following series with a 35-yard
Smith had a minute and six to work with in the half, but his 1st and 10 pass was picked by Gordon. The 49ers escaped the turnover a few plays later when Kaeding missed a 32-yard field goal as time expired in the first half.
The loss dropped the 49ers to a 2-2 preseason record.
Game Injuries: NT Aubrayo Franklin left during the first series of the game with a knee sprain. NT Ron Fields also suffered an elbow strain in the first series, but he returned to action. LB Jay Moore left the game with a biceps injury. LB Parys Haralson suffered a shoulder injury during the final defensive series of the game.