Head coach Mike Nolan said that the team will keep the same quarterback rotation for Thursday's game, going with J.T. O'Sullivan first, Alex Smith second, and Shaun Hill third.
"The quarterback rotation will be the same for Chicago on Thursday. We have a short week to prepare, and I want to keep the team focused on the Bears," said Nolan. "The starters will most likely play the first half, with the second unit coming in during the third quarter."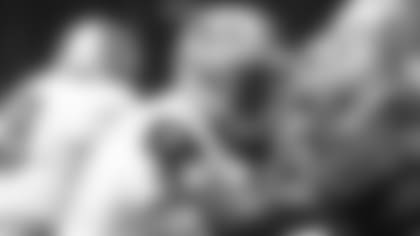 The 49ers wasted no time diving into their preparations for the Bears, utilizing the scout team to replicate Chicago's schemes during Monday's afternoon practice in shells.
"We're just at that point where we are getting closer to the regular season so you want to start easing into a normal work week," said tackle Barry Sims. "Plus, it's a short week with a game on Thursday already."
Wide receiver Jason Hill said it's a good opportunity for younger guys to start to get a feel for what the regular season will bring when it comes to actually game planning for an opponent.
"Once the season starts and we are installing, they throw the whole book at us, so this is good practice, and will give guys a better idea of the way Coach Martz does things," said Hill.
While the first-team might retire at the end of the half, Hill expects to play almost the entire game, given the injury situation at his position and the limited use of Isaac Bruce.
"It's great to get more opportunities to get timing down with the quarterbacks – whether it's J.T., Alex or Shaun," said Hill. "I love being out there. I've been prepping myself for this opportunity. I did hurt my groin in the first game but I was able to bounce back and I felt fresh last week in the game and I'm trying to make the most of my playing time."
Hill used those fresh legs to escape his defenders on a few run opportunities in Saturday night's game against Green Bay.
"I think those kind of plays are plays that I can do when I'm healthy," said Hill. "This is a fast league, and so it's difficult to make those plays when you are a wounded duck. It was good to be healthy and in that situation where I could make a play, and hopefully I can make some more."
Safety Dashon Goldson picked off a deep ball during 7-on-7 work, while cornerback Walt Harris stole a short pass in team.
Harris also had blanketed coverage to break up a deep Shaun Hill throw to Cameron Colvin.
Cornerback Shawntae Spencer earned a pass break up during team, while cornerback Marcus Hudson knocked down an Alex Smith ball during 7-on-7.
J.T. O'Sullivan connected on a handful of crisp passes during 7-on-7, including long balls to Vernon Davis and Josh Morgan. O'Sullivan also hooked up twice with Delanie Walker, although they were throws that could have gone either way. His first pass hit the wrong side of Walker's body, but the tight end was so open that he was able to readjust and make the catch. Walker also ended up with a ball that buzzed right through the hands of linebacker Dennis Haley.
O'Sullivan delivered his best throw on a touchdown bomb in the middle of the field to receiver Isaac Bruce, for the top highlight play of team periods.
Quarterback Alex Smith also threw a nice deep ball along the sidelines to Dominique Zeigler, who used great footwork to come down in bounds.
Seen and Overheard

The offense switched back to white jerseys this week with the defense suiting up in red.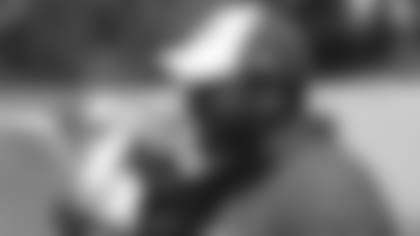 Secondary coach Vance Joseph has been using a hand-held radio to give the signals to the safeties wearing the headset in their helmets. Per the new rule, one defensive player on the field can wear a headset, similar to the quarterback on offense.
One of those players experimenting with the headsets has been starting safety Mark Roman.
"It's definitely something that needed to be done," said Roman. "It evens out the playing field a little bit, because offenses can't check with you as much. When there was no headset, we had to corral guys on the sideline. Then we had to relay to guys standing in the huddle what the call was. Now, I can say it immediately and guys can start moving out. It helps us with everything, adjustments, it's easier for us to get the calls in and it's easier for us to make substitutions as well."
Following the touchdown catch by Bruce in team, kicker Joe Nedney commented, "That's something I hope we see a lot of all season long."
The specialists ran a few gassers to keep themselves busy during practice, and then played a few kicking games. They also talked about important chores on their to do lists.
"I think one of these days I'm going to go get a hair cut," said punter Andy Lee to Nedney.
After looking at the long hair poking out of the back of Lee's hat, Nedney agreed that it might be a good idea.
Ron Fields and Aubrayo spotted some of the injured receivers wearing new black with yellow lined tights, prompting Fields to ask head athletic trainer Jeff Ferguson what happened to their tights.
"They needed extra time to make tights for you big guys," said Ferguson. "It could take them a while."
While the first-team offense worked against the defensive scout team, defensive coordinator Greg Manusky took linebacker Takeo Spikes to the opposite field for some one-on-one teaching. Spikes is still trying to get caught up after signing with the team last Sunday.
During one of the individual periods today, the offensive line worked on "smash" - a backside zone blocking combination between the guard and center on inside runs.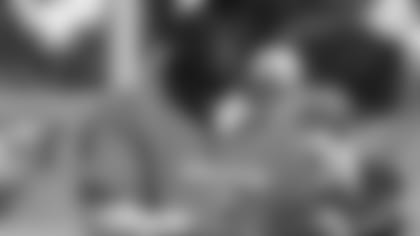 "We are basically double teaming the nose tackle to the MIKE linebacker," said offensive line coach George Warhop. "We use it when the linebacker is not a fast flow player so we can try to double the nose and get him off the line."
Although the first read for the running back might be to the outside, the offensive line always looks to provide additional running lanes for cutbacks, and this is the maneuvering that helps make that happen.
If the defensive line plays it straight, the center and guard will first double the nose, looking to move the tackle vertical up the field. Depending on which way the linebacker flows, either the center or guard will drop off the nose and then move out to go hit the linebacker.
"You've got to be square. If they turn their shoulders at all, they'll never be able to adjust to the linebacker," said Warhop. "Sight is also important. They can never lose sight of the backer or what is coming at them."
If the nose does cross the center's face, or if the defense runs a stunt, the guard will likely have a defensive end coming at them, one they should then help "bang back," before getting to the linebacker. And that was the second part of what the line worked on during the period.
"If the d-linemen I start off working on runs away from me, he's no longer a threat to me," explained right guard Tony Wragge. "What is a threat at that point is usually going to be the defensive end."
Wragge said he concentrated specifically on his footwork and his peripheral vision during the drill.
"You might have your hands on that nose but you want to have your eyes trained on what is coming from the other direction," explained Wragge. "So, you've got to have good peripheral vision and spatial awareness."
Wragge said the drill should help the line this week in Chicago, and throughout the season.
"We can get huge plays on those cutback runs if we block it right," said Wragge. "Every defensive uses a different scheme and it's just a matter of us being prepared and knowing what to do when we get into a game."
Tackle Jonas Jennings broke his hand in Saturday night's game against Green Bay. He missed Monday's afternoon practice to have surgery, and will miss Thursday night's game against Chicago. Nolan said Jennings should be back for the final preseason game against San Diego.
T Barry Sims worked in his place on Monday.
"You have to be ready at all times," said Sims. "Hopefully he gets better quick, but at the same time, I've got to do my thing. I will go in there when needed and I expect myself to be ready."
Cornerback Tarell Brown returned to individual work after missing the game with a hip injury that also kept him out of practice on Friday.
Quarterback Kyle Wright was held out of practice with a sore knee.
Safety Lewis Baker (thigh), running back Michael Robinson (knee), wide receivers Arnaz Battle (hamstring), Ashley Lelie (calf) and Bryant Johnson (hamstring) remain out. G David Baas also remains on PUP.