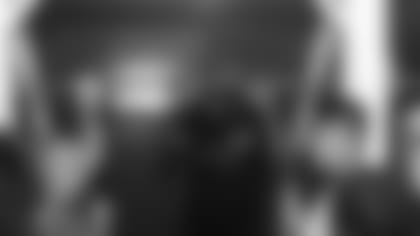 Click HERE to watch video of the grand opening.
The 49ers are just days away from the NFL's regular season kickoff weekend, but the action got started on Tuesday when the team celebrated the grand opening of the 49ers Fitness Zone, located at the Craig and Linda Connelly Field House on Townsend Field at the campus of Buscher Middle School in Santa Clara.
The 49ers Fitness Zone, made possible by a partnership with the Good Tidings Foundation, a $20,000 grant from the 49ers Foundation and NFL Charities, and generous in-kind support from the local business community, includes a full weight area, a cardio fitness space with treadmills and elliptical machines, and fresh carpet highlighted by a 49ers color scheme for the children. Around the room were also life size murals of a few of the 49ers alumni players Joe Montana, Jerry Rice, Steve Young and Ronnie Lott.
The grand opening started with speeches from 49ers team owner and Vice President of Strategic Planning Jed York and 49ers Vice President of Communications Lisa Lang.
"The 49ers Foundation really believes in giving back to kids and making sure that kids have a safe, healthy environment to be active and to be healthy," said York. "When you look at this facility, it looks the 49ers weight room. So when you have a sixth, seventh or eighth grade kid coming in here, they feel like they are working out like a professional athlete. I think that will encourage kids to really come in here and take advantage of this."
The crowd also heard from Larry Harper, the Executive Director of The Good Tidings Foundation, Ken Yeager, the Supervisor of Santa Clara County, Steve Stavis, the Superintendent of Santa Clara Unified, Lizandro Carrasco, a representative from Senator Alquist's office, and Santa Clara Mayor Patricia Mahan.
Once the opening remarks and speeches concluded, Mayan handled the scissors and cut the ribbon to officially open up the 49ers Fitness Zone.
49ers tight end Vernon Davis, wide receiver Isaac Bruce, cornerback/returner Allen Rossum and strength and conditioning coaches Duane Carlisle and Mark Uyeyama were also on hand to give demonstrations on how to properly use the equipment and to speak with the youth about the importance of staying physically active.
"We tried to instruct the kids, first of all, about safety. The first thing as they walk through the door is to have that frame of mind that safety is first," said Carlisle. "Number two: we talked to the kids about proper warm-up, nutrition, getting the proper rest and recovery. We also talked about making sure that they take advantage of what they have here consistently."
The 49ers Fitness Zone provided the 49ers with an ideal way of promoting the NFL's Play 60 program, which encourages children of all ages to log 60 minutes of fun physical activity every day.
Staying physically active at a young age is something Rossum truly believes in. The 49ers off-season free agent acquisition has his own foundation to fight childhood obesity and is firmly behind the NFL's Play 60 program.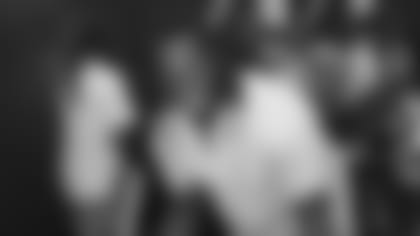 "Play 60 is very important for a number of reasons. Recess and physical education is rapidly being taken out of a ton of schools across America. It is important that someone like the NFL, the number one sport in the world in my opinion, is pushing for kids to get out and exercise and eat healthy," said Rossum. "With the alarming rate at which childhood obesity is rising, and Type II diabetes, and the number of kids that are not only obese in their later years, but also at early ages, I think it's something we really need to tackle. And with the NFL and Play 60 behind us, it's going to get a tremendous amount of coverage. Hopefully, someone is going to wake up and put physical education back in schools."
Santa Clara County Supervisor Ken Yeager shares Rossum's passion for this issue.
"Childhood obesity and adult obesity in Santa Clara County is something that we all need to take very seriously. One quarter of all kids in Santa Clara County are overweight or obese, and one third of all adults are obese or overweight. We know that if a child is overweight or obese that they might well grow into an adult that's overweight or obese, and the health problems related to obesity are just terrible, particularly when it comes to heart disease and diabetes, and any number of things that can really cut short a life. So the fact that the 49ers are so involved in youth activities and youth sports, and getting kids to be more active so that they do have physical exercise and they understand diet and health really will go a long way to make sure that these kids have very long, happy and productive lives."
The lives of Buscher Middle School students aren't the only ones who will be impacted by this new facility. Buscher Middle School and the Santa Clara Lions Pop Warner teams are currently in a joint partnership of the Craig and Linda Connelly Field House enabling both organizations to benefit from the newly renovated fitness area.
In addition to the San Francisco 49ers and The Good Tidings Foundation contributing to the project, the Santa Clara Unified School District, the Santa Clara Parks & Recreation, the City of Santa Clara, the Pacific Athletic Club, the Decathlon Club, Mahoney Floors, and Doherty Painting all participated in the revamping of this fitness space through donations and time to benefit the youth of Santa Clara. A special thanks to 49ers team partners Samsung for donating a Z410 Home Theater System and Kelly-Moore Paints for donating the paint.
"The Good Tidings Foundation partners annually with all private Bay Area sports teams, including the San Francisco 49ers for the past couple of years. We thought, 'How can we get more kids involved, especially the girls?' So we created the 49ers Fitness Zone project," said Harper. "This is first-rate, top of the line fitness equipment that you'd find at the finest fitness centers for adults, and the kids have exposure to it so we hope they take great advantage of it."