The San Francisco 49ers are looking to recognize individuals who are dedicated to making a difference in the community. The 49ers Community Quarterback Award Program recognizes volunteers who demonstrate leadership, dedication and a commitment to bettering the San Francisco Bay Area.
One Community Quarterback Award Winner will receive $1,000 for his/her nominating organization and five finalists will each receive $1,000 grants for their nominating organization.
The winner and finalists will be recognized in a pre-game, on-field ceremony prior to the 49ers October 30, 2011 game versus the Cleveland Browns. The winners and a representative from their nominating organization will also be invited to attend an exclusive luncheon where they will receive their award trophy and the organization's check.
To be eligible, individuals must be over age 13 and provide volunteer services for nonprofit organizations. Participants must serve in a volunteer capacity at an official 501(c)(3) organization and may not receive compensation for their services.
Applications must be postmarked no later than August 31, 2011 to be eligible for consideration.**
2010 Community Quarterback Award Winners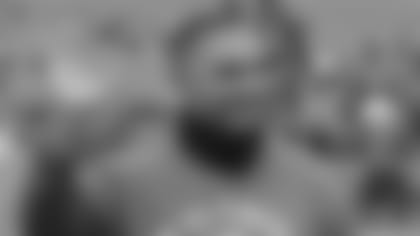 OVERALL WINNER**Name: FERNANDO AGUILAR
Org: BOYS & GIRLS CLUB OF SAN FRANCISCO
For over 20 years, Fernando has been a significant part of the Boys & Girls Club of SF - as a camper, counselor and adult volunteer. In his capacity as Project Manager, Fernando wears many hats and is often challenged to oversee projects that take several years to complete while ensuring the long-term commitment of his crew (all of whom are volunteers themselves). Fernando grew up in the Boys & Girls movement. He lives the mission of our organization – he is the productive, responsible, and caring citizen that we guide all Club members to become. He is a true example of what giving back to your community looks like.
FINALISTS1. Name: KEALA KEANAAINA
Org: SAN MATEO POLICE ACTIVITIES LEAUGE
As a school resource officer, he saw a need to reach out to the Pacific Islander youth in San Mateo County who were at-risk of failing school, had truancy issues, were getting into trouble with the law and had gang involvement. In Dec. 2007, Keala & PAL founded the PAL Rugby Program as a way for these youth to avoid the downward spiral of becoming gang members while developing positive relationships. Since its inception, Keala has been the assistant coach, general manager and a mentor.
Name: ADRIAN AGUILAR
Org: SUNNYVALE COMMUNITY SERVICES
Marie Barlahan, Director of Sunnyvale Community Services said, "At the young age of 14, Adrian has volunteered twice a week for four two years at our agency and is by far one of the most dedicated & hard working student volunteers at our agency. He works in our food program: sorting, packing, & distributing bags of food to over 1,300 families each month. He also works the Summer Food Program & School Supplies Drive: sorting & packing backpacks to low-income students so they have a good start in the new school year."
Name: ELENORE MCGORTY
Org: MERCY RETIREMENT & CARE CENTER
This 93 year old Community Quarterback is both our brains and brawn. For 30 continuous years she has served in a variety of capacities. As an original volunteer she helped form the program. She has gathered produce and bread from farmers' markets and local bakeries, sorted donated food, created bags for distribution, and managed all required paperwork while distributing groceries to low-income seniors. She has served as a spokesperson for the program and offered help wherever there was need.
Name: TRACEY REDIG
Org: LIFEHOUSE
Tracy has been a life-long volunteer for organizations that serve those with developmental disabilities. Tracy has been involved with Lifehouse since 2000 and her contributions have grown more significant each year. For the past 5 years, Tracy has co-chaired the Great Chefs event, which raises $350,000 annually. Her work involves countless volunteer hours. Tracy leads with her unfailing dedication, commitment, and heart to help those less fortunate in our community.
Name: JEFF BURNHAM
Org: TURNING WHEELS FOR KIDS
Jeff has been a key board member of TWFK since inception. Jeff has generously given of his time and talents for the past 5 years. He is the one that came up with the name, logo, tag line "A Cycle of Caring", letterhead, brochure, the annual newsletters, the marketing packets, banners, etc. He has printed all TWFK material and absorbed the cost into his company, allowing TWFK to purchase more bikes. Also, Jeff has provided warehouse storage and use of his delivery truck to TWFK at no cost.