A group of over 50 female high school athletes gathered at the San Francisco 49ers practice facility on Friday, March 6th for the inaugural T.H.I.N.K Gold conference co-hosted by the San Francisco 49ers, FC Gold Pride and the Bay Area Women's Sports Initiative (BAWSI). The title, T.H.I.N.K Gold, represents the event's objectives of imparting tips about "Training, Health, Inspiration, Nutrition, and Knowledge" for success in athletics and life.
The morning kicked off with breakfast and welcoming remarks from 49ers Team President Jed York, 49ers Chief Operating Officer Andy Dolich, FC Gold Pride General Manager Ilisa Kessler, and BAWSI's Co-Founder Marlene Bjornsrud.
When asked about the importance of the program, York said, "The biggest thing is making sure that people understand that we're very supportive of women's sports. When you look at where we are today, it's really important that kids break down barriers. And the easiest way to do that is through sports."
After the welcoming remarks, the student athletes then moved into an interactive session with the nationally-acclaimed ATHENA program, where they learned about healthy sports nutrition and strength-training alternatives to the use of alcohol, illicit and performance-enhancing drugs.
Following the ATHENA session, the youth headed out to the football field where 49ers Head Strength & Conditioning Coach Duane Carlisle and FC Gold Pride Head Coach Albertin Montoya ran the girls through workout exercises they can apply to each of their individual sports. Coach Carlisle and Coach Montoya also gave the girls exercise tips on how to help stay healthy and injury free.  Also during the field workout, the girls were treated to a few special visits from Head Coach Mike Singletary, tackle Joe Staley and guard Chilo Rachal.
The breakout session was followed by one of the highlights of the day: a keynote speech with FC Gold Pride's Brandi Chastain. Chastain spoke for more than 30 minutes about her experience as a female soccer player and some of the knowledge and insight that she has obtained during her life-long commitment to athletics.
"Sports transcend the line of whatever court or field you play on," Chastain said. "So the rules still apply: you have to do the work, you have to do the due diligence, you have to be dedicated, you have to be passionate, you have to truly just dive in with two feet and make the most of it."
Chastain talked about the importance of setting goals, making a commitment, challenging oneself, being a member of a team, communication and being creative. The T.H.I.N.K GOLD! participants listened intently as she shared her passion for leadership and hard work in sports and life. She also had one more message for the girls.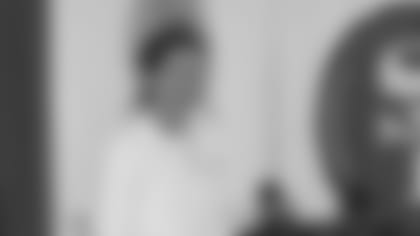 "One of the most important messages I can give the girls is how valuable they are and how powerful they are and really, at the end of the day, they're in charge of the outcomes that they wish to have," Chastain described. "Setting and meeting goals is really about the dedication that you make to the goal. I like to see powerful strong young women making decisions about what it is that they want to do."
49ers tackle Barry Sims and FC Gold Pride player Tracy Hamm took the stage and were joined by San Jose State Deputy Director of Athletics John Poch on panel in which they spoke about finding balance in sports and in life.
"My main message to them was to not get discouraged when they reach a failure or a setback in their life," Sims said. "You set goals along the way and they don't all come true, and a lot of people when they have a failure like that they give up. And you just can't give up. You have to find other ways to make things happen."
Wrapping up the day was a session hosted by BAWSI. Speakers included Olympic Medalist, Julie Foudy, race walking national team member Susan Armenta, and BAWSI's Marlene Bjornsrud. The panel focused on the girls "Paying it Forward" to motivate them to give back to their community.
Bjornsrud discussed how the 49ers used their platform to promote the FC Gold Pride, BAWSI and give back to Bay Area female youth.
"The San Francisco 49ers have said to girls and women in sports that we're important and that they have chosen to use their platform in the community to do something that really will have the opportunity of improving the lives of the girls who are participants here today," Marlene Bjornsrud, CEO and Co-Founder of BAWSI, said.
THINK GOLD! presenting sponsors included More Physical Therapy, Inc., Chipotle, and Jamba Juice.