Arizona took command of the game in the second half and handed the 49ers a 23-13 defeat.
1st QUARTER, 49ERS 7 – CARDS  3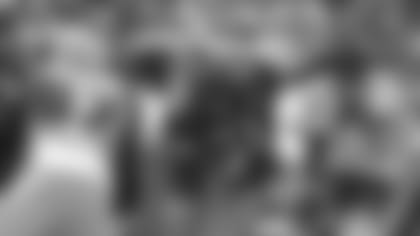 The 49ers got the ball first, starting at their own 20 after Neil Rackers kickoff landed deep in the end zone for a touchback.
The offense didn't get off to a great start with a three and out. Frank Gore took the first snap up the middle for four yards, but on 2nd and 6 JT O'Sullivan had time but couldn't find an open receiver. On 3rd and 6, O'Sullivan took a shot into double coverage for the rookie Josh Morgan.
A great tackle by linebacker Manny Lawson on the punt return was negated by ineligible man down the field.
Long snapper Brian Jennings snap was low and it was not a great kick by Andy Lee. Steve Breaston got the return 17 yards back to set the Arizona offense up at the 40 for their first possession.
In one play, Arizona was inside the 20 with Kurt Warner going to Larry Fitzgerald. Fitzgerald made a nice juke to get away from Mann y Lawson and Walt Harris for a 21 yard play to set Arizona up at the 19. Edgerrin James picked up nine yards on his first carry, but the defense eventually held on a 3rd and 7 shot to the end zone. Joe Staley drilled tight end Leonard Pope to force an incompletion. Neil Rackers' 25-yard field goal capped of f a 7-play, 33-yard drive.
Special teams cost the 49ers again on the next play. Rossum opted to take it out of the end zone and was corralled around the 10-yardline. An illegal block to the back penalty on Takeo Spikes backed the offense to their 5-yardline.
The 49ers avoided a Frank Gore fumble that was caused when he ran into the back of guard Tony Wragge, but that one was recovered by Adam Snyder, but Zak Keasey wasn't so lucky on the next play. Keasey caught a pass over the middle and got drilled by Darnell Dockett, causing a fumble that Arizona recovered at the 11-yardline. (Guard Eric Heitmann suffered a shoulder injury on the series. His return is questionable).
Arizona would have had a first down right at the 1-yardline but tackle Mike Gandy jumped into the pile late for a 15-yard infraction. On 4th and 15, Rackers attempted a 35-yard field goal that he pushed right, allowing the 49ers to escape the turnover.
Gore picked up a first down finally on their third offensive series with a 9-yard run, followed by a 5-yard carry. Bryant Johnson caught his first pass against his former team, a 16-yarder over the middle on a post pattern. After another 4-yard run, Gore squeezed his way up the middle and then burst free for a 41-yard touchdown run to take a 7-3 lead with six minutes to go in the first quarter. The 5-play drive covered 75 yards.
The kickoff coverage unit quickly corralled Breason at the 12-yardline.
James picked up 4 and then 5 yards to set up a 3rd and 1. Arizona attempted a quarterback sneak, but a measurement showed that it was short, forcing Arizona to punt for the first time.
The bounce took an unexpected turn, hitting Arizona's sidelines around the 35 but twisted and rolled back in bounds before it was downed at the 20.
Two Gore runs earned 8 yards to set up a 3rd and 2 that O'Sullivan converted with a throw to DeShaun Foster. The offense continued to move the ball, but on 3rd and 3, O'Sullivan tried for Arnaz Battle over the middle. Safety Adrian Wilson came in at the last second to swipe the ball, and then enjoyed a return all the way to the 49ers 33-yardline before Josh Morgan got him down.
The defense responded with a phenomenal series. On 1st and 10, Nate Clements plowed Anquan Boldin over out on the edge, allowing Jeff Ulbrich a great angle to stop James for a 4-yard carry. On 2nd and 6, Patrick Willis and Donald Strickland converged on Boldin again on a short pass over the middle. On 3rd and 6, the DB's locked up Arizona's receivers to buy time for the guys up front. Parys Haralson was the first to get to Warner. Justin Smith, Ray McDonald and I believe it was Walt Harris all helped knock him back for a 7-yard loss as the quarter came to an end.
2nd QUARTER, 49ERS 10 – CARDS 10

Arizona pinned the ball at the 1-yardline on the punt, but Gore got the offense some breathing room with a 6-yard run up the middle. The 49ers were held to a three and out when O'Sullivan tried to scramble on 3rd and short.
Arizona regained the lead on the next series with a 6-play, 58-yard drive. The drive was set up by a 40-yard throw to Breaston. Breaston got behind safety Dashon Goldson to set Arizona up at the 1-yardline. Warner lobbed up a throw to Larry Fitzgerald, who out-leapt Nate Clements.
Rossum escaped two Arizona defenders with his speed for a 44 yard kickoff return. On 1st and 10, O'Sullivan hit a wide open Vernon Davis for a 37-yard play. The momentum was killed on the next play when Bertrand Berry got around the edge to whiff the ball away from O'Sullivan. Antonio Smith recovered for Arizona and returned it to the 37-yardline. Mike Nolan challenged it, but the officials upheld the ruling, saying that O'Sullivan's arm was not in forward motion for an incomplete.
James rolled off a pair of 9-yard runs to move into 49ers territory but on 3rd and 6, Haralson sacked Warner again, for a 7-yard loss, getting some help from Ray McDonald.
Starting off at their 10, Gore gained 2 yards but the offense was flagged for an illegal formation Arizona declined the penalty, which cost them on 2nd and 8 when Gore caught a short pass and slipped a tackle for a 14-yard gain. O'Sullivan then connected with Johnson for a 31-yard completion into Arizona territory at their 43. A 1-yard DeShaun Foster run, his first of the game, was followed by a 12-yard completion to Davis to move the chains. Gore earned 5 yards on a screen play, followed by a draw play that picked up 4 yards by Foster, leading to a 3rd and 1 play at the 21-yardline at the two-minute warning. O'Sullivan threw but his pass was short to Morgan. The 49ers went for it but apparently only to try to draw the Cardinals offsides as they called a timeout and then brought Joe Nedney on for a 39-yard field goal that tied the game with1:52 in the first half. The 9-play drive covered 69 yards.
Starting at their 20, Warner was hit by Roderick Green to force an incomplete pass. His next short throw to Tim Hightower was immediately sniffed out with a leg tackle by Strickland. A 3rd and 8 play turned into 3rd and 13 with a false start penalty. A draw play to Hightower was stopped by a sea of 49ers defenders, leading to an Arizona punt with 10 seconds left in the half.
Rossum signaled for a fair catch with 2 seconds left in the half. O'Sullivan took a knee to end the quarter.
3RD QUARTER, 49ERS 10 – CARDS 20
Anquan Boldin had his first catch of the game, a 15-yard on a 3rd and 10 to keep Arizon'a first drive of the third quarter alive. NT Aubrayo Franklin had a nice bat down on a 2nd and 7 play to set up a 3rd and 7 at the 46. Warner just managed to escape a corner blitz by Walt Harris, delivering the ball to Breaston for an 11-yard pickup. A pass to Fitzgerald was followed by a 2nd and 1 throw to Boldin over the middle for an 18-yard gain to the 8-yardline. A clipping penalty on the next play backed them all the way to 20-yardline but Arizona made up for most of the yardage with a 12-yard pass play to Hightower. James tried to squeeze his way to the right side of his line, but was stopped after 2 yards, setting up a 3rd and 6. Haralson came through again with a sack, bringing on Rackers for a 31-yard field goal. The 15-play drive covered 65 yards.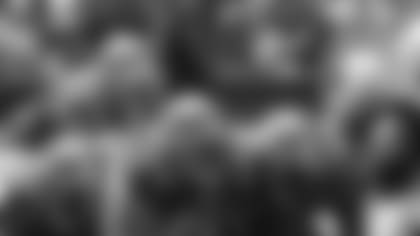 Arizona used an intentional short kick on the kickoff, going right to linebacker Takeo Spikes who muffed the catch. Arizona recovered at the 49ers 33-yardline.
The 49ers defense held on 3rd and 9, but McDonald was flagged for an extremely costly late hit penalty. The replay earned a loud boo from the crowd because it was a legitimate rush by Haralson and McDonald. Set up instead at the 11-yardline, Arizona was stopped just shy of a first down but Cardinals head coach Ken Whisenhunt questioned the spot. Arizona did get an improved spot, bringing on the chain gang for another measurement that was still inches short, thus losing a timeout over the challenge. Arizona then went for it on 4th and goal. Hightower easily worked his way in for the score.
A line drive kickoff was caught by Kentwan Balmer and returned out to the 28-yardline after the score, meaning with 3:57 to go in the third quarter, the offense finally got their first possession of the second half.
The 49ers survived a 3rd and 11 with a catch by Arnaz Battle, who stayed on his feet despite going airborne when Arizona took his legs out, and picked up 16 yards. Another blitz was avoided with a short throw to Davis, but it earned only a yard. Gore followed a block by Keasey for a 6-yard run out to his right, setting up a 3rd and 3 at midfield. An encroachment penalty earned the 49ers a first down at the 45 of Arizona. Gore earned another with a 7-yard gain to end the third quarter.
4TH QUARTER, 49ERS 13 – CARDS 23
Gore picked up 14 yards on a short throw from O'Sullivan, who just managed to get the throw off before getting sacked. O'Sullivan aimed for Johnson, but it was just out of his diving reach inside the five. A quick pitch to Gore in the backfield went for only 3 yards with Gore forced out of bounds by Eric Green, bringing up a 3rd and 7. A draw play to Foster up the middle came up two yards shy of the first down, bringing on Nedney for a 30-yard field goal with 12:05 to go in the final quarter. The 13-play drive covered 60 yards.
After picking up a first down, Warner and the Cards went deep for rookie corner Dominique Rodgers-Cromartie, but Michael Lewis was there to break it up. Warner came right back with an 18-yard completion to Boldin in traffic over the middle to set Arizona up at the 49ers 46. On another 3rd and 5 from the 30, Warner went back for Boldin who was stopped this time, just shy of the first down marker. Arizona opted to go for it on 4th and 1 at the 26. Hightower picked up the first down with a run right up the gut, continuing the drive and wearing down the clock to under six minutes. Arizona picked up yet another first down with a 3rd and 5 pass to Boldin for six yards. After three straight runs, they brought on Rackers just after the two-minute mark for a 30-yard field goal to put the Cards up by two scores.
Trailing 23-13, O'Sullivan looked to mount a comeback, one that came to a swift end with a Travis LaBoy sack and forced fumble that Arizona recovered.
The 49ers did get the ball back with 16 seconds, but one pass play later to Gore and the Cardinals took the victory.