The 49ers celebrated Halloween early this year as offensive lineman Joe Staley, Chilo Rachal, Matt Kopa and Tony Wragge celebrated the holiday at the Ronald McDonald House of Stanford during the Halloween Spook-tacular Carnival presented by Dream Believe Achieve.
The players and members of the Gold Rush cheerleading squad spent their time with critically ill children and their siblings at the carnival Tuesday evening. The carnival allowed the children who might not otherwise be able to celebrate Halloween to participate in the festivities.
"A lot of these kids, it's really what they look forward to," Kopa said. "And just to be here for them, it means a lot to us. Plus I know it makes their day, makes their whole week."
The players ran booths including Haunted Hoops, Dangerous Darts and the Spooky Football Toss; they also passed out candy while interacting with the children and their families. The event also featured face painting, arts and crafts, a cakewalk and a petting zoo brought by Riley's Place.
"Halloween is a really big deal in children's lives," said Bri Carpano-Seoane, Family Services Manager for the Ronald McDonald House. "It's a big deal since they can't necessarily go out trick or treating, or be at home and go to their school party.
"That's what Dream Believe Achieve, Riley's Place and the San Francisco 49ers tried to do today, is bring a little bit of that here for them."
For 7-year-old Kylara, who was dressed up as Cinderella, the day was full of fun. When asked why she likes Halloween, she answered like every kid, "Because I get a lot of candy!" Kylara and the other kids had a blast with the players, posing for pictures in their Halloween costumes and winning prizes from the games.
"It's really great to have the 49ers here," she said.
The players got into the spirit of the event too, sharing their favorite Halloween memories while spending time with the children.
"Everybody's got smiles on their faces and the kids are having a great time," Wragge said. "That's the most important thing."
Staley expressed his excitement for the day, and he enjoyed the thrill the children got out of the games and dressing in their Halloween costumes.
"Everybody has great costumes on," Staley said. "I saw Wolverine running around out here with claws and everything. I saw Cinderella, she was out here with her crown. Those are my two favorite right now.
"All these kids are having a blast."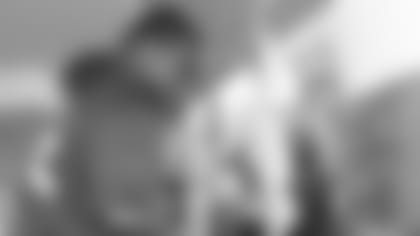 In addition to the carnival, the players took some time to visit children in the isolation wing to brighten their day.
"It means a lot to see these kids and put a smile on their faces," Rachal said. "It means a lot just to walk away from it knowing that they had fun."
The Ronald McDonald House at Stanford, built in 1979, is dedicated to providing a home away from home and a supportive community environment for families of children with life-threatening illnesses receiving treatment at local hospitals. Their mission concentrates on strength in togetherness, commitment, and the family environment and not only provides living accommodations, but also encourages social interaction with social events, meetings, common areas, and out of house adventures.
The Halloween Spook-tacular was a joint event with the 49ers RESPECT campaign, the Ronald McDonald House at Stanford and Dream Believe Achieve (DBA). As part of the 49ers RESPECT campaign, members of the 49ers organization take part in a variety of community events to reach out to youth and impart the value of respect in three important areas of their lives: families, schools and communities. The DBA is a non-profit supporting one of the world's most vulnerable populations, families experiencing critical illness.