The 49ers broke out the pads for the first time this camp on Monday morning, and for most football fanatics, that's music to the ears.
"If you love football, that's what it's all about," said tackle Barry Sims, who joined the 49ers recently after playing the last several years across the Bay with the Raiders. "That 'crack' and that 'pop' gets everything going and it gets you real excited and that's what you want. You want to bring it and make that loud hit and see everyone go, 'ooh," and see what you can bring to the table."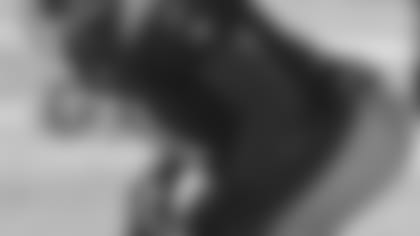 Another newcomer in linebacker Dontarrius Thomas, a free agent acquisition from the Vikings said he felt right at home once he heard the sweet sounds of pads meeting pads.
"It's definitely a sound that you (49ers.com) might like, that the fans might like, but we love it," said Thomas. "When you hear that pad pop and that thump, it just does something to you and definitely gets you energized for that next play. It gets the confidence up and you feel like 'Ok, I'm ready, I'm here, let's go.'"
Thomas enjoyed a few crackle and pops in the first padded contact of camp, including a goal line stuff of running back Thomas Clayton that earned a chorus of "51," from his defensive teammates.
"Once you hear a big hit like that, it brings out the football person in everybody," said defensive tackle LaJaun Ramsey. "It makes you want to be that person to make the next big hit."
No surprise there as making stops, the bigger and harder the better, is the name of the game for the defense.
"When you are in pads, you have to see how physical you are and we want to pride ourselves on being physical, downhill and getting to the football," said Thomas. "So with pads on, that's really when you can allow yourself to be physical and go all out."
The 49ers are fortunate to have one of the league's best at getting to the football in Pro Bowl linebacker Joe Staley. The NFL's leading tackler in 2007 was all smiles following his first work in pads.
"A lot of time, the linemen are good with using their hands and grabbing, but when we actually have on the pads, it's better for us to get them off of us instead of trying to use our little arms against their big bodies," said Willis. "It's fun to have them on. When you have that good collision and you get a good pop, most of the time you know you can get that separation. Having pads on is fun to me. I'd rather have pads on than be in shells."
The offensive players didn't shy away from the contact either.
"It's football. I call it, 'Training camp started today,'" said running back DeShaun Foster. "We got out there, finally started hearing some popping and stuff and it was exciting just to get back out in pads. For me, I think I really have to be in pads for me to get a real grasp of what's going on out there. I really try to focus on the linemen because when they have pads on you can really work on your reads."
Foster's offensive linemen were also feeling things out.
"It was different because you are so used to practicing without pads and using your hands a lot," said rookie guard Chilo Rachal. "Now that we can actually hit, it's much more intense and it's realistic. You can work on your hands and your footwork and see if you are where you need to be."
Sims was initially slotted to work more at right tackle behind Jonas Jennings, but with Joe Staley still out of action, the 10-year veteran has been working as the bookend on the left side. And now that the pads are on, he's better able to put into action the coaching he's received over the last few days.
"It allows us to really follow through with what we've been training all this time for with our techniques and everything - really to get after it," said Sims. "And the same thing with the defense, they have an opportunity to really get into us and feel each other out. It's the first day we have a ways to go but I think we'll continue to grow and get used to them."
**After rookie receiver Cam Colvin ran an incorrect route, wide receivers coach Jerry Sullivan shouted, "What's the look?"
When he didn't get the answer he wanted, Sullivan followed up with "What do you think I meant, how I dressed?"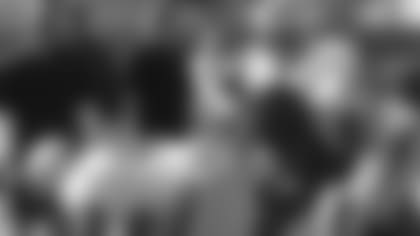 During the Oklahoma Drill, tight end Vernon Davis and linebacker Parys Haralson picked up their usual trash talking. Davis crossed into defensive territory to challenge Haralson in a rep.
"It's just for excitement, calling a guy out and making him mad, he gets fired up," said Davis. "It wasn't in a way to start anything, just for fun and motivation."
Haralson obliged and they both hopped up to the line.
Head coach Mike Nolan then shouted, "hey, both of you get outta there. I'll say who goes next."
"Coach Nolan is funny. I paid attention to him but I was also trying to pay attention to what Parys was saying. Then I thought about it and realized he had just said to get back until he was ready. It was funny."
Nolan granted their wish a few minutes later for the final rep. Haralson juked Davis at the line to avoid contact and burst into the backfield for the tackle.
"Vernon tried to call me out, but I got him. It's just healthy competition. We go up against each other a lot. He called me out and came pointing at me, and so we went. Today, I got the best of him. It was all in fun."
The Oklahoma Drill mentioned above is the natural drill to spotlight in Monday's practice. The drill isn't often used in the NFL, but it's been a regular for the 49ers under the Nolan regime.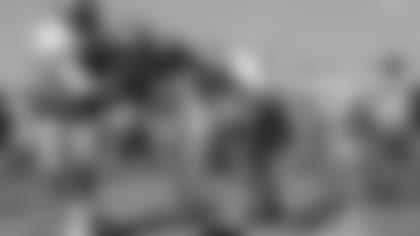 "Coach Nolan is a big fan of the Oklahoma drill, but its fun," said Willis. "We've been in shells the last three days and then to put on the pads, it's a quick way to put us in that mood real fast. I got mine in, and I was like, 'I don't want to stop, I want to go some more.' We're limited to (only) so many. I was eager to get the pads on and go at it."
Four bags are placed a few yards apart with five players participating in the drill at a time: center, quarterback, running back, defensive lineman or linebacker, and an offensive lineman or tight end.
The quarterback hands off to the running back who has to make a read depending on what he sees from his blocker, who is battling for position against the defensive linemen or linebacker.
"It's basically one-on-one up at the line," said Rachal. "The objective is to move and get off the ball and free up the running back from the defender. They are trying to get you out of the way or move you back. It's a pretty intense drill."
Returning players knew the Oklahoma Drill was coming, but it took some of the new guys like Ramsey and Thomas by surprise.
"I definitely wasn't expecting it," said Thomas. "I got in the locker room and Jeff Ulbrich told me, "you know we've got Oklahoma.' I almost forgot what it was. It was one of those things I did in high school and a little bit in college so it was kind of surprising to see it. It's definitely a great teaching tool to use your hands and get off blocks which is what we do as inside backers all of the time."
Coming from the Eagles, it was a drill that Ramsey said he hadn't seen since high school.
"That took me back," said Ramsey. "I think it's really helpful, it's a good thing that everybody should do. There is a small space to work with and it's one on one. It's a battle of wills, technique, along with using your power and football saavvy. You want to stay low, hit the main in the face, and make the play."
The drill was fairly evenly split between the offense and defense, but some clear cut winners included Patrick Willis against Cody Wallace, Parys Haralson against Billy Bajema, Eric Heitmann against Ron Fields and Tony Wragge against Kentwan Balmer. It was a close battle between Adam Snyder and Justin Smith, but Snyder did his work to free up the back.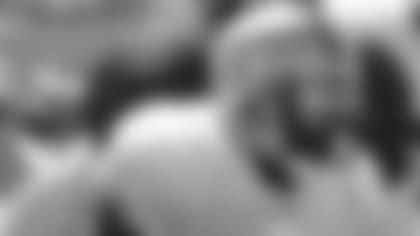 The first team session was dedicated to run plays only with Frank Gore taking the first handoff. He was headed off quickly by the defense, but on the next play, Gore burst through an open lane and got into the second level. Gore also had a large gain on a screen play during a redzone session later in practice.
In the same period, linebacker Brandon Moore got in the backfield for a tackle for a loss. A few plays later rookie Kentwan Balmer and safety Keith Lewis disturbed the offense's blocking to drop Clayton for a loss.
Running back DeShaun Foster angled out to his left, got to the edge and then put a move on safety Dashon Goldson for a long run.
Goldson nearly had two interceptions in practice. Both were diving efforts, including one in the end zone to break up a touchdown during a red zone period.
In the following session of team, linebacker Patrick Willis pilfered an Alex Smith pass.
Rookie cornerback Reggie Smith earned a pass defense by breaking up a deep Hill pass over the middle to his fellow rookie, receiver Josh Morgan.
During a redzone team session wide receiver Bryant Johnson enjoyed about a 19-yard touchdown pass. Arnaz Battle also had an end zone catch in the same period, and another one close to the goal line. Due to the tag off nature of practice, it's difficult to determine if it would have been another score or not.
Neither Shaun Hill nor Alex Smith had great stats in their first few team periods. In the first, Smith completed only one pass to Delanie Walker and was picked off by Willis. Hill was also 1-of-4 in his first, and almost had a tipped ball picked by a diving Dashon Goldson.
They both performed their best during the red zone period with Hill hitting Battle for a pair of completions, and Smith finding Johnson. (plays described already above in "Highlights."
Running back Michael Robinson missed practice Monday morning after injuring his knee in Sunday's morning practice. He had his knee scoped in the afternoon to repair a meniscus tear.
The third-year back hurt knee during the final session of team on Sunday. Right guard Chilo Rachal was pulling on the play, but was pushed back over on the left side of the line by linebacker Dontarrius Thomas. Robinson collided with the pair and quickly crumbled to the ground.
T Damae Duckett (knee) missed his second day of work. WR Ashley Lelie also missed practice with a calf injury. Nolan said Lelie had an MRI Monday morning, but that he did not have the results. He thought Lelie might miss up to a week max.
CB Walt Harris was held out of the practice by coaching design. Harris is working only once a day during camp.
Offensive coordinator Mike Martz spoke to the media this afternoon. A few quick hits from that session:
Martz will be calling the shots from the box this season.
He's not a fan of the shot-gun formation. He is a big fan of the no huddle.