INDIANAPOLIS – Mike Singletary never had the type of experience at the NFL Scouting Combine like the players of 2010.
No NFL Network coverage. No 600-plus media members asking you endless questions.
And when Singletary was headed to the pros after a stellar career at Baylor University, they didn't have athlete performance centers across the country to hone 40-yard dash times or bench press numbers.
"We had the backyard," Singletary said with a smile.
For the record, Singletary did end up running a 4.63 back then without the tools afforded to the players of today. But instead of focusing on the performance aspect of the Combine, he remembers the personal side of it.
"It wasn't so much the Combine experience I remember, the running and how many times can you put up 225, it was more about the players that were there," the 49ers head coach said. "When you have guys like Lawrence Taylor and Ronnie Lott, it was a heck of a year for a lot of great players. When I look back at that time, I had a lot of fun listening to guys talk about what they were going to do when they got to the NFL."
Singletary did some speaking of his own to the gathered media early on Thursday right after General Manager Scot McCloughan. Two of the 49ers most important decision-makers took the podium first at the media setup inside Lucas Oil Stadium.
On the minds of the gathered national media, the 49ers draft needs, free agency needs, and if the team can overtake the Kurt Warner-less Arizona Cardinals as NFC West champs.
With the possibility of the NFL going to an uncapped year without a new collective bargaining agreement reached between owners and the NFL Players Association, McCloughan was asked if the 49ers offseason personnel strategy would change.
"For us, it's not changing. We're going to go forward as if there is a cap. As you guys are well aware, we're not going to be a big free agency team any way, but we'll do what we need in free agency. If we think it's a smart move to make us better, but it's not going to change our spending one way or the other."
McCloughan's reasoning is simple.
"I think we have a good plan in place and the vision and philosophy that we've had in the past, we're going to keep the same. We're not going to adjust. If we get to the point where we think we have to, then we'll definitely consider it, but right now we're going forward as we have in the past."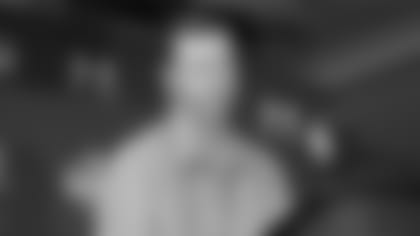 McCloughan and the 49ers made their first big offseason decision by placing a non-exclusive franchise tag on free agent nose tackle Aubrayo Franklin earlier this week. If another team signs Franklin, the 49ers would receive two first-round picks from that team.
"From being around the 3-4 now for five years, it is a very important position," McCloughan said of the nose tackle position Franklin lines up at. "The one thing about it is, when you have good football players at any position, you always want to try and extend them early and work out a long-term deal. We tried with Aubrayo, with today being the deadline and us putting the tag on him, we're still going to keep trying."
With many mock drafts speculating that the 49ers will take an offensive lineman with one of their two, first-round picks, McCloughan said there are several good players in this year's crop of maulers.
"I think every draft takes on its own identity, not saying this is a really deep year on the offensive line, but there are good football players out there," he said. "The game has changed a lot with the spread offense, you see a lot more finesse pass protection, but from our standpoint, the o-line is always going to be important. When you're carrying 53 [players] on the roster, it's your deepest position numbers-wise, so you're always looking in the draft to find young guys who can come in and play for you."
And with Singletary intent on playing "Physical with an 'F'" offensive line play will always be important in San Francisco. But it won't interfere with the 49ers trying to add the best possible players.
"I think upgrading the entire team [is most important]. For us, when Scot [McCloughan] and I sit down, the most important thing this offseason when we look at that board is to make sure that board is right, in terms of getting the best player for us," Singletary said. "Yes, we want to add a player that the offensive line, but at the same time we don't want to reach at any position. So it's very important for us to evaluate and have everybody involved – not just personnel, but coaches and staff, assistant coaches, myself, Scot, everybody – and make sure we take the best player going forward and go there."
Whoever that best player is, he'll have to fit in with well with quarterback Alex Smith, who Singletary "feels very good" about as the team's starter heading into 2010.
"I like guys knowing that they're always going to compete. But I feel very comfortable in saying Alex Smith is our starting quarterback going forward."
With Smith penciled in as the 49ers starter and Warner announcing his retirement earlier this offseason, several media members prompted Singletary on if the 49ers can win the division in 2010.
But Singletary would not take the bait.
"It doesn't change anything for us. If Kurt Warner is still there, if he's gone, it doesn't matter. I talk to our team all the time about focusing on us. It's not about any other team in the NFL, because the most important thing for us is to look at the things we need to do to get better. If we do that, everything else will take care of itself."