As the 49ers target their Monday Night home matchup with the division leading Arizona Cardinals, much of the focus from a national audience will be on the playoff implications decided by the game's outcome.
But for head coach Mike Singletary, he only wants his team focused on one thing. He wants his players to forget everything else and focus on playing their best football.
"For our guys, it's just a matter of going out there Monday night and let's just play the best game that we can play," the 49ers head coach said on Thursday. "We're not going to sit back and, 'If we win, if we lose.' No. We're going to go out, and we're going to play. At this time of year, the most important thing is we're playing our best football, and that's really what I want to strive to do before the season is over."
From an offensive perspective, a successful offensive performance comes down to executing while avoiding mistakes. Singletary has seen progress start to materialize as of late, but when it has stalled, it has been due to what Singletary calls, "the team shooting itself in the foot."
"I think we're better [than that]," he added. "I think the closest we came to it was the Jacksonville game, and I think last week we took a step backwards simply because of the penalties, because of the turnovers. That's something that we have to do a better job at. I really want to strive for our team to be a smart football team and a team that does not turn the ball over."
Vernon Davis understands his coach's emphasis that each player needs to play his best football, and as one of the 49ers team captains, he plans on carrying out Singletary's message.
"We're going in to the game with confidence; a will to win attitude," Davis said. "We're just going to play ball, that's all it is. We're going to try to minimize our mistakes and take care of our responsibility for each individual."
Last week, Davis caught his league leading 10th touchdown reception on a fourth down play-action pass from quarterback Alex Smith.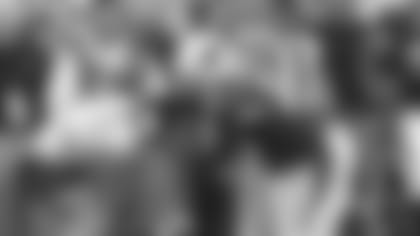 Smith had his best statistical day of his career in the loss to the Seahawks (27-for-45 for 310 yards and two touchdowns), compiling his first 300-yard passing game in his 36 NFL starts. Smith's second touchdown against Seattle was a completion down the sidelines to second-year receiver Josh Morgan.
Feeling confident based on his performance last week (six catches, 56 yards and 22-yard touchdown catch) Morgan believes when the offense is clicking, it has the potential to become dynamic.
"If we execute with the talent that we have," Morgan said. "There is nobody in the league who can play with us."
With no better opportunity to prove that than on Monday Night against the defending NFC champs, Morgan vowed that his teammates are focused at the task at hand.
"We have to win every game no matter what. We win every game then whatever is going to happen after that. All we're thinking about right now is going out Monday night and putting everything together to win that game."
If everything goes to plan offensively, the 49ers believe their best shot is a balanced dosage of the passing and rushing attack. It's just a matter of determining what the perfect mix is.
Singletary does not necessarily equate a balanced attack to a 50-50 distribution of runs to passes. He feels that balance can simply come from getting Frank Gore involved enough in both the running and passing game to keep the defense honest.
Just don't expect Singletary's efforts to come as a surprise to the Cardinals.
"Let's not mistake this," Cardinals safety Adrian Wilson said in his conference call with Bay Area reporters. "Frank is the focal point of that team. Gore is undoubtedly one of their best offensive players."
Gore's small number of rushing carries against Seattle (nine carries for 25 yards) does not deter Wilson and his teammates from preparing for him to be a heavy factor in Monday's game.
"We expect him to get the ball 30 times," Wilson added. "That's the type of mindset that you have to have. He's not going to go two weeks without touching the ball at least 25 times."
Davis, who will likely be manned up primarily against Wilson in the passing game, understands how much an involved Gore can do for the offense. But Davis said that it ultimately will all come down to executing in all phases.
"I'm sure we're going to run the ball," Davis said. "We're not going to back away from that. We have to get Frank Gore going. We'll pass the ball too. We're going to pretty much do everything that it takes to win."
Tackle Joe Staley is edging towards seeing his first game action since injuring his knee back in a Week 8 loss to the Indianapolis Colts in which he was injured on the 49ers first offensive play. Staley participated only in individual drills on Thursday, his first practice with teammates since the knee injury.
"I feel good right now," the 49ers starting left tackle said. "Everything's gone to plan. Our strength coach [Duane Carlisle] did a real good job with me. I did everything in my power to make sure that I was going to be able to be back."
Staley will judge how his knee responds during the week's preparation for the Cardinals as a test run.
"I'm just going to get out there and try to go as fast as I can. I'm going to test the knee and see how it feels.  I'm excited by the way I feel right now, and if everything stays on track, I'll be on the field on Monday."
If Staley is unable to make his return, Barry Sims will remain as the team's left tackle.
Norris Honored For 'Fundamental' Play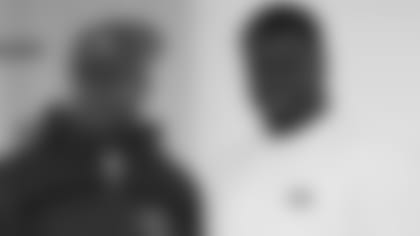 The 20-pound helmet of an award was given to the 49ers fullback for his sound fundamental play on the field, and the contributions he's made in the community off the field.
Norris' head coach jokingly emphasized and repeated the word "fundamental" as he presented the award to the fullback.
The nine-year pro was very excited to be named to the team.
"It feels good," Norris said with a huge smile. "Sometimes you are out there playing and don't know if you're recognized. You don't know if people are paying attention, you just go out there and do your job just because that's what you're supposed to do. It feels good to know that someone has recognized me and I'm the only fullback in the NFL to get this award."
Norris credited the extra time he spends after practice perfecting his fundamental play.
"I do a lot of different drills after practice. Some drills look silly, but they help me on the field on Sundays."