The 49ers rebounded from a heartbreaking defeat on Monday Night Football by battering the Rams in a 35-16 victory at Candlestick Park on Sunday.
"We talked about mental toughness throughout the week and being able to put a devastating loss behind you and not look in the rearview mirror and have a wreck this Sunday," said head coach Mike Singletary. "So that was the biggest thing that we focused on and they really pushed hard, pushed through it, and it came out today and I thought they did a good job of being focused for the most part."
The favorable outcome provided Singletary with his first win since taking over as the 49ers head coach.
"We were all very excited for Coach to get that win," said quarterback Shaun Hill. "That's always a great feeling. We had to start somewhere. We know this second half of the season we have to have a sense of urgency. We would have loved to have started it last week but it just didn't work out, so we had to start it this week without a doubt. So, it was great to get this win for Sing and hopefully get this ball rolling."
The 49ers offense started off shaky, when on the second play of the game Frank Gore allowed the ball to get popped out by safety OJ Atogwe at the end of an otherwise superlative 37-yard run.
"The defensive back made a great play," said Gore. "He just found the football and popped it right out of my arm."
But as Singletary said, there was no looking back in the rearview mirror.
Gore and the rest of the offense kept on trucking as the 49ers starting running back basically walked into the end zone on the next drive for a 5-yard touchdown and an early 7-0 lead.
The Rams countered with a 24-yard Josh Brown field goal drive, but quarterback Shaun Hill then revved up the engine on the next series, finding Isaac Bruce for a 20-yard completion before throwing a perfectly placed slant pass to Bryant Johnson, who shook of Fakhir Brown and dashed his way to the 7-yardline for a 42-yard pickup.
"It felt good," said Johnson of making the play and getting the win. "I've been fighting injuries most of the season and I'm starting to feel close to 100 percent. "Things were clicking offensively in that first half and there was a feeling of, this is how we should play all the time. And when we watch the film, that's going to be our standard, to be able to move the ball the way we did in the first half."
Following the big play to Johnson, Hill was forced to scramble on a 2nd and 5 pass play, picking up three yards to move his unit that much closer to the end zone. On 3rd and 2, Hill zeroed in on tight end Vernon Davis right under the goal post for a 2-yard touchdown strike and a 14-3 cushion.
The defense then came up with three straight turnovers in the second quarter which the offense capitalized on with three straight touchdown drives.
"I was proud of the offense," said Hill. "The defense did a heck of a job out there in the first half giving us a lot of opportunities with great field position and we were able to capitalize on offense with touchdowns. Any time you can cap off drives with touchdowns, that's when you get that score going."
Linebacker Parys Haralson ignited the defense on their turnover watch by recovering a bobbled snap by Marc Bulger at the Rams 16-yardline.
"We just came out and played our defense," said Haralson who also accounted for one of four sacks. "They were able to make some plays on us, but we knew we had to stop their run game, try to get some pressure on Bulger and we were able to do it."
On his way to another 100-yard rushing day, Gore carried the ball four straight times after the turnover, before reaching the end zone on an impressive 3rd and 1 rush to the right corner of the end zone that involved shaking a tackle in the backfield.
Next up, Walt Harris pilfered a pass that was meant for Donnie Avery, using a Nate Clements block to return the ball out to his 40-yardline.
Hill, who would finish the first half with a perfect quarterback rating of 158.3, made one of his best plays of the game on the ensuing 7-play, 60-yard scoring drive. Shortly after hooking up with Jason Hill for a 22-yard completion to kick-start the drive, Hill dodged a sack by Leonard Little, scrambled to his right and instead of throwing the ball away, he kept his eyes downfield where he found an open DeShaun Foster for a 31-yard pass play that set the 49ers up at the 1-yardline. On 3rd and 1, Hill rushed up the middle and dove across the goal line to pad the 49ers with a 28-3 cushion.
Following his score, Hill handed the ball off to his center Eric Heitmann to spike the ball, a tradition he began last year when he allowed Joe Staley the honors.
"My first touchdown in NFL Europe I spiked it and it was a great spike. I don't want to change that. I had one great spike, I'm one for one. I enjoy watching the linemen. That's something I like to do for those guys; they enjoy it."
But the scoring celebrations weren't quite over.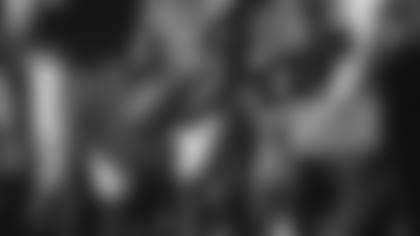 Safety Michael Lewis deflected a pass on the following series that was intercepted by Nate Clements, again giving Hill and company the ball with excellent field position at their own 44.
"It was a total team win, with special teams, offense and defense," said linebacker Takeo Spikes. "When something good happened on one side of the ball, it was a direct reflection of something else. Everybody played well off each other."
Hill, who would finish the first half with a perfect quarterback rating of 158.3, completed five of six passes on the drive, including a deep ball over the middle to Michael Robinson, who made the catch over the shoulder and continued in stride before he was stopped at the 1. Robinson had his shot to get the score on the next play but was stopped for a loss of 1. Hill took care of the job with a 2-yard fade throw to Johnson, which padded the 49ers with a 35-3 halftime advantage.
"We have so many weapons on offense, and just being able to utilize all of those was key," said Hill. "Everyone stepped up and made a big play when they needed to make one. They played an exceptional game."
The 49ers remained conservative on offense in the second half, sticking with the ground game primarily and not finding much production, despite Gore amassing 106 yards before exiting the game after an 8-yard run at the start of the fourth quarter.
"In the second half we had a little bit of, 'Let's make sure we protect with eight, and at the same time, let's make sure we don't turn the ball over," said Singletary. "I think our offense did a heck of a job, of controlling themselves and not winging it out there and make 80 points. So I was really proud."
Foster and Robinson took over the show at running back for Gore, as did JT O'Sullivan for Hill midway thru the final quarter after a drive that ended in a Foster fumble.  Hill finished 15 of 20 for 213 yards, two passing touchdowns, a third rushing, and a 142.3 QB Rating in just his second start.
"Without a doubt, I feel I have a much better grasp on the offense than i did back in training camp," said Hill who was relegated to the third-string quarterback at the end of the preseason. "I've said that all along. This offense is very complex. The more time you spend in it, the more comfortable you feel."
The defense gave up a pair of third quarter field goals and a touchdown just after the two –minute warning to make it a more respectable finish for St. Louis, but the unit did prevent the Rams from scoring off the Foster turnover, as well as on a drive earlier in the quarter that began at midfield following a penalty-laden offensive series that had Andy Lee punting almost from his own end zone.
"We won the first half, but we didn't win the second half and championship teams win the second half, no matter what the score is, no matter what the situation is," said safety Mark Roman. "That's something I'm sure Coach will talk to us about. Great teams, championship teams and teams who are used to winning, win both halves of the football game."
Although Singletary first praised his players for the win, he also pointed out a few areas where he felt they could have finished better, including the penalties, the loss of control on the line of scrimmage offensively, and some players walking off the field instead of jogging at the end.
But they were all critiques his players seemed already well aware of immediately following the victory.
"We didn't finish the way that we wanted to. I think that was obvious," said Spikes. "But, we'll take it for what it's worth. We know what we have to work on. We have a big game next week against Dallas."
Game Injuries: S Michael Lewis returned to the game after suffering a knee injury. CB Tarell Brown was forced out after suffering a neck injury while covering a punt return. RB Michael Robinson suffered a stinger.