On Thursday, April 2nd, the San Francisco 49ers held the final phase of the audition process for the 2009 Gold Rush squad. The 74 talented finalists gathered at the Santa Clara Convention Center to give the judges a closing dance performance before the judges picked the 32 young women who will represent the San Francisco 49ers on game day and in the community during the 2009 season.
The San Francisco 49ers are proud to officially announce the members of the 2009 Gold Rush squad: Alexis, Alyssa, Amber, Amy, Angel, Antonia, Ariana, Brittany, Carmen, Cassandra, Chris, Cindy, Daffne, Deanna, Desiree, Dionna, Elisenda, Erica, Grecia, Jasmin, Jennifer, Kelly, Lauren D., Lauren R., Lindsey, Liz, Meridith, Morgan, Rachel, Tasha, Tritia and Valora.
"I'm thrilled," said Erin Olmstead, the Gold Rush founder and director. "I'm really excited not only for the upcoming football season but for the new group of women coming in."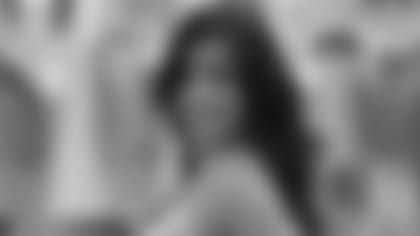 On Wednesday evening, the finalists took part in an extensive interview process in which they were asked to talk about their passion for the San Francisco 49ers, performing in front of crowds, interacting with fans and their career and educational aspirations. Although the Gold Rush are known world-wide for their performance abilities, the women are as well-balanced off the football field as they are on it.
"The interview process is a really important part of auditioning," said Kristin Ortega, the Gold Rush performance director. "We ask the women about a variety of topics but it's really important that we see their passion for the team and the squad with their own personalities shining through."
For the closing dance audition on Thursday, the finalists were asked to perform a perfected version of the combination that veteran choreographer Jeannine Sabo taught them during Sunday's opening rounds of tryouts. Then, they let their personal styles take center stage as they showcased a self-choreographed dance combination to a remix of Ne Yo's 'Closer.' Afterwards, the judges deliberated extensively before choosing the final 32 squad members.
"We have a dynamic group representing the diverse Bay Area," Olmstead said. "I am always so impressed by the careers, education and diverse interests that they bring to the team."
It's important to us to choose the right team in representing the organization. We're talking about a well-rounded woman who not only who would be able to perform but can represent the 49ers at the community events."