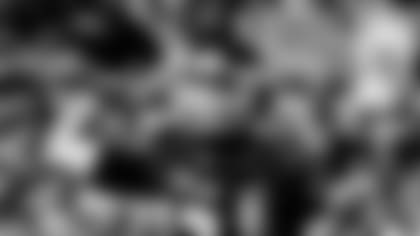 49ers.com's pre-draft series](http://www.49ers.com/news-and-events/49in49.html) kicks off Big 12 Week by profiling one of the most athletic pocket passers to ever perform out of the power football conference.**
Ryan Tannehill could probably be picked as a wide receiver in the 2012 NFL Draft if he stuck with the position he lined up in his redshirt freshman and sophomore seasons at Texas A&M.
After all, Tannehill has 112 career receptions for 1,596 receiving yards and 10 touchdowns to his credit.
"I went into camp my freshman year as a quarterback and was going to be third on the depth chart and they moved me out to receiver," Tannehill explained at the 2012 NFL Scouting Combine. "I ended up having some success that day and about two days later, I was in the starting rotation at receiver. It was a quick turnaround."
In some respects, playing the position helped his overall understanding of the game.
"Not a lot of people get to contribute in another way to help their team," Tannehill said. "It was exciting for me to be able to do that. I learned a lot about the game, got a lot of experience. Even though it wasn't at the quarterback position, I did get experience playing football and seeing the game out there." But instead of continuing as a perimeter play-maker, the 6-foot-4, 222-pound prospect could now potentially become a top-10 selection at quarterback, the position he excelled at over the past two seasons while making 20 starts for the Aggies.
Several draft experts consider Tannehill to be the third-best quarterback available in this year's draft and could be snatched off the board as early as the No. 4 pick to the Cleveland Browns. Others have connected the dots from Tannehill to the Miami Dolphins, where new offensive coordinator Mike Sherman joins the AFC East after serving as Tannehill's college head coach at A&M.
The possibility of re-uniting with Sherman is hard to ignore.
"Miami would be exciting just because of my familiarity with Coach Sherman and some of the other staff that just got hired down there," Tannehill said. "For sure it would be nice, but I'm just blessed to go to any team right now. I'm just trying to make the most of it."
It's been a challenging pre-draft process for to Tannehill to say the least.
Coming off a senior year in which he completed 61.6 percent of his passes for 3,744 yards with 29 touchdowns against 15 interceptions, Tannehill was poised to further establish himself at the 2012 Senior Bowl.
A broken bone, however, derailed those opportunities for Tannehill after he suffered the injury in a passing drill while training for the college showcase.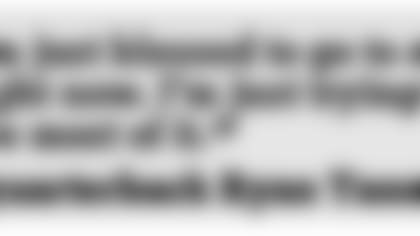 "I was rolling out to my left, just a normal rollout quarterback drill. Turned my shoulders to make the throw and felt a pop in my foot," Tannehill explained. "It's kind of an unfortunate thing, very frustrating at the time. Coming to find out, I probably had a stress fracture there that was kind of a ticking time bomb and just waiting for the right moment to pop."
Tannehill didn't participate in the combine either, but remained positive about his NFL aspirations when speaking with the media.
"It was very frustrating the fact that it happened, but it was kind of a blessing in disguise at the same time, because I was able to get it fixed," Tannehill said. "I'm going to be able to have a full pro day and prepare for an NFL season.
"When it comes down to it, that's what we're preparing for is to play in the NFL, not just the combine. So I'm excited about the rehab and where I am right now and getting ready for my pro day."
Fast forward two months and Tannehill made good use of the extra preparation time as promised. Tannehill reportedly threw 68 passes at his workout and only had three passes go incomplete, two were drops and the lone miscue was an overthrow.
The former wide receiver also ran a reported 4.62-second, 40-yard dash to show that his athleticism from his pass-catching days remained.
More than just having pocket stature and movement skills, Tannehill's background in a West Coast offensive attack makes him a sought after prospect, too.
Tannehill's ability to put all those traits together sets him apart in his mind.
"I think that's a couple of things I do well is move and throw on the run," Tannehill said. "(Sherman) likes to move the pocket – bootlegs, nakeds, whatever it may be. Get outside the pocket and make throws downfield. I like what he did and we'll see what happens."
As hard as it was to rehab a foot injury while his competitors were training for combine and pro day workouts, Tannehill used the setback to sharpen understanding of the game.
"I've just tried to do everything I can personally to be the best quarterback I can be, whether it's doing extra work for my rehab, extra work in the film room, on the board, extra work out on the field with my drops and footwork," Tannehill shared. "Whatever it may be, I just want to do whatever I can to be the best quarterback."
In reality, the foot injury wasn't as big of a detriment to his draft standing as it was to one of the biggest days in his personal life: wedding day.
"Crutched down the aisle," Tannehill revealed. "I actually left two days after I broke my foot to get married in Mexico. It was kind of an interesting trip I didn't really plan for, but it worked out great.
"I had a good group of people supporting me down there and a great time even though I did crutch down the aisle."
Now that he's showing no signs of lingering issues from the injury, Tannehill's considered by many to be the third-best passer available behind Stanford's Andrew Luck and Baylor's Robert Griffin III. Still, that doesn't mean he's settled at No.3 at his position.
The Texas A&M quarterback knows that everything can change in a matter of moments.
"You never know what's going to happen," Tannehill said. "I'm excited about the teams that potentially could be in the quarterback hunt and the opportunities it presents."