If Lucas Nix had his way, he'd still be walking around without his two front teeth.
But the athletic University of Pittsburgh guard, who grew up idolizing toothless NFL legends like Jack Lambert, ultimately had to change.
"My mom made me get false teeth put in," Nix said at the NFL Scouting Combine. "I used to walk around missing my two front teeth and looking like a real football player."
The result of a childhood bike accident, Nix now looks back on his missing chops with pride. But with the amount of pulling and trapping he does at the line of scrimmage, perhaps many people assume Nix lost his teeth playing football.
Nix is an active athlete who projects to stay at guard in the NFL. He could also provide the 49ers with some more young depth on the interior offensive line in the upcoming draft, as starting guard Adam Snyder signed a free-agent deal with the Arizona Cardinals and guard Chilo Rachal is still on the open market.
Mock drafts have pegged Nix to be a mid-round selection, and that's completely fine by him.
"To me it doesn't matter where I go," Nix said. "I love playing football. No matter where I end up I'll be happy there."
But it's safe to assume Nix would take some extra satisfaction if he was to be drafted by his hometown Steelers.
"When I was growing up I was always a Steelers fan," Nix said. "The black and gold, that's where I'm from. That's all anyone cares about."
A native of the Jefferson Hills, Penn., a Steel City Suburb, Nix is well-versed on the rich history of Pittsburgh football. Not only does he look up to players like Lambert, but also fellow Pitt alum and NFL Hall of Famer Russ Grimm and former Steelers great Alan Faneca. He's even had the chance to speak with Grimm recently.
"In college me and my offensive linemen used a quote from Russ Grimm's Hall of Fame speech," Nix said. "'The greatest thing is moving someone against their will from Point A to Point B.' And talking to him the other night that's all line play is, being able to move someone, put someone where they don't want to be."
At 6-foot-5, 317 pounds, Nix possesses the size to play as a tackle at the NFL level. In fact, he started his college career at right tackle before moving inside to guard during his junior year.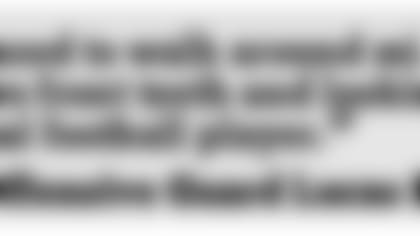 NFL teams have taken notice of Nix's versatility. At his March 12 pro day at Pitt, representatives from nearly 20 NFL organizations watched Nix run through position drills as a guard, tackle and even center. He reportedly performed well, looking agile, fluid and athletic enough to play at all three spots on the line.
But when it comes down to it, Nix said he enjoys being aggressive and moving around the line on pulls and traps, just like Faneca used to do in his heyday.
"Growing up he was always a Steeler great," Nix said. "I used to watch the games as just a fan. As I got older I started to watch more offensive line play. You realize it's a whole different game up there. You've got to be an animal play-in and play-out. You take one play off and you're getting beat. The consistency with which he played, I tried to emulate that."
While Nix was happy with the progress he made in his first three years on Pitt's campus, he was admittedly disappointed with his showing in his senior year. With a new coach and a new offensive scheme to grasp, Nix said he grew frustrated at times.
Still, the subpar season doesn't look like it will keep Nix from achieving his dream of reaching the professional ranks.
"I'm always a hard critic of myself," Nix said. "I feel I can always play better. Some mistakes I made definitely stick out to me and I wouldn't say I played as well as a lot of people said I did, compared to what I was used to in the past. I was used to dominating games and I think I had a little drop-off this year in that."
His senior season also provided Nix with another hurdle. For the first time in his football life, Nix had to sit out due to injury after dislocating his kneecap early in the season. After sitting on the sidelines for an extended period of time, Nix said he gained a new appreciation for the game.
"So that was a learning experience, not being on the field all the time," Nix said. "For the five weeks I was out, I got to take a step back and analyze the game in a different way. I think I learned a lot from it."
For now, all Nix can do is wait for his name to be called on draft day. Until then, you can be sure his family will be hoping his name is called by the hometown team.
"My family, both sides, are die-hard fans of the Steelers," Nix said. "It doesn't matter where I go. They're not going to root for my team. They're going to root for the Steelers."