The latest installment of our 49 in 49 pre-draft series features Penn State defensive tackle Devon Still, who overcame adversity to become one of the premier defensive linemen in the country.
Many would have called it quits, but not Devon Still.
The hulking Penn State defensive tackle didn't have the greatest start to his college career. After tearing his anterior cruciate ligament as a true freshman, Still rehabbed for nine grueling months before returning to the field, only to break his fibula as he tried to make a comeback.
But Still didn't fret, he just kept on working. Three years later and he's on the doorstep of the NFL, as a potential first-round selection, no less.
"When I got injured my two years at Penn State, a lot of people said I wouldn't be the same player as I was when I showed up on campus," Still said at the NFL Scouting Combine. "I think that drove me just to prove everybody wrong. To this day, I don't think I'm where I need to be right now. I want to make my mark in the NFL, just as I did at Penn State and become one of the best."
Isaac Sopoaga proved to be a solid anchor at nose tackle for 49ers defensive coordinator Vic Fangio in 2011, and the team has plenty of young, talented backups. But there's no doubting Still's skills, as he certainly looks poised to be drafted near the end of the first round. San Francisco, of course, holds the No. 30 pick in this year's draft.
Still made a name for himself with a stellar performance to wrap up his junior year. Doing battle against soon-to-be first-round pick center Mike Pouncey of Florida, Still dominated the 2011 Outback Bowl, posting seven tackles, including 3.5 behind the line of scrimmage.
The Delaware native maintained his production throughout his senior season and it wasn't by mistake. Unsatisfied with what he deemed to be a "mediocre" junior year, Still started putting in more time in the film room before setting career highs with 49 tackles and 4.5 sacks.
And when listening to him speak, it's clear Still believes his impact goes beyond the numbers in a box score.
"I think hands down I'm the best defensive tackle in this draft, just because I feel like I want it more," Still said. "I was able to take over a lot of games this season. Just the production that I had, I was able to disrupt plays even if I wasn't making tackles or sacks."
Penn State held its annual pro day on Thursday and Still helped himself by running a 4.95-second, 40-yard dash, which is quite impressive for a man of his size (6-foot-5, 303 pounds). Still also performed well in other drills, according to reports, and is slated to be one of the first defensive tackles off the board.
Still touts himself as a versatile player who is well-versed on the subtle differences between positions on the defensive line. Whether it be as a five-technique, three-technique, or one-technique, Still said he's confident he can handle the varying responsibilities of each position on the defensive line.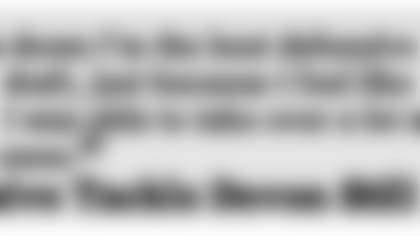 It also appears Still has the ability to lead.
With Penn State engulfed in an unprecedented child abuse scandal involving former and current members of the school's football program, the 2011 season came to an unceremonious end. Legendary coach Joe Paterno, who led Penn State for 46 seasons, was ousted from his position before the 2011 regular season finale.
With his team, the program and the State College, Penn., community reeling, the Nittany Lions took the field arm-in-arm with one another. At the front of the group of was Still, who joined three of his teammates in leading the squad onto the famed field in Happy Valley.
"When I got the news of Coach Paterno being fired," Still said, "I heard a lot of speculation about how the team was going to fall apart, that we weren't going to play like the unit that we were before. I felt as though I had to do something to show the team that we were going to stick together through this."
Unwanted as the circumstances were, Still said the process helped shape his life for the better.
"You never expect adversity when you're going through life," Still said. "But just because we were able to get through that – we were hit so hard, blindsided by it, but we were able to make it through – I think that helped us grow as men and helped us get over challenges that we face in life."
Just weeks after Penn State wrapped up its 2011 campaign, Paterno unfortunately passed away, leaving an unmatched legacy for the game and for his school. While attending Paterno's memorial, Still truly realized the magnitude of Paterno's work.
"I think something I learned from being back at the memorial is that what I experienced playing under Joe Paterno, people that played back in the 60s and the 70s and the 80s, they all had similar stories," Still said. "So that just shows you that he remained the same coach the whole time through his tenure there at Penn State. He was able to adapt to football as it changed over time."
With his tumultuous college career behind him, Still is looking forward to the next chapter in his football journey. Next stop: April's NFL Draft.