Our pre-draft series on 49 NFL prospects concludes with a look at one of the quickest players in college football. (Robinson images courtesy of Central Florida Athletics Communications).
The best and most appropriate description for Central Florida cornerback Josh Robinson would have to focus on his rare gift.
Not many players with top-flight running ability can produce on the field against some of the nation's top receivers. But that's exactly what Robinson did in three years at UCF.
Having those unique credentials makes the 5-foot-10, 192-pound cornerback a quality prospect for 32 NFL teams.
It also helps that Robinson ran a 4.33, 40-yard dash at the 2012 NFL Scouting Combine.
Now, the UCF cornerback is primed to be one of the first defensive backs selected in the 2012 NFL Draft. Robinson's current location in some of the most recently released mock drafts are a far cry from where he started before the draft process when the league's evaluation committee gave him an average review.
"They told me I wouldn't be drafted in the top three rounds," Robinson said. "So that gave me motivations. That made me want to prove that I could be drafted higher than that and do better than what some people believe I can."
Robinson routinely produced in his three years at UCF. In that time, he recorded 10 interceptions and shutdown the opposition's best wideouts.  One of his most high-profile matchups came in 2010 against Cincinnati Bengals Pro Bowl wide receiver A.J. Green, who was held in check in the Knights 10-6 Liberty Bowl win over Georgia.
"For me it gave me a lot of confidence, especially seeing a guy like A.J. do so well this past year," Robinson said. "And having the ability to play against him, I was blessed because he's a great receiver. After studying film on him for weeks he was one of the best and I knew he would be from the get-go. I'm thankful just to have that opportunity."
Robinson recorded two interceptions the past the seasons. He began his career with six interceptions as a true freshman.
Because of that production, Robinson described his career as consistent.
"And actually improving even though I didn't have the interceptions that I had my first few years, I did make the plays more and gave up less and less touchdowns and completions. I believe my career was kind of sound at UCF."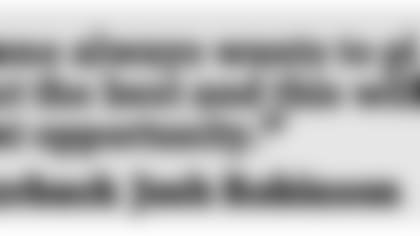 Production, like posting 49 tackles in 2011, is one of many things Robinson has going for him as he awaits to hear his name called in the draft.
"I believe that's one of the best attributes of my game, the variety," Robinson said. "The ability to play man and play zone, to go into nickel and if I have to go to safety, I can do that as well."
In addition to the scheme and position flexibility Robinson offers, (he does come from the school that produced 49ers fullback Bruce Miller), the cornerback's measurables are off the charts compared to some of his draft competition.
Robinson finished first among cornerbacks in more than just the 40. He finished first in the broad jump with a leap of 11 feet and one inch and finished second out of all cornerbacks in the vertical jump with a mark of 38.5 inches.
For all those reasons, Robinson felt it was time to go pro and informed his head coach of his wishes.
"I felt I was ready. I told Coach (George) O'Leary from the first time I met with him about the decision," Robinson said. "I asked him his opinion and then I let him know I felt I was ready and that I could compete at the next level at a high level and not just be a walk on or a free agent.
"I felt I could actually play and start. That was the main thing, I felt I was ready."
Despite leaving school early, Robinson's 20 hours away from completing his degree in criminal justice. The achievement is very important to the cornerback.
"I love the campus and the culture and the staff and all those people and Coach O'Leary promised me one thing that a lot of schools didn't do," Robinson said. "He didn't just promise me that I'd play and things like that; he promised that I'd get my degree. And that's something that I really appreciated.
"A lot of coaches could really fill your head up but that was something that I liked. And I don't have my degree yet, but I will because he gave me that degree and I'm going to keep my side of the deal."
Robinson's sprint into the NFL is just days away, giving him a chance to have his dream come true.
"It's hard to even put that in words. It's been a dream of mine for many years. I feel blessed to just get this opportunity… "I am a competitor and that just gives me an opportunity to compete. Compete against what people are saying and against the best. Everyone always wants to play against the best and this will give me that opportunity."