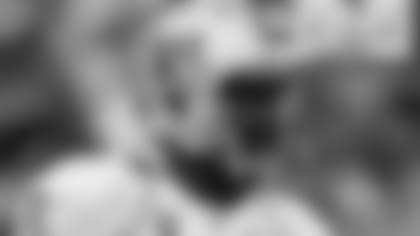 Our pre-draft series continues with a look at one of the most competitive cornerbacks to come out of the Pacific Northwest.**
You could see him and you could definitely hear him on the practice fields at Laad-Peebles Stadium in Mobile, Ala.
Standing out among the best seniors in the nation isn't an easy task, but that's exactly what Desmond Trufant did at the 2013 Senior Bowl.
In every instance, the 6-foot, 190-pound Washington cornerback was eager to challenge the nation's best wide receivers in one-on-one drills. Trufant never backed down from the challenge of facing bigger wide receivers.
He thrived in the ultra-competitive environment and because of that willingness to compete and in some cases ask to cover the perceived best wideouts, Trufant has put himself into the first-round conversation for the 2013 NFL Draft.
"It was big," Trufant, a four-year starter and 2012 first-team All Pac-12 performer said of his Senior Bowl experience.
Even more important, the week of practice combined with the showcase game, helped the athletic defensive back carve out his own reputation separate from his brothers with NFL experience.
The Trufant name should bring back memories to 49ers fans. Desmond's older brother is current Seahawks cornerbacker, Marcus Trufant. Another of his older brothers, Isaiah, is a third-year pro with the New York Jets, a team the 49ers defeated in Week 4 of the 2012 regular season.
As the youngest Trufant brother, Desmond, approaches the NFL Draft, he still gets confused for his eldest brother.
"I get the 'Hey Marcus' a couple times," Desmond said with a laugh at the 2013 NFL Scouting Combine. "It's all good. He's a great player. He's done some great things in the league. So it's not a bad thing."
Marcus, 32, has recorded 563 tackles and 21 interceptions in 10 seasons with Seattle.
Those are big shoes to fill, yet Desmond is up for the challenge.
"It's cool," Desmond, the Washington standout said. "I don't know the last time when there have been three brothers in the NFL. It's definitely a milestone. It's big for our family, and our city. And so I'm just going to continue it going… I love my brothers, love my family. And I'm just going to keep the legacy going."
Marcus was the No. 11 overall pick in 2003. Isaiah, however, went undrafted in 2006.
"I think my brother Isaiah, he definitely took the long road," Desmond said. "He's a very resilient person. It just shows that you never give up on your dream. People might say that you can't do this or you can't do that, or you're too short or you're not big enough. He just kept working. And I'm taking that to my game.
"I'm very resilient. And like you said my brother Marcus went through the same process that I'm going through. And I've learned a lot from him – just be myself and do what I'm doing."
Desmond figures to be a first-round pick. Not only did he compete all four seasons in the pass-happy, Pac-12 conference, he ran an impressive 4.38, 40-yard dash at the combine. Desmond stood on most of his combine numbers at his recent pro day, but showed excellent change of direction while posting a 6.76-second time in the three-cone drill.
All of the game tape and his successful workouts have the youngest Trufant primed to be one of the top defensive backs selected in the 2013 draft.
But what sets Trufant apart in his own estimation?
"Instincts, feet, quickness in and out of my breaks and transition," said the Washington defensive back who met with half of the NFL's 32 clubs at the combine. "A competitive nature. Leadership and things like that."
It's important for Desmond to stand out among fellow defensive backs, but also to make an impact compared to his brothers.
"I have been waiting for this opportunity my whole life," Desmond said. "All the workouts, all of the season work, all the games – everything is coming down to this moment. I'm very excited."
Trufant's experience and position versatility make him very attractive to NFL teams. Despite only having three interceptions over his past two seasons, teams did not throw to his side of the field. Trufant carved out a reputation as a cover cornerback since his days playing as a true freshman in 2009.
His best year came in 2011. Trufant totaled two interceptions and 16 pass breakups. Opponents learned from Trufant's junior game tape and shied away from throwing at Washington's No. 6.
"I feel like I'm a man-to-man corner," Trufant explained. "I can play zone as well, but I feel man is my strength. In the league you've got to be able to man up. The receivers are great. You've got to be able to read and react, and be out there on that island. And it's definitely helped me being at UW."
If Trufant's drafted to be a Day 1 starter or a reserve cornerback with a nickel role, he's happy to line up anywhere on the field just as long as he's able to compete.
"The way that I get out of my breaks and my transitioning, guys on the slot are a lot quicker," Trufant reasoned. "There's a lot of quick game, and I feel like I can do goo at that, and I'm a good blitzer as well, and like to get in on tackles."
With that kind of confidence, it sounds like the family legacy is on solid ground.