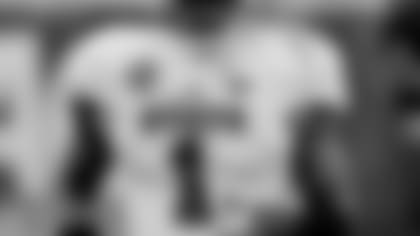 Our pre-draft series continues with a profile on a prolific North Carolina State defensive back.**
Motivated and determined.
Those are the first words on the Twitter bio of David Amerson, a gifted North Carolina State cornerback set to enter the 2013 NFL Draft.
Amerson left the Wolf Pack behind after a disappointing junior season with the hopes of competing at football's highest level. In all fairness, Amerson's 2012 production came on the heels of an Atlantic Coast Conference single-season interception record as a sophomore.
Amerson, a 6-foot-1, 205-pound defensive back, recorded 13 interceptions as a sophomore, the second best single-season effort in NCAA history.
That's a career's worth of takeaways for many collegiate defensive backs.
Amerson entered his junior campaign with much fanfare, but still couldn't come close to matching his sophomore production. At times, the North Carolina State product found himself being greedy when it came to creating turnovers. He once gave up four touchdowns to Miami in a single game.
"Definitely the amount of touchdowns I gave up this season was disappointing," Amerson said at the NFL Scouting Combine.
Amerson admitted to trying too hard for interceptions. It resulted in him earning second-team All-ACC honors for his five-interception season.
Still, the interception number wasn't bad for any cornerback's standards.
"A lot of sitting on routes and guessing resulted in giving up touchdowns," Amerson said of the disparity between his 2011 and 2012 seasons.
"I was just playing to get interceptions, trying to match the 13."
Amerson even admitted to trying to reach the NCAA record of 14 interceptions in a season set in 1968 by Al Worley of the University of Washington.
"I started getting out of character, not letting the game come to me and just not being myself," he reasoned.
Despite the setback last year, Amerson ranks highly among this year's defensive backs.
It also helps his draft standing that he posted a 4.44, 40-yard dash to go along with 15 reps on the bench press and a 35.5-inch vertical jump. at the NFL combine.
Athleticism is one thing, but Amerson prides himself on accountability. It's tough playing an on island, but willingness to admit mistakes is something Amerson takes pride in doing.
"I've definitely never been the type to point the finger," he said. "If I give up something, I'll be the first to admit it. It's just the way it is."
Amerson's height would allow him to compete with the bigger wide receivers found on just about every NFL roster.
"When you have receivers like Calvin Johnson, Larry Fitzgerald, big, tall freaks of nature, you definitely need someone to match up against them," Amerson said. "That's probably why bigger corners are more popular now."
In his Amerson's mind, his long body type bodes well for his future in the NFL.
"It allows me to get my fingers on the ball sometimes when I'm not supposed to," he detailed. "And as far as getting hands on receivers and making plays that a guy a little bit shorter than me probably couldn't make, it definitely helps me."
Amerson played safety in high school and has no problem playing it again if that's asked of him at the next level. Play-making, after all, is his passion.
"I just see myself as a playmaker in the secondary wherever," he said. "There would be some learning I would have to do. My first love on defense was safety. So I don't think it would be too hard for me. It wouldn't be too much of a challenge."
For now, Amerson's challenge will come at cornerback where he aims to show his sophomore production is too good to ignore.
"I have to let the game come to me," Amerson said. "For me to be successful, that's the way I have to do it. So whatever team I go to, that's how I have to approach it."