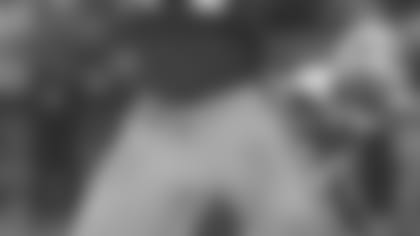 The San Francisco 49ers will continue to recognize its alumni by selecting an honorary game captain for each of its home contents during the 2008 season at Candlestick Park. Honorary game captains reconnect with the 49ers family, while also participating in the coin flip prior to the start of the game. For the 49ers final home game of the year,  former defensive lineman Bryant Young will serve as the Honorary Game Captain. Check out this feature story on the former player.*
BRYANT YOUNG  - DEFENSIVE END/DEFENSIVE TACKLE  -  HEIGHT: 6-FOOT-3  -
WEIGHT: 305 POUNDS  - HIGH SCHOOL: BLOOM TOWNSHIP (CHICAGO HEIGHTS, IL)
COLLEGE: NOTRE DAME  - SAN FRANCISCO 49ERS: 1994-2007
It's not often that a player sticks around one NFL team for 14 seasons like Bryant Young did in San Francisco from 1994-2007. In fact, only four 49ers have ever been with the club longer.
"We had some ups and downs throughout the years, but I'm very loyal and committed to the brand," Young said about his reasons for staying in San Francisco throughout his entire NFL career.
"Bryant Young is a rock, an anchor," Head Coach Mike Singletary said. "He was the ultimate professional. He carried himself that way and played that way."
Young's actions certainly backed up Singletary's words.
In 1994, Young to San Francisco to begin his pro career after being selected as the seventh overall pick in that year's NFL Draft out of Notre Dame. He immediately made his impact felt when he was named the NFL's Defensive Rookie of the Year and helped lead the 49ers to their fifth Super Bowl Championship.
"My rookie year, there were a lot of expectations for the team to get over the hump and win the Super Bowl," Young said. "And we did it. I remember thinking, 'It can't get any better than this.' A lot of guys never even get a chance to go to a Super Bowl. I won one my first year in the league."
One of the NFL's most respected players, Young was a proven winner throughout his career. Along with a Super Bowl title, he helped put the 49ers into the postseason in each of his first five seasons. However, late in 1998 season with Young headed to the postseason for the fifth straight campaign, the defensive lineman experienced a devastating injury that would have ended most careers. Against the New York Giants in a Monday Night Football game, he was carted off the field after fracturing both his tibia and fibula.
"Tough times don't last," he said with a chuckle. "Tough people do."
Young did remain tough and focused, going through an arduous rehabilitation process to return to action the following season and earn NFL Comeback Player of the Year honors.
Young also added three of his four Pro Bowl selections after the mishap and was selected as the team's Len Eshmont Award winner, symbolic of the player who best exemplifies courage and leadership, an astonishing eight times total and in each of his final four seasons. No other member of the 49ers has ever won the honor more than twice.
After 14 seasons in professional football and numerous accolades, the presumptive Hall of Famer finally decided to retire after last season.
Young finished his career with 89.5 sacks, good for third all-time in team history. A true iron man, Young played in and started 208 games. He trails only Jerry Rice's 224 starts and is tied for third in all-time games played. However, these impressive statistics pale in comparison to the immeasurable impact Young had on his teammates and coaches.
"Playing next to Bryant Young was a miracle," said Isaac Sopoaga, who stepped into Young's starting role in 2008. "I learned a lot from Bryant Young not just on the field, but off the field as well. I believe in my heart and soul that B.Y. is a Hall of Famer."
"There's no doubt about it," Singletary said about Young being enshrined in Canton. "He was a heck of a player and a heck of a talent. The 49ers did a great job drafting a guy like that. That's about as good as it's going to get."
An illustrious career complete, Young said it didn't take long to start writing his next act.
"I have four kids," he said when asked about his post-NFL life.
Some of his activities soon after retirement included a job as a volunteer coach for his son's tee-ball team and helping to coordinate a 5K run that his entire family finished together.
He got much more adventurous last summer when he and his entire family went on a pair of vacations that totaled approximately three months on the road.
The family, which home schools its four children, took a trip in an RV throughout the United States.
"We just sat back and enjoyed the sites that our country has to offer," said Young, who claimed that the trip was a dream come true for he and wife Kristin. "The timing was perfect for what we wanted to do.
"I know I need to create a structure for myself to be purposeful and make an impact in some way," he added. "But right now, I'm really enjoying spending more time with my family and not having my schedule be quite so regimented."
Young is reluctant to say whether he deserves a place in the Hall but makes it clear it's on his mind.
"I would hope I'm worthy, but that's not for me to decide," Young said. "I would love to be in the Hall of Fame. It's the capping of a career. Making it to the Hall of Fame is putting your mark on the game, and it would mean a great deal to me."
2008 HONOARY GAME CAPTAINS
August 16 – Dan Colchico, DE (1960-65)
August 29 – Ed Beard, LB (1965-72)
September 7 – Jesse Sapolu, C/G (1983-97)
September 21 – Archie Reese, DE (1978-81)
October 5 – Brent Jones, TE (1987-97)
October 12 – John Taylor, WR (1987-95)
October 26 – John Brodie, QB (1957-73)
November 16 – Kevin Fagan, DE (1987-93)
December 7 – Freddie Solomon, WR (1978-85)
December 28 – Bryant Young, DE/DT (1994-2007)