Thanks to the fans, coaches and players, the 49ers will have at least three representatives at the 2010 Pro Bowl in tight end Vernon Davis, punter Andy Lee and inside linebacker Joe Staley.
Running back Frank Gore was named a first-alternate, while defensive tackle Justin Smith and special teams standout Michael Robinson both were named as second-alternates.
It's Lee's second Pro Bowl appearance, Willis' third consecutive trip and Davis' first selection to the NFL's All-Star game which will be played this season in Miami, prior to Super Bowl XLIV.
Davis found out the news when head coach Mike Singletary called him earlier in the afternoon.
"Vernon, how you doing? It's coach Singletary. Were you sleeping? Oh, you were just lying down? Alright, well look here, do you have your phone next to you? Cut it off for a minute. (Singletary laughs). Alright, the reason I want you to cut it off is because you can't tell anybody this until after 4:15. You made the Pro Bowl, first-team.
It is awesome. I'm very excited for you. I'm very excited for you. You know you deserved it. You worked your tail-off and it's fantastic.
You didn't think you were going to make it? Why not? (Long pause) Well, you know what, you deserve it. I'm really happy for you, Pat and Andy Lee [made it too]. All three of you will be over there together.
But I just wanted to call you and let you know. But you can't let anybody know, Vernon. Ok? Don't Twitter or don't do any of those things until after 4:15. We're good? (Singletary laughs) Ok, V. Hey, congratulations my man. Alright, God bless you. I look forward to seeing you tomorrow, goodbye."*
Davis followed Singletary's orders and did not make a single mention of his big news throughout the day. Lee or Willis didn't have any such problems, as neither player has an account on the social media site.
But Singletary urged Lee not to let the word out either when the two spoke over the phone the head coach's office.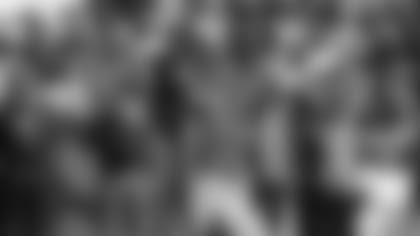 "Andy, I'm just calling to congratulate you on making the Pro Bowl first-team. You have Vernon with you and you have Pat with you," Singletary said.
"Yes, you are the starter. (Singletary laughs). Is that right? You've been nervous all day? Is that right? No, that's good stuff. I'm very happy for you. Make sure you don't let anybody let this out at all, because you have to hold it until 4:15, the league wants to announce it. So, don't Twitter or anything like that. Oh yeah, just make sure they don't Twitter. (Singletary laughs) Hey, congratulations again. Thank you, talk to you later, goodbye."*
Singletary didn't exactly have the easiest time informing Willis of the good news.
Just like last season, the linebacker was out in the community on the day he found out he'd been selected as a Pro Bowler. This year, Willis was with his fellow linebackers giving out gifts to children at the Kaiser Hospital of Santa Clara.
Singletary tried to reach Willis over the phone to no avail, as the linebacker's phone kept cutting in and out of service as he drove through traffic to get to the hospital.
"It's truly a blessing. [Singletary] called me today and we had some communication issues, my phone was losing service. I was like, 'I hope it's nothing serious.' But he called me back and told me. Once again, it's just a great honor. I give it all to my coaches and my teammates. I thank God for it.
"It's been a lot of hard work, but at the same, having the right people around you to help you get to this point has really meant a lot to me. I'm just thankful. I know [Sinlgetary's] proud. I know he's happy for me and I'm just thankful to have him."
The 49ers are certainly thankful to have the services of Davis, Lee and Willis. Here's a look at what helped each player earn Pro Bowl invites.
Tight End Vernon Davis #85 – 1st Pro Bowl Appearance
Vernon Davis set a new single-season records and career-highs this season. His 12 touchdown receptions make him one of six NFL tight ends to register 12 touchdowns in a season. He's also set single-game highs this season in receptions (10) and touchdowns (2). Davis was also named the 2009 Len Eshmont Award winner. The award is given to the 49ers player who best exemplifies the inspirational and courageous play of Len Eshmont, an original member of the 1946 49ers team.
Davis is tied for second in the NFL with 12 touchdown receptions. Among tight ends he ranks tied for 5th in the NFL (tied for 3rd in the NFC) with 72 receptions and 4th (2nd in the NFC) with 876 receiving yards.
Davis set a franchise record for most touchdowns by a tight end in a single season with a 33-yard touchdown pass against the Seattle Seahawks. He also surpassed another franchise record for most yards by a tight end in a single season. Through 15 games, he's one touchdown away from tying Antonio Gates' NFL record of 13 touchdown catches in a single season, set back in 2004. Davis was named by Singletary as one of the team's six co-captains at the start of the season.
Punter Andy Lee # 4 – 2nd Pro Bowl Appearance
Andy Lee has established himself as one of the most productive punters in the NFL since being drafted in the 6th round of the 2004 NFL Draft. After earning Pro Bowl and All-Pro honors in 2007, he once again put up outstanding numbers. In 2008 he set a career-high and team record with his 47.8 gross average.
In 2009, Lee ranks 1st in the NFC and 2nd in the NFC with a 47.7 gross average. He ranks 1st in the NFC and 2nd in the NFC with a 41.4 net average.
Inside Linebacker Patrick Willis #52 – 3rd Pro Bowl Appearance
Patrick Willis will make his third consecutive Pro Bowl appearance in as many seasons. Another one of the 49ers six co-captains had himself another tremendous season. Willis was also given the team's 2009 Bill Walsh Award. It's an honor voted on by the coaches, given annually to the 49ers team MVP for his outstanding individual performance.
This season, Willis leads the team with 166 tackles and 13 tackles-for-loss. He ranks tied for fourth on the team with a career-high 4.0 sacks. He's also tied for second on the team and second among NFL linebackers with three interceptions.