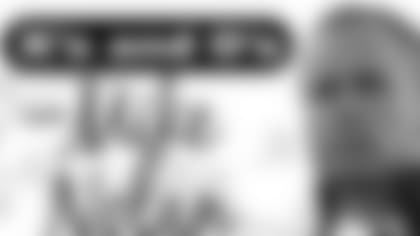 The 49ers are in Chicago to play the Bears tonight, so we went ahead and bumped up Coach's X's and O's today! Check out his responses to questions from our fans!**
Q: Coach Nolan, with the recent success of WR Josh Morgan, do you plan to use him more in the regular season or will he be used primarily on special teams? Do you think he could have a rookie season like Marques Colston did for the Saints in 2006. – Thanks, Paul WestcottA: Josh Morgan is a great example as I've said of a guy who had an opportunity because of the injuries around him to show what he can do. He has had a chance to showcase himself and work with the first unit. As we've already seen in two games, he's done a very nice job. I believe he's going to help us. I think he will play a major role this season for us whether he starts or not. I hope he can have a season like Marques Colston. Josh is extremely dedicated to his craft. He takes meticulous notes during his meetings, and he studies hard. It is evident because he does not make mistakes.
Q: Hey coach, I was wondering how you and your staff breakdown film for gameday so if you play on a Saturday or Sunday, what is your practice preparations like? -Robert Deauville A: I can give you a breakdown of why it takes the whole week for us to prepare for our opponent. On Monday following game our coaching staff will review the game film with the players. After meeting as a team we break into offensive and defensive groups. There is usually some individual positional meetings as well to help make corrections from the previous game. In the evening, the coaches start preparing for our next opponent.
While Tuesday is the day off for the players, our coaching staff lays out the game plan as well as the practice week and meeting plan for the players so that when they come back to work on Wednesday we do not miss a beat.
We practice on Wednesday, Thursday and Friday and each day we install different parts of the game plan. Wednesday - usually the basic offensive and defensive packages is what we will use. Thursday we install what we will do in nickel and dime situations on both sides of the ball, and Friday is dedicated to the redzone and short yardage situations. Saturday we have a light walk-thru to refine everything and also go through additional meetings.
Q: Hey coach, I've been a loyal fan since 1989. I have two questions if Josh Morgan does start this season where would Bryant Johnson, Arnaz Battle, and Jason Hill be on the depth chart? Also, I would love to see Alex Smith play under a good coordinator like Martz, but it seems he's not going to start any preseason games. It just doesn't seem fair to give one quarterback all the work with the first team when it's supposed to be a competition. - -R Carey
A: We are still working out our depth chart so it is hard to answer the first part of your question. Right now Bryant Johnson and Arnaz Battle are hurt. I think Jason Hill and Josh Morgan have had opportunities due to the injuries and both are doing well.
Alex Smith has done well in the new offense under Mike Martz. I am pleased with his progress. Fair is what is best for our football team. All of the quarterbacks have had opportunities to work with the first unit. It is what you do with the opportunities. I am pleased with how the offense has progressed with the quarterback rotation we have right now. We are going to keep it the same for the game against Chicago, because we have a short week to get ready, and I want the team to focus in on what we need to do to beat the Bears.
Q: Coach, you stated that JT O'Sullivan has not done anything to make you think he cannot play. How about the three turnovers in his four quarters of play? Alex Smith hasn't turned the ball over once, yes it has only been two quarters, but that's not his fault. Why not give him a chance with the first unit and give JT the second unit and see what happens? - John PorterA: Obviously, we want to avoid turnovers. That is true. But I am pleased with the way that we moved the ball with JT in the game. When you're competitive, you want to win every down, and that's a good thing. But some downs you have a better chance than others. As we know, in the first preseason game, JT forced the ball, and then made an acrobatic play on another one. He didn't do any of those in the Green Bay game. He's the kind of guy who corrects himself. He does a very good job. He knows what he does right and wrong in the game. It's seldom that you offer information to him, and he kind of goes 'Oh, I didn't know that.' I've never seen that look on his face. He knows before Mike [Martz] corrects him what it was.
With the short week this week, we felt it was best to keep our rotation the same so that we can maintain focus on beating Chicago.
Q: Coach Nolan,I believe you've indicated in the past that you don't believe a starter should lose their job due to injury. Yet after the 2007 season, you declared an open competition at quarterback even though Alex Smith was coming off an injury. Prior to his injury, Smith had a winning record. So why was Smith never given the opportunity to retain his starting status? - Dave, Placerville CA.
A: I have not named a starting quarterback for the season yet. The NFL is a year-by-year deal. All of our quarterbacks were given an opportunity in practice. It is not the quantity of reps all of the time but the quality of them. We have been evaluating as we go along, not only the quarterback position but every position. For our players' sake, as well as our fans, we owe them competition. Competition always makes you better. I am pleased that none of our players shy away from competition. Our goal is simple – to put our team in the best position to win games. To do that you need to put your best 11 out on the field. That is what we are still working towards.