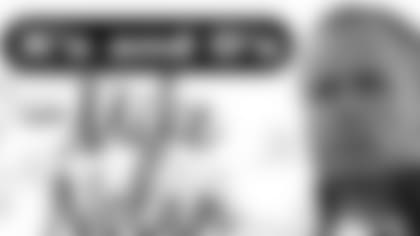 After the 49ers returned home from New Orleans, head coach Mike Nolan made sure to get to some questions from our fans. If your question wasn't chosen this time, try again! Coach Nolan will be back next Tuesday with more answers. To ask a question, send it to xandowithnolan@niners.nfl.com**
Q: Why not make the two tight end formation the base of the offense since it offers so much variety on its motions and shifts? I have noticed that JTO is most accurate and has more time to make his progressions when he operates out of the standard I-formation or two tight end sets. -Kroy Flient
A: We are a multiple offense. The reason and purpose is to use all our players. It also creates the most problems for the defense. Every scheme, formation and play has value when executed properly by good players. It is best to mix things up and do what we can to keep the defense on the edge.
Q: Coach, can you tell me why Vernon Davis got only one pass thrown to him against the Saints? I've noticed that sometimes he runs wrong routes. Is that why he doesn't get more balls thrown his way? -Ed Garcia, Santa Clara.
A: First of all, Vernon is a complete tight end. His value to winning comes in three different ways. He adds value through receiving, but just as important is the value he adds to the pass blocking and run blocking.
Vernon has the work ethic and the desire to be the best. He stays after practice every day working to get better. We missed him on a couple of throws and those things are real close. We just need to keep hammering and we'll make them eventually.
Q: Coach, I have a couple of questions. 1. Why don't we blitz more often? 2. Why not more screens when the Saints were blitzing every down? And why isn't David Bass starting? He's a rock. Gore's longest run of the year was behind him. – gdegenstein
A: We are a multiple defense. We do bring five or six guys more often than most teams. Going against a quick passing team like New Orleans, it typically won't show that we are rushing the passer with five or six guys. But as evidenced early in that game for the first quarter and a half, we did get some good pressure that disrupted Drew Brees. We did not get sacks, but we did get pressure. It also needs to be pointed out that credit should go to Brees. He was able to get rid of the ball quickly against us.
Screens are a good answer. But there are other things that work, too. We were effective on drives with slant routes that picked up some good yardage. What bothers me is that some of the Saints four-man rushing plays looked like blitzes.
The interior of our line is playing well. David Baas has played about 12 plays at left guard in place of Adam Snyder in each game so far. I would look for that to continue.
Q: Hi coach, tough loss, I think we had a chance to win the game, but turnovers once again kills our chances. My question is maybe towards Martz's play calling. We were inside the 15-yard line two or three times, and JTO threw two INTs. With Frank running so good this year, averaging 4.9 a carry, and JTO's inexperience, why are we not running the football more in these situations? I believe it was first and ten from the 11-yard line, and we threw the ball to try and score. What's up with that? Stewart- Richmond, CA
A: Yes. You are correct. We talked about that play as a staff and agreed with what you asked. But, unfortunately, hindsight is always 20-20.
Q: Hi Coach, I know you have certain responsibilities for Joe Staley, but can you send him on more blitzes? He is one of the most talented ball-seeking, hard-hitting athletes I've ever seen. He almost had a sack in the Saints game. Wouldn't a game-changing sack or forced fumble be more probable, if he and Justin Smith were in attack mode more often? -Thanks, Chip in Fresno
A: Justin Smith is on the attack mode on the majority of the plays. He is attempting to get a push forward. That plays to his strength. Patrick can have as much of an impact laterally with his range as he does pushing forward. When you bring Patrick forward and the ball goes behind him then he is out of the play. He is too much of a play maker to take his speed out of the game. If he plays underneath he can make plays by going from side to side. He did an outstanding job against New Orleans stopping Reggie Bush.
Q: Hey coach, what were your thoughts on the Saints kicking a field goal at the end of the game. It seemed like poor sportsmanship? Michael Villias
A: I had no problem with it. The Saints were playing to win. The field goal pretty much sealed the victory. After we scored to make it 28-17, there was still time on the clock. If we converted the on-side kick, we had a chance. They recovered the ball and were basically in field goal position from the start of the drive.
Q: Hey Coach, I know that the tough questions usually get edited or don't get answered, but I am going to give it a try anyway: Coach we are only four games into the season and the season is still very young, but why is it that we struggle so much in the red zone with committing turnovers and being unable to score touchdowns? -Thanks for answering Coach. SGT Bates United States Army/Noxapater/Tupelo, MS
A: We are tied for ninth in the NFL with 14 trips into the red zone. I wish we scored touchdowns every time we were in the red zone. But, entering the Saints game we were perfect in at least getting points on our 12 trips in the red zone. We had six field goals and six touchdowns. Obviously, in the Saints game we were hurt by the two interceptions. We don't dismiss any mistakes we make. We will study the play calls we had in those two situations and analysis what works and what does not work and make the corrections that are necessary.
Q: Hey Coach, back in the mid-1980's and the 90's, the 49ers had a swagger about them on the field. It's like they knew that they were going to win the game and it seems like they are playing with more confidence now. Do you think that at some point the team will know when they have that swagger to be consistent even if we were to lose back-to-back games? -Thanks, David Martin
A: Winning builds confidence. If we get back to the way we beat Detroit and Seattle, I hope that feeling will return to our players. In the same token, I hope the two losses we had are reminders of what can happen if we do not pay attention to detail.