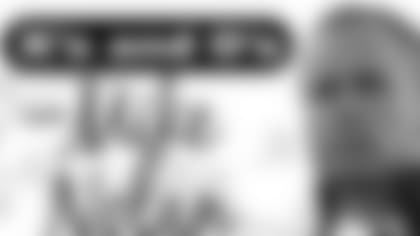 The 49ers will wrap up their final preseason game tonight against San Diego, but before tonight's action, head coach Mike Nolan paused to answer questions from our fans. Check them out! **
Q: This year they added the rule where you can defer the coin toss and choose to receive the ball at the start of the second half (Madden Rule). Some coaches have stated publicly that they would rather receive the ball to start the second half, as it allows them to make adjustments. Is there an advantage? Do you like to start the game with the ball or with the defense on the field first? Do home and away games make a difference? Will you change your strategy week to week? Thanks Coach and good luck this year! -Tyson Lamp, San Diego, CA
A: I think it is a week to week decision. There are a lot of factors that go into it, the health of your team, the way that each unit has been playing, as well as weather elements. It will be something we discuss when I meet with the coordinators throughout the week to talk about game scenarios.
Q: Hi, thanks for answering all the tough questions coach! In terms of practice time at the moment, we have 3 players (who I think will be on the team) practicing at RG, yet we have 1 player (who will be on the team) practicing at LG. David Baas, Tony Wragge, and Chilo Rachal are at RG and Adam Snyder is at LG. Now that Snyder is hurt, this fact has been highlighted. My question is, shouldn't the backup AND starter at LG have gone through the entire training camp practicing at LG? I understand Tony Wragge can play either position. But why has he been practicing at RG when it was known that Baas would come back to RG and the high draft pick Chilo Rachal would play at RG? Thanks, BrianA: We do rotate our guys in practice so that they get reps at the different positions in case of an emergency or injury. The one thing to point out is that with a young guy or a rookie, you want to make sure that he first becomes comfortable at one position. We are fortunate that we have some guys like Tony Wragge and Adam Snyder who can play different positions. Tony has been a valuable starter and reserve at both guard positions and center. Adam Snyder's primary playing time has been at left tackle, but we feel he can be a real good player at guard. That is why we wanted to settle him in at one position and maximize his reps at left guard.
We knew going into training camp that David would miss most if not all of camp, so we had to put someone at right guard that we felt would give us the best chance to win. That was Tony. David just came back to practice this past Monday. We will see how he does during the next few days and in the game on Friday. It is possible he may not be ready to start right away. Chilo is doing well, but it is tough for a rookie to play and make an impact immediately. That is why Tony was the best fit to fill in at right guard.
Q: What I've noticed is recently, the 49ers, needing a franchise receiver, have gone after old and ready to retire receivers in Darrell Jackson and now Isaac Bruce. Why haven't you tried harder to sign or trade for a receiver that the opposing defense has to focus on? Not only will that open up the other receivers, it won't allow defenses to focus only on Gore. - goutahutes
A: There is no question that the receiver position has been a point of priority for us. We have drafted guys like Jason Hill and Josh Morgan over the last two years and they appear to be improving every day. We struggled on offense last year. It was collective. It was not just one player that made the difference so I would not point to Darrell Jackson. I agree that we wish we were further along at the wide out position, but I also feel that this year's group with the addition of Bryant Johnson and Isaac Bruce is the best in the last three years.  As Coach Martz pointed out when he watched tape of Isaac last year and when we signed him, there's been no let down in his play. We expect Isaac to have a very good year for us.
Q: Coach, first I have been a fan as long as I can remember. I agree completely with waiting until the right time to name a starter and that the best 11 need to be on the field. However isn't it obvious that JT O'Sullivan would do better in a system he already knows? Alex has been in the league 4 years and had 4 coordinators and 4 offenses to learn. How can he be expected to grow and reach his obvious potential when there is a serious lack of consistency? Given the chance for stability don't you think Alex could reach that potential or is it just a "we need wins now" (as opposed to looking at the future of the franchise)? Travis Ethington, MDA: This is a case of J.T. O'Sullivan playing well, not Alex Smith or Shaun Hill underperforming. By far the quarterback play as a whole is the best that it has been in my three years. That is why I have such confidence and know that we can win with all three.
JT arrived at Detroit pretty late in the summer last year and did not get many reps. Then when the season started he did not get reps with the first unit. He may have learned the offense, but it was mainly in meetings. There is a difference from knowing what to do in the meeting setting and actually doing it on the football field. JT did not get much work in mini-camp and OTAs since we wanted Alex and Shaun to catch up on the offense. When we had the scheduled rest periods for Alex and Shaun, JT quickly took advantage of the reps he did get.
I wish we were heading into our fourth year with the same coordinator. But, that did not happen for different reasons, some of which were beyond our control. I do know that Mike McCarthy, Norv Turner and Mike Martz are some of the best, most respected minds on the offensive side of the ball. JT was with eight different teams. I have been with six NFL teams. I believe learning from different people with different philosophies has helped me become a better coach. I think JT would say that his experiences have helped him. I believe Alex is better because of his exposure to different systems and people.
Q: What's your opinion on Dominique Zeigler? During the Packers game he showed some amazing athleticism and ability to get up in the air to the ball, and even more skills in keeping his feet in bounds. More so, what are your opinions of all your receivers? Obviously it's never good to see receivers injured, but it seems to be allowing people like Josh Morgan, Jason Hill, and Zeigler to get some work and show what they're made of. Are you thankful that you've been able to see these receivers in place of your currently injured ones? James BradyA: As a group, this may be the best we have been at receiver in recent years. It is unfortunate that Bryant Johnson, Ashley Lelie and Arnaz Battle have missed time with their injuries. Both Johnson and Battle had real good camps up to that point. Ashley has not had much opportunity since he was hurt early on. However, their injuries have given guys like Dominique Zeigler, Josh Morgan and Jason Hill opportunities they may not have had. I think all three have taken advantage of those opportunities.
Dominque is a guy who we had on our practice squad last year. He made some pretty amazing catches every day at practice it seemed. Wide receiver will be a tough call when we make our final roster. Beyond even the final 53, there's still some good competition going on from a playing-time standpoint for the season.