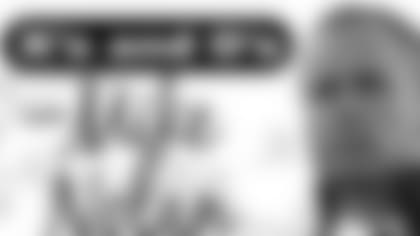 Head coach Mike Nolan will lead his team in their first preseason game tonight against the Oakland Raiders, but before the trip over, Nolan took a break to answer questions from our fans.  Check out his latest installment of X's and O's. **
Q: I hope I am not mischaracterizing your comments, but I believe in the past you have said something to the effect that if you have two guys competing you do not have a true first stringer; instead you have two second stringers. Under that philosophy, doesn't this 3-headed QB competition, in effect, illustrate that we really only have three 3rd string QB's, and shouldn't that be a concern? - Mike Mitchell, Paradise, CA
A: I don't believe that to be true at all. If you look at our quarterbacks, Alex Smith has proved he can win games. He is 7-5 in his last 12 starts when healthy. Shaun Hill finally got a chance last year, and he was able to move the ball and get us some wins. J.T. O'Sullivan has a real good grasp of this offense and has looked good in camp. Obviously we have seen Alex and Shaun in game situations. Scot McCloughan and myself are looking forward to seeing JT against Oakland.
We have upgraded the talent in the building to the point where we have competition at most positions. That is a good thing. It makes you better as well as the people around you. I am really pleased with the way all three of our quarterbacks have responded to the competition.
Q: I read all the online and local papers and have heard many of your thoughts on the quarterback situation. I am not sure what I think but I have questions. How do you think the handling of the QB situation is perceived? It doesn't make sense to many of our fans let alone other football fans. How will any of these guys be truly ready without a true vote of confidence? Ann SteinbronnA: I am excited about all three of our quarterbacks. I believe all three have gotten better this off-season and throughout training camp. There is no doubt in my mind that all three can win games in the NFL.
I acknowledge that it is difficult to get all three reps during training camp. Since J.T. O'Sullivan had a year under his belt in the offense that we are running, we decided it was best to have Alex Smith and Shaun Hill get the majority of the reps during mini-camp and OTAs as well as in the beginning of training camp. This is the process we have to go through to get the right guy.
Going into camp, both Shaun and Alex were told that as camp went on they would get time in camp to rest their arms, similar to how a pitcher gets rest with his pitch count. At that time J.T. would get a chance to get some reps.
If there is one part some media members did not report correctly, it was a from rep standpoint. I believe they wrote it was a two-man race. I actually never said that. I indicated that from a rep standpoint as we start camp Alex and Shaun would get the reps.
Q: Coach Nolan, do you feel having a different coordinator in all four years of Alex Smith's career thus far has effected him not meeting expectations? - Thank you, Jose Estrada, Colorado Springs, CO
A: In an ideal world we would be in year four of our offense. For different reasons, some beyond our own control, that has not happened. I think having four different coordinators has had an effect on our entire team, not just the quarterback spot.
In the long haul, I hope it actually helps our team. Some of our guys will see four different systems, while some NFL players never see more than one during their entire career.
Q: It seems like there is less practice going on in this year's training camp. If I remember correctly, the 49ers training camp started later than it had to. And then later on, there was a practice cancelled. And throughout camp, the QBs are taking days off to rest their arms. I know it's not the quantity of practices that matter, but rather the quality, but I'm just curious if that is the case, why hasn't training camp been like that for the past two years? Is this new idea aimed at lightening the load off players so they are less likely of getting injured? Or, possibly, to just keep them more fresh for the season? – Greg, San Pablo
A: It isn't about number of practices. It is about repetitions and quality time. Quantity is not how you get better. You get better with quality, and I'm very confident. We had outstanding OTA's. We had a lot of work in those OTAs and a lot of repetitions. We have had a lot of repetitions thus far. From a repetitions standpoint, I'm very confident with what we have done so far, and we are getting very good work against one another.
More important than all those things is keeping your guys fresh and staying healthy so those repetitions are quality and they count. We could come out here and do 50 repetitions and everybody is exhausted and get absolutely nothing out of it, or we can come out here and run a little bit fresher.
I scheduled more practices this year in training camp than I have in the past. In the past I've always given Sundays off. Now I have days built in and if the health of our team dictates us to take some time off, I can adjust the schedule. That has happened a few times this camp already. In fact, that was the case on Tuesday after we practiced against Oakland. We had two physical practices and I felt that we should rest the guys with meetings and a lighter workout.
Q: I like the new mantra of "one at a time." I think it's very important to make sure you do the first thing right, then move to the next and do that right, and so on. Last year it looked like guys were getting ahead of themselves and making more mistakes by trying to correct the first mistake. How are the players responding to this new attitude and are you seeing positive effects early in camp? I think you are doing an awesome job and we are building in the right direction. Keep up the hard work.- Issac J.,A: I think the "one at a time" motto keeps us focused. However, our goals remain the same. When people first heard the "one at a time" they thought I changed. I didn't change the goals or the purpose. Those will always remain the same.
I think our players seem to like that, too. Now we are just talking about the next meeting, the next practice and the next game. That keeps us getting better.