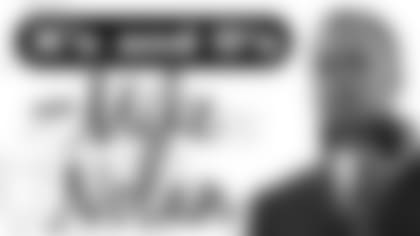 After a few weeks off for vacation and a goodwill trip to visit the troops in Afghanistan, head coach Mike Nolan is back for X's and O's. Thanks again to all fans who sent in questions, and keep them coming! Coach will answer another round of questions that we'll post next Friday!**
Q: Hey coach, thanks for being awesome about answering all of our questions. I was wondering how much time Alex Smith and Shaun Hill will get in each preseason game so that you can evaluate who you want to be our starter for the regular season. Thanks, David Wall, lifelong Niner fan, Modesto CaliforniaA: Right now, it's a competitive situation because we feel we've got quarterbacks who can all compete for the job and take the job. So, to stay fair to the entire football team, as far as our goal of winning, it's important that we give them all equal opportunity. And if we had one established quarterback it would be different, but in our case we do not. We have a situation where we've got competition at the position, and therefore, it would be unfair to, most importantly our football team, let alone to the individuals, to not let them compete for the position. So that's why, rather than name a guy and have it be his position to lose, which is done in some cases and is something we might have done here in the past, it's different this time around. We'll get to the specifics when we get closer to the game. But, as much as it's important that the quarterbacks get their work, I want to make sure they get their work with the players that you have in the most. Meaning, you don't want your third group of players out there with your potential quarterback. Sometimes that occurs because of injury, and you just make the best of it. But when it comes time to put those specifics together, as far as how much they've played in a particular game and when they've played, we'll get to that in a few weeks.
Q: Cutting the roster down to 53 players must be one of the most excruciating aspects of your job. When making those decisions is it weighted more towards experience and longevity or more towards youth and potential? By the way, I greatly admired your dad as a head coach. Go 49ers one game and one win at a time. – Bill JamesA: It is based on winning. Ultimately we want the best 53 players on our team regardless of age or even draft status. We do need to have a certain amount of players at each position for depth purposes, and there are economic factors that do factor into to some decisions. But to the best of our ability, we judge our players on what they do on the field.
Q: How is third round pick Reggie Smith progressing? Will he have a chance to be a part of this secondary come regular season? And will he eventually have the chance to pull for Walt Harris' starting job opposite Nate Clements? Also could you imagine giving him playing time at Free Safety on some occasions?? Many thanks in advance.... Benji from GermanyA: Reggie is progressing nicely. He is a versatile guy. He has played safety and corner as well as being a real good special teams player. We do have some depth there right now with some veteran players, and that will help his development. Walt is a veteran, but he still can play at a high level. I would hope that someday Reggie would step up to a starting role. Hopefully he will develop the way that we have planned for him.
Q: I grew up watching the 49ers of the 1990's. Steve Young, Jerry Rice, Brent, Eric Davis, Bryant Young, Merton Hanks, Tim McDonald, etc. How much does the 49ers history and legacy matter to you? Do you understand how passionate the fans are? And how much we want to win again? - David Boyle
A: I will speak on the history of the organization. That is in place. It is one thing to walk into an organization and to have no history of success. That is a vast difference here with the 49ers. There is an expectation level of performance and you do have a responsibility to past 49ers players. It is the responsibility of the coaches, staff and players to get this back on track.
When my father was head coach of the 49ers, I was fortunate enough to spend time with 49ers greats like John Brodie, Gene Washington, Dave Wilcox and Jimmy Johnson. The reason I bring up those names is because I am often asked why I am a coach. A lot of coaches say that it's because they love the game, but seldom do they actually reflect on why they love the game. I realized and recognized that it was those players' passion and intensity that struck me as a child and made me want to be part of the game of football.
Q: Coach Nolan, looking back over your past three seasons as the Niners head coach, what have learned (or how has approached to the game changed) to make the Niners more prepared/successful in 2008? Thanks and Good Luck, Ted Compton, Alexandria, VA
A: I think right now, as it is for every team, it's a matter of on paper and not on the field because nobody's played any games yet. I like this football team. It's better for several reasons. I think it's better from the top on down. I think the adjustment we made administratively with Scot McCloughan makes us better. I think the coaching staff is an improved coaching staff from a year ago – in particular on the offensive side. I think the free-agent acquisitions, as well as the draft, with a very minimal loss on our roster of our top players, makes us better on paper – and with the healing of a couple players who were injured last year. But again, that's the way we go into it. Going into it, there's a lot of reason for optimism, but I'll worry about that at the end of the season. Like I said, our focus is just on where we're starting.
Q: Do you really believe you have enough depth on the defensive line to cut Melvin Oliver with the loss of BY also? I know the past few years the defensive line has been kind of a weak spot on the defense. Again this year it looks like the defensive line is the weakest part of the defense, even with the addition of Justin Smith and Kentwan Balmer. We definitely need to put pressure on the QB to save the secondary as much as possible. Thank you and good luck this year I will be watching all the games from MD. - ChrisA: What you did last year doesn't indicate what you are going to get this year. We all know that. Justin Smith, in our eyes, is a very good player, and whether he adds the sacks through his own personal numbers or if he frees someone else up…they come in a lot of different ways. However, I think through our overall improvement, getting Manny Lawson back, and just being a better football team will help put people in pass situations. As you know, when we were behind in games, people weren't in pass situations against us. The command of the game has something to do with people dropping back and passing. If you have to pass to win the game, you get more passes. So there are a lot of things that play into that. Justin Smith is a very good player, and I would take nothing away from him. If he got zero sacks last year, I would have still been every bit as interested in Justin Smith at the end of the season. I know Scot McCloughan feels the same way. Again, the overall improvement of the defense with a couple of additions gives us a pretty solid group on defense.