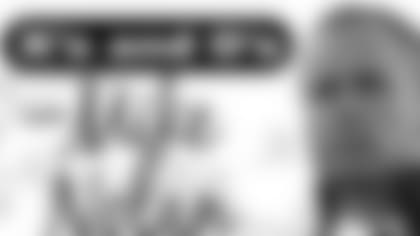 The 49ers have been in camp a week today, and head coach Mike Nolan has been a busy man overseeing two-a-days. Not too busy to answer questions from the fans, however. Check out his latest installment of X's and O's.**
Q: Coach, how do you see Ray McDonald fitting into this season's plans? He was such a force at Florida and an absolute steal in the 4th round - very versatile and explosive. Do you plan to move him inside in your 4-3 on passing downs? Also, does he have any lingering effects from his leg injury? Also coach, the old Rodney Dangerfield line: "all over me like a cheap suit" certainly doesn't apply to you. Keep the suit and ties coming. - Larry H. Reno
A: Ray is explosive off the ball. He has had a great off-season, and worked hard and got bigger. He has excellent initial quickness off the ball. As he learns the nuances of NFL football, he will only get better each day. I look forward to watching him compete. Ray is working at end right now. He is healthy and ready to go.
Q: Why did you reverse your course by saying the quarterback battle was between Alex Smith and Shaun and then today say that JT O'Sullivan is in the mix? – Joshua62A: Prior to the start of mini-camp, I said that Alex Smith, Shaun Hill and JT O'Sullivan were all competing for the starting quarterback job. I acknowledged during OTAs and in the beginning days of training camp that it was difficult to get repetitions for three quarterbacks. I was asked again before training camp if it were a two-man race and at that time I said it was from a repetition standpoint. There really is no way of getting around that two guys are going to take more reps. O'Sullivan worked under offensive coordinator Mike Martz in Detroit last season and is already well versed in his offense, so Smith and Hill began training camp rotating work with the first unit.
The coaching staff decided to allow Hill to rest his shoulder over the last two days, and O'Sullivan was given reps with the first unit. We told the quarterbacks going into training camp that they would get time to rest. It is just like a baseball pitcher. Sometimes you need to rest. Shaun is not hurt, but the coaching staff in watching felt it was best to give him a day or two to rest.
As I've said all along, we've got three quarterbacks battling for the position. Three guys. The determining factor will be which quarterback gives us the best chance to win.
Q: Coach, I saw that Michael Robinson had his knee scoped. Was the meniscus re-attached or just removed? I think that if it's removed that it's usually just about a 2 week injury? Michael and Delanie Walker are two players I'm excited to watch in this Martz offense so just hoping that Robinson won't miss too much time. How was he looking before he was injured? – Alphonso, San JoseA: There's severity in every injury and even in meniscus there's degrees of severity. I wouldn't call his severe. I just want to make sure that he's healthy. He'll be back. We'll be in good shape. Michael is in rehab and it will be interesting to see how fast he does come back because everything that Mike does is all-out and usually those guys come back quicker than the others so we'll see what he does. He is such a smart player. He was our best special teams player last year, and I also think he can make more of an impact on offense.
Q: Coach Nolan, first of all I was a great fan of your father and a 49ers fan since the mid-sixties. You came into a proud team with a great history that was down and had a long way to go to come back. My question is two parts actually. Part one is how much progress, how much of an impact do you believe you have made in bringing the team back. Part two, it is often said you build an offense from the front back. With only Eric Heitmann returning to his original position on the offensive line this year do you believe the line will have time to gel, and will they be able to protect our starting QB whoever that turns out to be? Thanks in advance, and here is looking forward to a return to true Forty Niners tradition one step at a time. Ted, San Jose California.A: Although we did not achieve our goals in 2007, there are things in place that get me excited. Our approach this year is to not get ahead of ourselves and take everything one at a time – one meeting, one practice, one game. That's how we're approaching it. Our goals remain the same but our motto is 'one at a time.
Beneath the disappointing records, there are signs that we are making progress. Our special teams and defense showed signs that several pieces of the puzzle are already in place. The special teams performed at a high level in 2007, ranking in the Top 5 in every major category. The defense ranked 25th last season in total defense, which is a bit misleading. When broken down into yards allowed per play, we were in the middle of the pack at No. 16. The run defense was extremely impressive, ranking fifth in yards per play. The Vikings' Adrian Peterson, the AP Rookie of the Year, gained 1,341 yards and averaged 5.6 yards per carry. Against us, Peterson managed just three yards on 14 rushing attempts.
While the offense struggled in 2008, I believe we clearly identified the problems and addressed the situations to help improve the offense. We have talents such as Frank Gore, Vernon Davis and newcomers who are expected to make an impact this season in wide receivers Isaac Bruce and Bryant Johnson, and running back DeShaun Foster. We have people who will battle and make plays. Two years ago our line played very well and we finished sixth in the NFL in rushing. We want to get back to where we were then.
Q: Being that you are a defensive minded coach, if I'm a linebacker, what are the fastest ways for me to diagnose if an offense is going to run or pass the ball? What are some things to watch for as a QB that will clue me into what the defense is doing or going to do? For instance in Cover2, you will often see the safeties split up. Anything else to watch for in diagnosing basic coverages and blitz schemes, either pre snap or just after the snap? Chris Penoyer [herodreamer79@yahoo.com]A: One of the first things to watch out for is personnel in the game. We assign one of our players the responsibility of instructing the rest of the defense what personnel is in the game. Personnel groupings and formations as well as tendencies are a good indication whether it will be a run or a pass. Obviously the spot of the ball and the down and distance are indicators as well. There is a lot to pay attention to prior to the snap that can help indicate what the play will be.