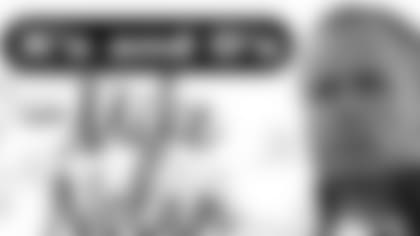 The 49ers are wrapping up their work week of preparation for Sunday's game against the New England Patriots, but head coach Mike Nolan made sure to take pause to answer some questions from our fans. If your question wasn't chosen this time, try again! Coach Nolan will be back next Tuesday with more answers. To ask a question, send it to xandowithnolan@niners.nfl.com **
Q: Coach, couple of questions from a Soldier in Afghanistan who has been a fan for 30 years. You mentioned that the 49ers do blitz a lot, more than some other teams in the NFL, but us fans probably don't notice it because of the opposing team throwing quick, short passes. If that's the case, and you know they are doing that, why are the CB's not jumping on those routes and laying some wood on those WR's to make them think about the next time they step on the field? Where's the intensity? I think it's time to start making your players earn their money and bring up the intensity on D, you have the talent. SGT Michael R. Caya, Bagram, Afghanistan
A: I first want to thank you for what you are doing for our country.
I think you are trying to ask about the play of the secondary. Up until the Saints game, we were playing well and not letting up any big plays.
Going into the New Orleans game we were 10th in total defense and seventh against the pass. We had a bad game against New Orleans with the big plays. We need to return to what we did in the first three games. I have confidence we will do that. I think what we did in the first three games is what we are about. We are a talented and extremely physical group.
Q: Coach, I'm a huge fan, but living in Tennessee I rarely get to see any games. I usually have to follow along on the internet or read the wrap up the next. How has our offense looked compared to the last few years you've been there and do you think they have progressed enough to win games for us rather than playing not to lose? Thanks for you time and go get the Patriots this week! - Issac J.
A: We always play to win.
I think our offense has progressed nicely. We have been able to consistently move the ball. We are second in the NFL in big plays. The players are excited about the energy and the scheme that the offense brings. We are currently 12th in the NFL on offense, which I hope will improve. That is not bad when you realize that JT O'Sullivan has made just his fourth start. Also, we have been balanced on offense which keeps the defense on its toes. In addition to the long passes we have had, Frank Gore is fourth in the NFL in rushing yards.
Q: Hey Coach, I just have one question. After doing so well against Detroit, why not play Tarell Brown more against New Orleans? I thought that he did a great job and did not seem to get beat deep. Keep up the good job. Go Niners. - Cory Johnson
A: He is a young player who is improving. We feel good about our secondary. Donald Strickland is a veteran player who is in front of Tarell. Strickland was out against Detroit, so Tarell had an opportunity to play. We have many different nickel packages, and Tarrell is involved in some of those.
Q: Hello Coach! I was wondering if you have had any discussions regarding the roster spot that Shawntae Spencer will be opening up. It was unfortunate that we lost him, but we do have eleven other DBs (even if they are banged up a little), and I wanted to know if there is any certain area that you were looking to address. I know that o-line and d-line are important, and that being said, do you think you could make someone like Ed Johnson into a professional? I know you run a tight ship, and having another experienced defensive tackle always helps, but his issues are the reason why the Colts dropped him. Thanks. --Antonio, Santa Cruz
A: We have no plans to make any moves right now. It's about the 45-man roster on game day after we make our inactives from the 53-man roster. There is nothing we see right now that is going to adjust the 45-man roster, so right now, we're just hanging on to that spot. If we take Shawntae off the 53-man roster by placing him on injured reserve and put somebody on the roster, you put them on the 53 obviously, but if that player can't get part of the 45 on Sunday, all we've done is basically add a guy to practice against. But right now, we've got a healthy squad and we're okay. We will either make a move or be forced to due to injury at some point.
Q: Coach Nolan, Frank Gore is a spectacular running back, which I think we all know and that stats show. Now my question is - why is it that Frank Gore is in there on every offensive play when we have an extraordinary back up, Deshaun Foster? Now if Foster goes in more Gore will be better rested and because of that he will most likely end up having better runs.-Taylor Chesney Bakersfield
A: Frank is a competitor and a work force. He is a dynamic player who is currently leading the
NFL in yards from scrimmage, so he is a threat in both the running game and passing game. He is as efficient without ball too. Frank made a huge block in overtime against Seattle that allowed JT O'Sullivan to make a throw that set up the game-winning field goal. DeShaun Foster will get playing time. It is still early in the season.
Q: After conferences with you, local Beat-Writers speak in volumes about your (up to now ineffective) Big Sub. To an extent, it worked in one game - Seattle with beat up receivers. Its inconsistency is a failure we all painfully watch each Sunday, but you persist. The Ravens, Steelers, Bears, Patriots (and the other elite defenses including the Colts & Giants) line up their best 11 and wait for the opposition to bring their best 11.  Since this "sub" thing does not work with any reliable consistency anyway, why don't our best 11 strap it on and go for it like previously mentioned teams week end and week out tend to do??? Opponents are going to continue to move on us anyway, so why just one time, put our best 11 on "D" against their best, and for once let us see what happens? Sammy Moore Jr
A: You must not be watching the Ravens, Steelers, Bears and Patriots games that closely. It's all about matchups and everybody in the league does it. Simple case: if you stay in base when the opponent goes to three wide receivers and you have a lot of confidence that your linebacker can cover a receiver, then you to stay in base. In our case, I would like to think we've got a better matchup with a defensive back lining up against the wide out. From a standard throughout the NFL, it's a matchup issue. That's all it really is, and most everybody does it. But personnel that are on the field, whether it be offensively or defensively, is a matchup game. When you get the change from the offense getting out of its base, you want to make sure that you don't leave yourself vulnerable on defense to a mismatch where somebody can take advantage of you. So it's really just a matchup issue.
Heading into the Saints game we were sixth in the NFL as far as least amount of yards per play. I look for us to get back to that style of play this week. Sacks are not always the measure of success. Again, when we played Seattle we disrupted their timing by some of things we did on defense that forced them to force their throws and complete just half of the throws. Yet in the game we had just one sack.
Q: Coach I have followed this team since the days of people like Delvin Williams, Jim Plunkett, Ken McAfee, and Paul Cofer. The talent the team has right now is about three times as good as it has been in the last three years. Can you express your feelings, about what it will take to get the cohesion of the 1981 team, that had less talent than the 49ers do right now? Also how do you feel about the play of Takeo Spikes and Justin Smith at this point in the season? Keith Emmitt
A: We have a good football team. I am confident of that. Winning builds confidence. We were sitting at 2-1 and obviously did not have a good game last week. I would like to think we'll step forward from that game and get better because of what we learned. What I like is that our team works within our philosophy of one practice, one play and one game at a time.
Q: Hey Coach, JTO has shown he's able to perform under pressure in the pocket, but that situation is never ideal for any quarterback to play in. His potential can't be reached until he has another second or two to throw the ball. What needs can be addressed with the o-line in order to give him the time he needs? - Mike Pycher Los Angeles, CA
The issues with the pressure are collective and not pinned entirely on the offensive line. I think in a couple of cases JT was trying to hold the ball too long and that is what led to the sacks. He was trying to get done what he was told. He's so disciplined. A quarterback has to have the freedom to play quarterback as he sees fit for that game. Good players have the ability to improvise when need be. They've got a sense of when to get out of the pocket, when to stay in the pocket, and typically have a sense of when to protect the ball when they're running with it. JT understands that, and is working on that. The sacks are not all on him. I do think from an overall offense, we can play better and avoid some of the sacks.
Q: Hey Coach, thanks for taking the question. I was wondering if you guys might try to utilize Jason Hill a little more this week to try to give New England's secondary more matchup problems? Thank you. -Will, S.F.
A: Hopefully we'll see Jason Hill a little bit more as we go forward. We have a good group of
receivers. Due to injury, he had opportunities in the preseason and showcased what he can do. Our wide receivers are going to get better and better. That group is getting better as they get more comfortable with the offense.