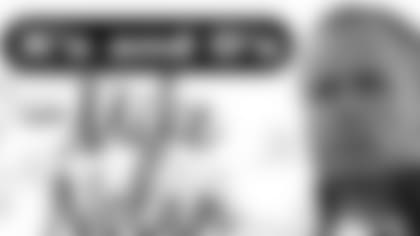 Head coach Mike Nolan is close to wrapping up his week of preparation for Sunday's game against the Eagles, but first he made sure to answer some pressing questions from our fans. If your question wasn't chosen this time, try again! Coach Nolan will be back Thursday with more answers. To ask a question, send it to xandowithnolan@niners.nfl.com **
Q*: Hello Coach, the loss to the Patriots was tough, I felt it was a game we should have won. My question for you is, what alignment were we in late in the game against the Pats. I'm not sure if we had anyone 'down', it seemed like we had 10 or 11 guys standing up. It seemed like it did confuse their offense a little. Any comments on that particular defense? Many thanks, Ron Barsotti, Edmond, OK. *
A: We do mix up our defenses quite a bit to keep the offense on its heels. At the end of the game against New England, the Patriots had a third-and-20 situation from our 44-yard line. They ended up getting a 13-yard gain to get in position for a 49-yard field goal, which basically sealed their win. We thought Matt Cassel would hit the check-down receiver. We wanted them to just throw the ball short, rally-up, make it about a five or six yard gain and then force them to punt. If you noticed, the inside defender on that play ran past the guy who caught the ball and the defender that was on top of him ran passed him as well. So instead of sandwiching the receiver, both defenders ran past that player, he cut back underneath and got the seven more yards.
Q: I've been a fan since I can remember. I believe in my heart as much as anybody that the Niners can go as far and is as good as any team in the league - even if we haven't had a great start so far this year. I just recently started reading the X's and O's and it seems like every time someone suggest something to you or ask why don't you try this, etc, you seem to always answer back saying that we are doing what we're suggesting or we are using this player in ways that the fans have asked. The more I read that I just couldn't help but wonder, if we are doing everything that we (the fans) and you the coaches are agreeing on and still losing, is it that we just SUCK? Where is the problem? I'm tired of starting games off really good and then losing it all in the second half. It's been three losses and you keep saying that these problems are correctable. I hope I don't come off disrespectful but I'm just a proud, concerned fan. Thanks coach! Rene Meafua
A: After every game, even if we win, we evaluate our entire operation from plays calls to schemes to how the players did in the game. We beat Detroit 31-13 and there were still things in that game we could have done better. Those things are not as obvious when you win the game.
In our case over the last two games, we spent time going over the issues and most of the problems are not from getting beat physically. It is being out of position. Two or three mistakes a game sometimes is all it takes to lose a game. In the NFL the margin for error is small.
We need to correct our problems and execute on a more consistent basis.
Q: Hi coach, why haven't we used any trick plays that Mike Martz used to run or even a few direct snaps which have been effective throughout the league this year. I believe that we have the tools to use a little trickery to our advantage. In the redzone, I think deception can work great for this team with the speed we have. - Art Fresno, CA
A: We have some unique plays in our arsenal. While we may not have run any trick plays, we have been creative. Allen Rossum's touchdown run against Detroit is one, and also Frank Gore's touchdown reception when he lined up as a wide receiver against New England are two good examples.
Q: Coach, with a tough loss behind us and a tough game in front of us, how do we prepare for both sides of the field when there are obvious things that need attention? You answered several much needed questions about the defense earlier this week but what about the offense with Philly being one of the best defenses against the run? How can we get Frank going and keep him going? And is there any game plan to get Vernon involved to help this much improved offense? Thanks Coach. - AW2 Laughlin USN
A: The key to running the football is being balanced on offense. If you just run, then teams will take that away from you. Good things do happen when Frank Gore gets his touches. We recognize that. That is why he is currently leading the NFL in yards from scrimmage. Without giving away the game plan, we need to be balanced on offense.
Vernon has been involved and will continue to get involved. In two of the three phases, he has already made a huge difference. He is outstanding as a blocker in the passing game and in the run game. Vernon made a huge block on Frank Gore's 41-yard touchdown run in the Arizona game. Last week he did not have a catch, but on the second play of the game, he ran a route that brought three Patriots defenders with him across the field. That allowed Delanie Walker to be wide open on a short route. Delanie did not catch the ball but if he did he would have scored on an 86-yard touchdown because there was nobody behind him. Vernon's time will come.
Q: Hi Coach, my question is about the offense. We looked so good at times running the ball with Frank Gore and then we go away from it. I am 40 years old and have been a Niners fan all my life and my family has had season tickets for over 50 years. The teams that were successful were the ones that would cram it down someone's throat until they stopped us. You would even see the offensive line getting pumped up because their blowing people off the line and gaining big chunks of yardage. My other question is, why do players run a six yard route when they need 10-12 yards for a first down. It makes no sense to me. I do think that we are getting the pieces in place, but the fans are used to a winning tradition and that's what we want again. Thanks. Good luck this week! - Matt Collins
A: Frank Gore is leading the NFL in yards from scrimmage and is on pace for 1,400 rushing yards. We try to stay balanced and spread the ball around on offense to keep the defense on its heels. Each game is different and sometimes circumstances in a game can force us to change things up in our game plan.
On a pass play, you have people on different levels of pass routes. Throws are usually dictated by the coverage. If a quarterback has to go underneath because the receiver that went long is not open, you hope the player that went underneath can make the catch and make a move to get the extra yardage and the first down.
Q: Hey Coach, it is easily seen that our offense has improved, and the defense has improved as well, but the defense just does not seem to play up to its potential. I am being less hard on the offense because it's new to our players. The biggest negative I have noticed is our lack of CONSISTENCY on both sides of the ball, even with all that improvement. Can we expect to see a game, where there is less changing of formation/packages and we just line up or offense and defense, and tell them to go out there and WIN THEIR BATTLES PLAY AFTER PLAY? I know we win battles during the game, but it just seems that the other teams are winning more battles than us on a weekly basis. Thanks,Denell from the Bay
A: Motion and moving the tight end and shifting are things that can cause problems for the offense. Often on defense, you will see people moving around as well. Those things help create confusion for pre-snap reads on both sides. We do need to win our battles, but to be competitive we also need to change our personnel groupings and use various formations.
Q: Coach Nolan, is Mike Martz in charge of the offensive game plan? He seems to be relying on the pass too much, especially with an inexperienced QB. You have one of the best running backs in the game. I understand Martz is bringing in a proven track record from St. Louis, but that was St. Louis 5 years ago. Running the ball or throwing screens would keep the clock moving, get the ball in the hands of your best offensive weapon and give the defense that is playing their hearts out more rest. What's your opinion on this? Pheenominal1
A: Mike Martz is in charge of the offensive game plan. We have been pretty balanced in our offensive attack. Frank Gore is third in the NFL in rushing yards and is leading the NFL in total yards from scrimmage. In fact, when we got down at Seattle early in the game, we stuck with the run and got back in the game. Running the ball in that game helped open up the passing game. At the same time, we have been effective getting the ball downfield. JT O'Sullivan is one of the top quarterbacks in passes of 25 yards or more. This past game we did not do well on third downs and struggled on offense across the board.