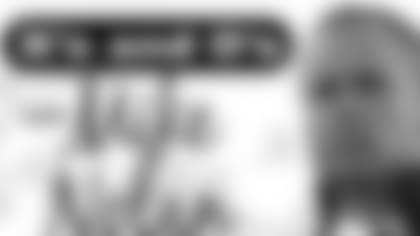 Head coach Mike Nolan answers questions from the fans following Sunday's win over the Seattle Seahawks. If your question wasn't chosen this time, try again! Coach Nolan will be back on Thursday with more answers.**
To ask a question, send it to xandowithnolan@niners.nfl.com
Q: Coach, at the end of regulation, before Joe Nedney made his attempt at the 41-yard field goal, why didn't you try a few more runs with Frank in order to make the field goal try a little bit easier? Looking back, I think there was at least 20 seconds on the clock and you could have let the time run down to three seconds for Nedney's field goal attempt. -Turaj SmithA: I did not want to press that issue and force something when we were within Joe Nedney's field goal range. We were on the road in a hostile environment, so I felt it was best to go ahead and let Joe kick it for us.
Q: I'm a diehard 49ers fan and this was a big win for us. I want to know why didn't we blitz more and try to get more pressure on the QB? -Thanks, Simon Patterson, CA
A: When you don't get pressure, it always looks like you were not trying to get pressure. We
brought five guys several times, but we didn't get the pressure. One thing that is not evident, no one has said it, but Seattle completed 50 percent of their pass attempts, and Matt Hasselbeck had the lowest quarterback rating of his career. So even though it's not pressure, they wanted to get rid of the ball quick. Our defense created hesitation and got two interceptions. The week before Buffalo did well getting a lot of pressure on the quarterback when they played Seattle. The Seahawks did not want to face what they did a week ago against Buffalo, and believe me, as anyone does, when you have a bad week, you put a lot of emphasis on that the next week.
Q: Coach Nolan, many people consider Vernon Davis a threat to gameplan around. Why isn't Vernon Davis getting more plays drawn up for him? -Ivan RiveraA: Each game takes on its own personality. I think some games it may look like Vernon is not a
threat with plays drawn up for him. Obviously we all go into battle with an objective in mind for what we want to do, but as the game wears on sometimes you have to pass a little more, run a little more, sometimes you have to protect a little bit more. It's always in the plan to obviously spread the ball around to all the offensive players. A week ago Isaac did not have any receptions and then he gets 154 yards with all four receptions over 25 yards, including a 63-yard catch against Seattle. Vernon is unique from the standpoint that he is a good receiver and he's also a very good blocker. He will get his opportunities this year.
Q: Hey Coach, congratulations on the awesome win. There are still some 49ers fans on the East Coast! Even though the offense put up good numbers on Sunday, it seemed at most times their pass rush was almost too much for our offensive line. Was it a case of missed assignments, the design of coach Martz's blocking schemes or a better testament of the Seahawks defense?  -JaredA: The responsibility is shared throughout. Some of it was J.T., some of it is was the line, but it was shared throughout. Obviously, as we are all well aware of, there were eight sacks, and that's a lot of sacks. There wasn't just one area that was responsible. Our players watch the film after every game, see the mistakes and then we do what we need to fix those mistakes and breakdowns.
Q: Coach,I'll start off by saying that was a great win in a hostile environment and a great overall team performance. At the beginning of the game there were some weird plays that occurred, the blocked punt that Seattle recovered to pick up a first down, the Gore fumble with Seattle returning it for a TD. What was going through your mind when all that happened?  -Thanks for your time to answer my question again. Jose Estrada, Colorado Springs, CO
A: When we were at 14-0 after giving them the ball, I thought it was a reflection of a week ago. Certainly it was a gut check for our guys and I thought they responded extremely well in the face of adversity. Last year I thought we had two very close ball games and we won both of them to start the season. I feel better about our team now than I did a year ago. The offense does move the ball. Defensively we have our moments. But we have a good defense. We just have to get better that's all. Obviously it's an extremely difficult place to go and win in Seattle. And we won on Sunday. I think our team showed that we are a mentally strong team to overcome that early adversity.
Q: Coach Nolan, why were we in a base nickel defense against a team with no proven wide receivers? -Kelly Souheaver
A: Even though they were banged up, Mike Holmgren's system is one that he uses regardless of injury or not. Two years ago, we beat them with the same scheme on a Thursday night. Since then we hadn't used it; just alternating prior to that. They have a great tempo on offense. They run people in and out frequently. If you try to match that with your defense, you're always behind the 8-ball. In order to keep our guys calmed down in the game, we thought it was a good situation. It doesn't limit you defensively from a scheme aspect. I did feel that going into the game from a matchup standpoint, it gave us the best chance to win player on player because as you noticed, they are, the majority of the time, in three-wide receiver sets. So, the matchup standpoint is real important.
After their first week game against Buffalo when the Bills got pressure on Seattle, you could tell it was a point of emphasize for the Seahawks to protect the line of scrimmage. While we did not get sacks, Matt Hasselbeck was forced to throw the ball early and completed only 50 percent of his passes for just a 4.9 yard average. And we did get two interceptions on tipped balls. So we did do some things well up front.