Frank Gore seeks perfection in every practice and when he doesn't see it, the 49ers star running back gets a little testy. Such was apparently the case on Monday when the 49ers offense started off the week with a few too many errors.
"There were just a lot of mistakes, dropped balls, bad plays," said rookie receiver Josh Morgan. "Frank didn't like it and he huddled us together and told us we couldn't do that and we needed to be better. I think we were much more productive on Tuesday and I think it really helps to have veterans include the rookies in something like that. When they start patting you on the butt or patting you on the helmet, you are just like 'THANK YOU' and you feel part of the team."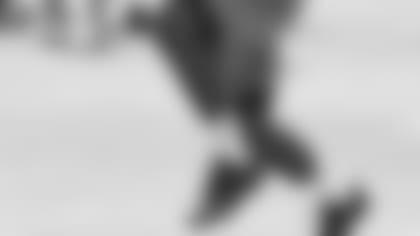 For his part, Morgan answered Gore's call on Tuesday with a few pat on the butt-earning grabs. Although the defense may have argued that Morgan didn't get both feet in on one of those catches, the big bodied rookie demonstrated that he can go up and come down with the ball.
"I thought I did much better doing everything right today in practice and when they do throw me the ball, I just try to catch it," said Morgan. "On the endzone catch, it was a nine route, straight down the sideline. The quarterback threw it up, and that's what I've been waiting for because I think everyone knows I can jump a little bit and that I've got a little athletic ability. I just went up and got the ball and tried to get both of my feet down in the back of the end zone."
Morgan said big plays like that are just a glimpse into what he believes he can do, but that it's a long road ahead.
"I'm nowhere near where I want to be," said Morgan. "I've still got a lot more learning to do. I've got to get a lot more comfortable in the playbook. I'm more comfortable going full speed out here and correcting what I did wrong in the meeting room, but I'm nowhere near making the plays that I know I can make."
Morgan said he was impressed by how fast Arnaz Battle, who arrived for OTA's on Monday, picked up the offense and hopes to one day be as swift a learner.
"They put the plays in his locker room this morning and he came out here and had a great practice today," said Morgan. "Veteran guys seem like they can just look over it and know it and they don't have to think. I'm not thinking as much about where I need to line up or where my split has to be anymore, but I want to be able to recognize what defense they are playing and how it will change my route."
Even though he might not grasp it as quickly as the 49ers sixth-year veteran receiver, the Virginia Tech rookie's understanding of the playbook has come along faster than he thought, thanks to the countless extra hours he's put in since mini camp. Breaking some of his on the field habits has proven to be a slightly tougher obstacle.
"Coach Martz is always getting on me about my 4 and 5 routes," said Morgan. "They say I'm getting a lot better but I don't think I'm anywhere near where they want me to be. I think it was just that bad at the beginning that it's starting to look decent now."
With Morgan already making plays in every practice session even without perfection on his routes, the sky would appear to be the limit for the 49ers sixth-round draft pick. And as he goes about his business in getting there, Morgan plans to ward off any frustration by recalling what yet another veteran 49ers had to say.
"Isaac Bruce told me I was good and that I just needed to keep working and that really made me smile a whole lot because he's been in the league 14 years," said Morgan. "So, telling me I'm good and to just keep working, that gave me confidence. He's done everything I'm trying to do so if he told me I'm good, I'll be okay. It's like a father telling his son to take the wheels of the tricycle and go ahead and ride a bike and they'll be fine."
Even a Pro Bowler like Frank Gore looks for veteran critique as well. Gore spent some time on Tuesday chatting with former Rams running back Marshall Faulk, who attended the practice to shoot a 49ers Facility Tour with the NFL Network.
"It's good to have some guys out here talking about and to our team, especially Marshall," said Gore of the NFL MVP winner while in the Mike Martz offense. "I got a chance to spend some time with him one on one and I asked him what he thought of our practice and what I myself have to do to get better in this offense."
Ohio State rookie linebacker Larry Grant was the last of the rookie class to make it in for the 49ers off-season program. Per league rules, Grant was not allowed at the team facility until he or his class had graduated.
Grant arrived last Thursday and began practicing last Friday.
"When you miss time like that, it's kind of different," said Grant. "It's a lot of work for me and I have to come in extra every day and do all of the extra little things so I can play. I'm learning more every day and I came in over the weekend to work extra and that helped me too."
CB's Shawntae Spencer (hip flexor) and Walt Harris (coaching decision) did not work during Tuesday's open practice. Safety Mark Roman also continues to be held out of practice after having surgery on his shoulder. G David Baas remains out of practice after having surgery to repair his torn pectoral muscle, and is not expected back until mini camp.