Over the course of the season, we will feature a select photo from each game taken by a member of the San Francisco 49ers photography staff in our "Worth 1,000 Words" series.*
Week 13 vs. Chicago Bears: Fourth Quarter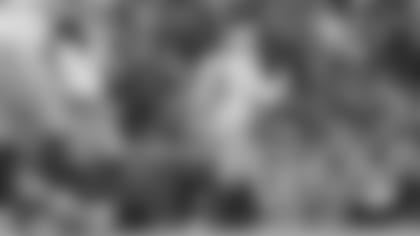 Shot by: Terrell Lloyd, Senior Manager of Photography Services
Lloyd:"As the time ran down in the final seconds of the game, Robbie Gould kicked his game-winning kick  to give the 49ers the lead. This wasn't 'just another game' for him. His game-winning victory meant so much more.
"This was Robbie's first regular season game at Soldier Field since 2015. His field goal with :04 left on the clock defeated the team that released him after more than a decade in Chicago and a list of franchise-bests.
"Immediately after converting the kick, I anticipated Robbie turning towards the 49ers sideline to celebrate with his teammates. Instead, he immediately faced the Bears bench in celebration.
"At that moment, you could understand the emotion of the win."
Gould: "(The Chicago Bears) organization meant a lot to my career. If you look at the heartbeat of where I grew up, it was in that locker room across the hall. … To go out there and do your job and have some fun and compete against a lot of people I have respect for. To come in here get a win like that and kick a game winner, I don't think I could have written it any better to be honest with you."
Lloyd has served as the lead photographer of the San Francisco 49ers since 1996.