Over the course of the season, we will feature a select photo from each game day taken by a member of the San Francisco 49ers photography staff in our "Worth 1,000 Words" series.
**Pregame, Week 1 vs. Carolina Panthers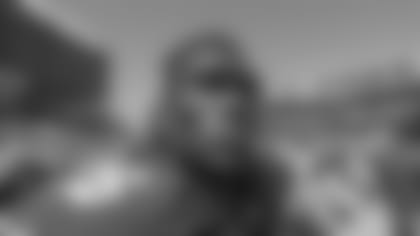 Shot by Terrell Lloyd, Senior Manager of Photography Services
Location: Levi's® Stadium
Lloyd: "There's so many action photos we take, but this one here, I like to get inside of the players head to see where they're at.
"During the four preseason games that we played, I always got a close-up shot of (Jerome). And I always wondered what he's thinking. He always has a cross that's on his cheek. It's always on the right cheek. I notice it each week.
"Since the undrafted rookie made the team, made the squad, I've always wondered what are you thinking? What are your revelations before you start the game? What is your thought process? What is going on in your head?
"It just tells a story about a player getting ready to go out there and battle on the football field. And each player has something different. They're always thinking something different."
Jerome: "What was going through my head was how blessed I am to be in that situation and being able to play. The reason I wear a cross is because I feel like i'm unstoppable when I have it. I know that God is protecting me on the field so I can go out there and do what I have to do."
Lloyd has served as the lead photographer of the San Francisco 49ers since 1996.