Over the course of the season, we will feature a select photo from each game day taken by a member of the San Francisco 49ers photography staff in our "Worth 1,000 Words" series.
Week 4 vs. Arizona Cardinals: Fourth Quarter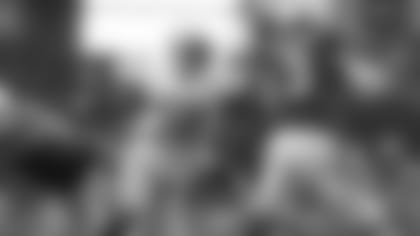 Shot by: Terrell Lloyd, Senior Manager of Photography Services
Location: University of Phoenix Stadium
Lloyd: "Sunday was a big game for Elvis. He's been eyeing his 100th-career sack. Not only did he get it, but he recorded his 101st as well.
"He was so excited when he got the 100th sack, and I think he was still determined to get another. If you look at the expression on his face, he was coming at Carson Palmer at 110 mph. When a team is backed up inside the 10-yard line, the defense pins its ears back. They're coming. You can tell on his face he's saying 'Oh, I've got him again this time.'
"I shot this image in the end zone from the ground level using my angle finder. Instead of having my normal lens, a 70-200 mm lens, I used my 300 mm lens because I wanted tight shot of Dumervil approaching the quarterback. As you look at this image, it's up close and personal. You can see the expression on his face. It makes it more impactful when the shot is nice and tight on your subject."
Lloyd has served as the lead photographer of the San Francisco 49ers since 1996.