Over the course of the season, we will feature a select photo from each game taken by a member of the San Francisco 49ers photography staff in our "Worth 1,000 Words" series.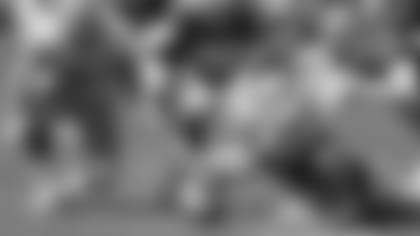 Shot by: Kym Fortino, 49ers Team Photographer
Location: Levi's® Stadium
Fortino: "The Faithful were already pretty electric in the home opener against the Detroit Lions. You would hear the crowd roar each time Matt Stafford and the Lions offense took the field. The fans were already loud because the 49ers were looking for a third down stop as Detroit was marching down the field.
"As I watched the play develop, Stafford began to roll out right while under pressure. All of a sudden, the crowd erupted and got really loud. I had no idea what was happening. I was already shooting in that direction. But when the crowd went crazy, I zoned in on what was unfolding. The energy of the fans is what prompted me to shoot towards that exact location. Little did I know, Elijah Lee, in his first career start, came up with a strip sack of Stafford and Cassius Marsh recovered the ball.
"Aside from Cassius' fumble recovery, what I love most about this image is how the entire defense pictured is making an effort to get to the ball and protect it. They're hungry and you can see through the image each guy fighting to recover the loose ball.
"The crowd had a huge effect on me getting this exact image. I'm giving all the credit to the fans - the energy and emotion they had made it really fun for me and directed me to get the perfect shot."