Over the course of the season, we will feature a select photo from each game taken by a member of the San Francisco 49ers photography staff in our "Worth 1,000 Words" series.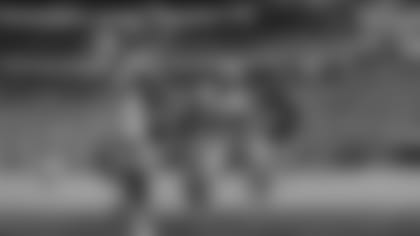 Shot by: Meg Williams, 49ers Team Photographer
Location: U.S. Bank Stadium
Williams: "I had just moved about 10 yards in from the corner of the end zone a couple plays earlier. I was shooting tighter shots of Jimmy Garoppolo and the 49ers offensive line driving down the field. Right before the ball snapped on 2nd-and-15, I switched to a wider lens in case a play developed in my direction. I had no idea the touchdown was coming.
"That play, Jimmy was under pressure and scrambled out left and threw it right in my direction. Dante Pettis and the ball were coming straight at me. As the play was unfolding directly in my path, I captured Dante extending his arms as the ball floated into his fingertips in the end zone. Capturing the touchdown in that exact moment felt too good to be true. It was amazing everything unfolded right in my corner.
"I really liked the lighting in particular in this photo. The purples were really great and the sun was shining through the roof of the stadium. It was also Dante's first-career reception, which ended up being a touchdown. Everything was kind of lucky in the way the photo came about. That was just a special moment all wrapped into one photo. It was a fantastic way to start my fourth season shooting for the 49ers."