Joe Staley surprised fourth grader Nicholas Billmire at his home in Fremont last Thursday morning to pick him up in a limo and take him to school as a part of the NFL's Take a Player to School program.
Nicholas was the lucky winner of NFL's Take a Player to School sweepstakes where he wrote an essay for the ultimate show and tell – a chance to take a local NFL player to school and participate and plan gym class as part of NFL Play 60, the league wide youth health and fitness campaign.
The 49ers Pro Bowl linebacker arrived at Nicholas' home around 8:15 a.m., met the family and then jumped in a stretched limo to arrive in the back playground area in front of 130 students from Vallejo Mill Elementary School.
Once at school, Nicholas and Willis exited the limo to a standing ovation of over 130 elementary school students. Willis and Nicholas headed into the multipurpose room where the Principal Ulloa introduced Nicholas, who then in turn introduced the Pro Bowl linebacker to his entire school, a moment he'll never forget.
When asked how he felt about the entrance Nicholas responded with, "Pretty happy, excited!"
Willis understood the importance of a day like this to the nine year old, which is one of the main reasons he took time out of his day to give Nicholas this once in a lifetime opportunity.
"It makes you feel great," said Willis. "To get to this point and be able to give back and do stuff for the kids because as the end of the day, the kids are our fans and they're probably our biggest fans. It feels very good to come in and be welcomed like that."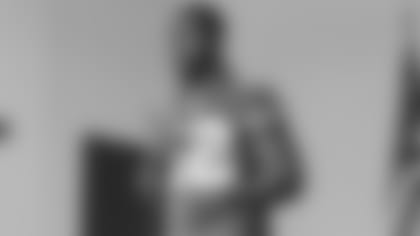 Willis spent time on stage speaking to the youth about the importance of being active for at least 60 minutes a day, working hard and eating healthy. Following the speech, the youth were given an opportunity for a Q&A session with Willis where he answered questions about how he got to the NFL, what it means to be a professional football player and how long he's been with the team.
Willis' talk not only touched the youth but it clearly impacted the adults in the room, including Nicholas' father Steve.
"For Patrick to talk the way he did, it was awesome because it was right from the heart," said Mr. Billmore. "You could tell everything he said was 100 percent truthful. I think the most important thing is what he's giving back to the kids. That's really the big bonus here today and takeaway. We're lucky he came."
Not many 4th graders are given the opportunity to meet a professional athlete and even fewer are given the chance to play football with them. For Nicholas' class, this is exactly what happened for them. Willis spent approximately 45 minutes with the students doing physical activity drills during their physical education class. One station gave each of the kids a chance to catch a football from the pro bowler.
The NFL Take a Player to School program is dedicated to encourage youth in our society to be active at least 60 minutes a day. Willis' visit not only gave one child, Nicholas, and most likely others, a lifelong memory but it hopefully also helped to encourage the youth to exercise more through Play 60.
"Play 60 is so important to the kids," said Vallejo Mills Elementary School physical education teacher Steve Fleminger . "A lot of kids don't understand that it doesn't have to be just running. It doesn't have to be regular exercise. It can be playing. It can be dancing with your friends. As long as you're moving, that's all that really matters. I think the Play 60 program is a wonderful program."