Joe Staley has become the first person to win the Dick Butkus Award twice, on two levels of competitive football no less.
It certainly won't be the last time that "first" and "Willis" appears in the same sentence.
Butkus, a Hall of Fame linebacker, who played for the Chicago Bears from 1965-1973, stopped in the Bay Area on Tuesday to personally deliver the award to the the 49ers three-time Pro Bowl linebacker.
"It's an honor," Willis said. "Dick Butkus is one of the best linebackers to ever play the game and to win it twice is truly an honor. I'm very thankful."
In years past, the Butkus Award was handed out annually to the top linebacker of college football, but as of 2009, the trophy's platform has been extended. It's now being presented to the best linebackers in high school and professional football too.
Willis first earned the honor in 2006 after his senior year at Ole Miss in which he made 137 tackles and went on to be selected 11th overall by the 49ers in the 2007 NFL Draft. And now Willis has picked up the professional version of the trophy by receiving more votes than any other linebacker in the NFL for his stellar 2009 campaign.
Willis' 154 tackles (114-for-loss), four sacks, three forced fumbles and three interceptions in 2009 made him an easy choice for the 51-person selection committee headed by Hub Arkush of Pro Football Weekly.
Butkus couldn't agree more with this year's selection, because of what his award represents.
In expanding the award's reach based on the suggestion of his son Matt, Dick decided to use the award to draw attention to his "I Play Clean" campaign – which aims to end steroid use in organized sports.
"He's a perfect case to show people you don't need it. If you work hard, eat right and play with attitude, you don't need steroids," Butkus said. "I told him, 'You're a winner Patrick. People are going to look up to you. You're a hero to a lot of these kids and what you say and do – they're going to follow.'"
Knowing the significance of the award, Willis was excited to be associated with Butkus' anti-steroid message.
"I'm happy to say I've done it the right way and I'm very thankful to say that," Willis said. "I'm going to continue to do it the right way with hard work. When it comes down to the day where I can't get it done anymore, then I won't cheat and mess up all that I had built up to that point. It's a good thing to say I've done it the right way so far."
Willis was not just moved by the message involved, he also cherished the experience of spending the afternoon with one of the game's all-time greats.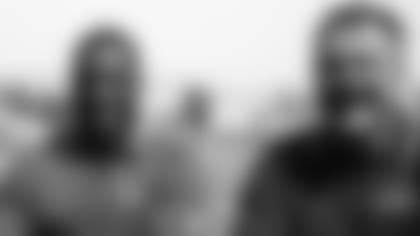 "He's a great guy, and has a great sense of humor," Willis said. "You would think he's real intense and doesn't say a whole lot, but he carries a conversation really well. I was just smiling the whole time.
"People were asking me, 'Oh man, you got to meet Dick Butkus?' And I was like, 'Yeah, and I even got his number!' I'm still a little kid when it comes to meeting guys who I respect a lot and who came before me."
Willis and Butkus even shared Mike Singletary stories in between takes of an upcoming television show highlighting Willis's accomplishment.
In listening to both players talk, humility was easily a common denominator.
Willis never wants all the credit and neither does Butkus – his award is bigger than the name attached.
"We have to do what we can and that's what the Butkus Award is all about. Believe me, if there wasn't an award for linebackers, I'd still sleep just as good at night. If I can help and get some good out of it through the Butkus Award, then I'm out there to spread the word."