After two consecutive Pro Bowl appearances to start his career, Joe Staley isn't about to rest on his laurels. The 49ers inside linebacker totaled 315 tackles in two seasons, and by no means is he satisfied with his accomplishments.
"I feel like each year I'm doing all that I can to be a better player, and I feel like last year I improved and I'll work on it this year," Willis said at the 49ers three-day minicamp.
With five practice sessions in three days including Sunday's quick workout, Willis and all of his defensive teammates feel there is room for improvement. That's why they were flying around the field making as many plays as possible during the seven days of team workouts (three days of minicamp preceding four days of OTAs).
The opportunity to work continuously in the offseason is a great way for the 49ers defense to build on their impressive play down the stretch of last season.
"Everything went well this weekend, it all went smooth," defensive lineman Isaac Sopoaga said. "There are a couple of areas that we need to get better on, but other than that this minicamp was great. I feel like we're more confident on defense compared to last year and that's a good thing."
Greg Manusky, the 49ers defensive coordinator, has been pleased with what he's seen from his unit on the practice field.
"I think over the last couple weeks and with the OTAs and mini-camps, the progression that they are taking is they are taking it upon themselves to get better, learn the playbook and they feel a lot more comfortable with it," Manusky said.
As for Willis' development, Manusky has seen the improvement from his star player from year-to-year, but also understands that Willis can find ways to get better too.
"His progression as a linebacker has actually elevated from his first year to his second and I think it's going to elevate even more," Manusky said. "I think defensively he knows what to do and I think he's going to try and focus on how is the offense going to attack us. And I think just from the classroom stuff I think that's how he can improve."
With the mindset of continuing to get better from an individual as well as a team perspective, Willis openly declared the defense's intention to be ranked in the top 10 in the NFL next season: "Not only top 10, if not top five – if not No. 1," he said.
From Manusky's outlook, only time will tell if his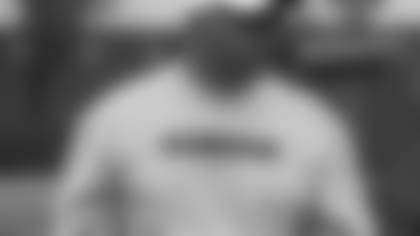 players can build off last season's 13th overall ranking.
"I think it comes down to players making plays and us putting them in the right situation to make those plays," he explained. "It can go as far as they want to take it and would I like to have a top five defense? Of course. I think the 49ers organization and the fans would like that and they are progressing every day and getting better at it."
Part of his unit's growth includes coming up with more turnovers. Manusky has challenged his players to make plays every day while they're out on the practice field competing with the offense. From knocking balls down, to picking off passes, to stripping guys, to picking up balls on the ground – Manusky wants his players to find ways to get the ball in their hands.
Another key point of emphasis this season has been on rushing the passer. Although the defensive can't fully work on their pass rush because the practices aren't live, they can work on using proper techniques.
"With the individuals up front, I think we'll be able to put a decent amount of pressure on the quarterback," Manusky said.
Two of the main pass rushing threats will be starting outside linebackers Parys Haralson and Manny Lawson. Haralson led the team with a career-high eight sacks last year, while Lawson totaled three sacks. Manusky believes Lawson is completely healthy from the ACL tear he suffered in 2007 and will be ready to attack opposing signal callers.
"I think with Manny now that his knee is 100 percent and he feels confident with it and getting him with the defensive line and rushing as much as he can helps him and benefits him," Manusky said. "I think it's building up, number one, his confidence is building up in his ability to pass rush and I think it's a good thing."
With both edge rushers in place, along with the rest of the talented front-seven and playmakers in the secondary, Manusky thinks the defense will be a cohesive unit when the season gets underway.
"I think it's getting to be there. It's tight. The guys feel comfortable with one another. I think they work well together. I think just trying to promote the strips, the picks, pass rush, the run defense, and all those things [help]. Everybody is focused on the key of 'Hey, let's step it up this year and get things done.'"
With individual drills taking place, outside linebackers coach Jason Tarver typically throws passes to his players to make sure they work on catching balls after coming out of footwork drills. Lawson dropped one of Tarver's passes after weaving in and out in the drill and had to do pushups as a penalty. Moments later, Tarver threw an uncatchable pass to Marques Harris and needed to discipline himself. Immediately after his bad throw Tarver said, "My bad, I got pushups!" And as soon as the drill was over, Tarver dropped down and pumped out 10 pushups for his errant throw.
As for the scrimmage highlights, Alex Smith opened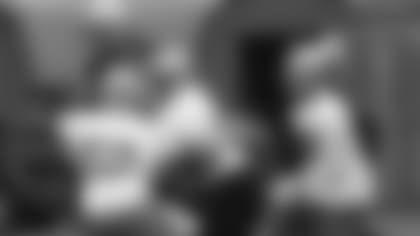 the team session in the red zone by hitting Josh Morgan for a touchdown. Smith's pass had enough touch on it that it sailed over Dre' Bly's arms and found Morgan, who caught the ball right in front of the end zone.
The play of the day the day happened when Smith found Delanie Walker in the back of the end zone for a touchdown. The rocket throw was even more impressive as it found its way to Walker, despite the tight end being surrounded by three defenders.
For up to the minute updates, be sure to follow us on our brand new Twitter account.