Despite their ranking as the NFL's fourth-best defense, the 49ers have zero wins to show for it.
Joe Staley is playing like his old, All-Pro self. The secondary has held opposing quarterbacks to less than 250 passing yards each game and the defense has yet to surrender a 100-yard performance on the ground.
It's still not good enough.
That's what Willis said point-blank Thursday when speaking about the perception of how the 49ers defense is performing in 2010.
"For the most part, we've been OK. We can certainly be a lot better," the team's leading tackler said.
After openly sharing lofty goals this offseason of being ranked among the top defenses in league, the Willis-led unit is allowing 63.5 rushing yards per game (t-6th in the NFL) and 201.0 passing yards per game (14th in the NFL).
But as much as the ranking goal appears to be within reach, the focus for the defense is solely on improving in the win column. All the stats and rankings will take care of themselves.
"We haven't allowed a 100-yard rusher, but we haven't won a game yet, so I can't brag on that," nose tackle Aubrayo Franklin said. "You always have your different goals, right now, our main focus is winning that first game. We can be the No. 1 defense in the league and still not got to the playoffs.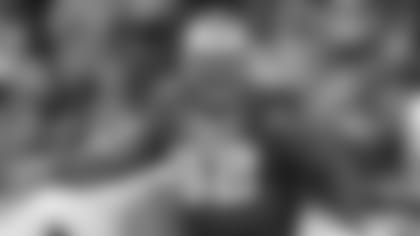 "Our first goal is to win."
Standing in the way of the 49ers picking up their first victory are the undefeated Kansas City Chiefs, who will play host to the 49ers this Sunday at New Arrowhead Stadium.
Led by a versatile running attack, Kansas City currently ranks fifth-best in the league averaging 137.5 yards per game. Conversely, the Chiefs passing game has only found the end zone once and ranks 30th in the league averaging 117.0 yards per game.
The stats suggest the 49ers will face a run-heavy opponent this week, which is just fine with them if that's the case.
"Every week our defense prides ourselves in stopping the run first," Willis said.
Defensive coordinator Greg Manusky, who spent six seasons as a Chiefs linebacker from 1994-99, is up the challenge of stopping the running committee of Jamaal Charles and Thomas Jones.
But as for how Manusky plans on stopping each runner, that's not going to change based on personnel.
"I don't know about their depth chart, but they're looking to gain yards in the running game and use the guys that they need to use," Manusky said. "However they want to do it that's fine with me, we still have to cover them up and play with them."
Equally as important as stopping the run for Manusky and the 49ers defense is handling the time adjustment of playing two time zones away from home.
"You're playing at 10:00 in the morning, and that's your time. So your clock's got to be ready to roll," Manusky said.
Notes and QuotesTakeo Spikes (knee contusion) should be ready to play according to Manusky. If he's not able to start, rookie NaVorro Bowman is next up on the 49ers inside linebacker depth chart. Manusky said outside linebackers Parys Haralson and Manny Lawson would be the emergency replacements behind Bowman.
Bowman said he's eager for the opportunity if it presents itself, but won't be consumed by it. "If I don't start, I'll still get a chance to contribute on special teams and do the little things that really matter. I'm all for team effort and I'm just glad to be a part of this team."
Willis will get a chance to face former college teammate Dexter McCluster, the Chiefs do-it-all receiver who he compared to Reggie Bush. "I don't remember going against him one-on-one a whole lot (in college at Ole Miss), but I'm sure they're going to do some things to match us up."
Safety Dashon Goldson is well aware of Kansas City's leading receiver, rookie tight end Tony Moeaki. The third-round pick who leads the Chiefs in catches, yards and touchdowns might be under the radar to many, but not to the 49ers secondary. "He's shown some good things, good hands, and finds his way to get open," Goldson said. "He's going to be a good tight end for them for years from now. He's young, but you can tell he's on his way."
Here's what Raye said about Smith's execution late in Monday's the game:
"I think any time you do that in the National Football League it speaks volumes about where you are as a player… I thought he displayed a real calmness in that drive. He moved out when they were covered and made some plays with his feet. He threw the ball where it needed to go, he was in command of it when we had them, the times that the ball was incomplete, when we had them, to communicate what we wanted to him, he executed that.
"I think it was a big step for a quarterback to go 82 yards and get the game in a position where you could extend the game, and then come back with a two point play I thought that was huge."