MOBILE, Ala. – As day four of Senior Bowl practices wrapped up, the totality of his hard work kept a smile across his face. And that's how he plays the game, enjoying every aspect of being on a football field.
Practices were challenging, engaging and competitive. But the situation brought out the best of his memorable personality.
As reporters and scouts scurried around the field to speak with members of the South team, his demeanor remained positive while sharing his story to those in search of more information.
Then there was the young kid with his father, interjecting himself in the mix, asking for a signature on his white football.
"Can I have your autograph?" wondered the energetic youngster.
"Sure, no problem," he replied with that ever-present smile.
"Can I get your gloves too?"
"Yeah, why not? You can have them too."
Not every interaction for Arkansas tight end D.J. Williams will be as unique as the one he had Thursday, but the Mackey Award winner is relishing every experience he's having this week in Mobile.
"I want to show my personality," said the nation's top tight end in 2010. "I've always been that, 'enjoy football type of guy.' If I'm enjoying playing football, then I'm having a good game. So I want to have a lot of fun."
Williams had his most fun on the football field this past season, catching 54 passes for 627 yards and four touchdowns, helping the Razorbacks make their first-ever BCS Bowl appearance in the Sugar Bowl.
But Williams is not a one-season wonder by any means.
In four years of Southeastern Conference football, arguably the best conference in the nation, he excelled on a weekly basis against some of the country's most prolific defenses.
The 6-foot-2, 237-pound vertical threat routinely got the best of his opponents, finishing his career with 152 receptions, which ended up as the second-most in school history. He also totaled 1,855 receiving yards while playing in 51 games, 32 of which he started.
Williams' 2010 campaign earned him national recognition, the Mackey Award, and an invitation to the Senior Bowl as one of the nation's top tight end prospects.
And now that he's had a chance to work with some of the tight ends who he beat out for the distinct honor, Williams is even more appreciative of taking home the hardware.
"Look at the guys here, (Wisconsin tight end) Lance Hendricks, (Alabama tight end) Preston Dial, (Tennessee tight end) Luke Stocker, there's just phenomenal talent out here," Williams said. "For me to be named the country's best tight end, it's an extreme honor, something I'm proud and privileged to have."
The camaraderie formed by Williams and his opponents-turned-teammates figures well in their ascension to the professional ranks.
"That's the cool thing about it, these guys out here you're literally trying to beat out in a draft spot. But at the same time, we're out here having fun, helping each other," Williams noted.
"If a ball is in the air and Luke Stocker is running down the field, I'm praying he catches it, because I believe if you have that teamwork, you're going to feed off each other. Then the whole group is going to shine."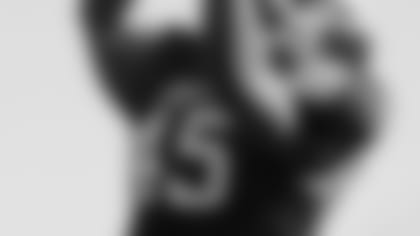 However, Williams knows there's more to do this week than just catch the football. He's shown the talent evaluators he can certainly do that. Now it's a matter of displaying his all-around talents.
One way Williams has picked up his game is by watching 49ers tight end Vernon Davis, who Williams summed up quite succinctly.
"He's a beast. I think that sums up Vernon Davis pretty much," Williams said. "He has all the intangibles. He's the type of tight end who can block, stretch out the field and occupy the safety.
"He brings a lot to the 49ers and that's something hopefully I can do myself."
But until the draft comes around, Williams is focused on one sole aspect of his game – perfecting technique.
"If it's running routes, if it's pass pro or run blocking, it's about technique. I think if a player can get to their technique first, it gives them the edge. If you're starting out on top, you have a better chance to finish up on top."
Williams has the proper attitude to get the most of his ability. His favorite saying truly speaks volumes of his mindset:
"I've always heard hard work outworks talent that doesn't work hard."
Williams said he has a way to go to be like Davis, but "Beast in training," sounds good to him.