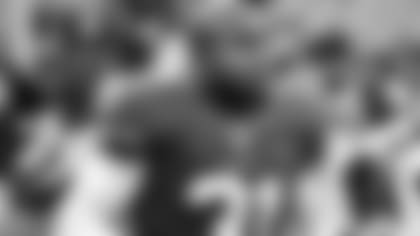 Donte Whitner emerged as a leader of the 49ers secondary in 2011 during his first season in San Francisco. A man who takes pride in his mental side of the game, Whitner has also established himself as one of the league's hardest-hitting safeties throughout his career. The veteran recently spoke with 49ers.com about the team's preparation for a Week 1 matchup with the Green Bay Packers.**Good news everyone, I'll be doing this blog all season long for the 49ers Faithful. I'm excited to have our first regular season game this week, too. Being able to get into the season is a really good feeling. We can look back and understand what we have accomplished since we have been here and now move forward. There have been OTAs, minicamps, conditioning, football school, training camp and preseason games.
All the preliminary stuff is out of the way and it's time for the real deal.
This week, we are going to go out to Green Bay as a whole to test ourselves knowing we put a lot of work in. We know we ended last season on a sour note. We want to get back to the playoffs and have the opportunity to get to the Super Bowl. It all starts with Week 1. Knowing that makes this a very exciting time, but we still have to put in the work to make sure we know our opponents better than they know themselves. That's what we are preparing to do.
It's special when you play at Lambeau Field. I played there in 2010 when I was with Buffalo. We lost the game convincingly, but I took away that it's a really good football atmosphere. The stadium is similar to Buffalo in that it's located in a residential area. People own houses around the stadium, which makes it pretty cool when you're driving to the stadium on the team bus. You can understand why people love Green Bay Packers football so much. It's going to be a test for us, but it's going to be a great football atmosphere especially for opening week.
Going up against a great quarterback like Aaron Rodgers in the first game, you don't want it any other way. You want to face the MVP from last year Week 1. You want to go out there and use all your tools to test yourself mentally and physically. As competitors, the San Francisco 49ers relish this opportunity. We look forward to going out there playing against these guys, showing what we can do, showing that we are a really good defense and showing that we haven't lost a step. It is all going to start with preparation this week and then at the end of the weekend we will get an opportunity to go out there and show what we have.
It's a blessing to continue doing this blog. Eventually I want to get this blog to where I'm not only talking about football, but I'm also talking about life things like books because I am a big reader when I'm not here at the facility.
As a locker room we are all going to read the book, "The Law of Attraction: The Basics of the Teachings of Abraham." I'm buying 90 copies for the players, coaches and football staff. I am a true believer in the Law of Attraction. What you think about it, how you feel about it, what you continue to keep on your mind and what you work toward is what will actually manifest in your life. I understand not everyone will take it as serious as some other guys who truly believe in it.
If everybody has the same common goal on this football team then we are going to bring those things to us. The one common goal is the Super Bowl. When you read a book like that and everybody has that one common goal, winning the Super Bowl, then actually the Super Bowl is going to come to us. Guys should have that book next week. I would like to continue to talk about football and other things like books and other off-field things as well. Hopefully another day we can do that.