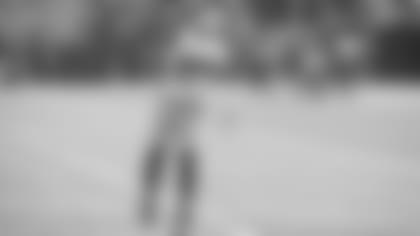 Donte Whitner emerged as a leader of the 49ers secondary in 2011 during his first season in San Francisco. A man who takes pride in his mental side of the game, Whitner has also established himself as one of the league's hardest-hitting safeties throughout his career. The veteran spoke with 49ers.com about the changing tone of training camp, as the team has started to practice with shoulder pads.**
The best part of padded practice is getting out there and seeing guys that really want to make this football team compete against each other. I love watching guys being physical and taking pride in that part of the game, even in practice. That's the best part about putting on the pads.
I enjoyed Saturday's practice because it was at night and it kind of brought me back to my high school days at Glenville High in Cleveland, Ohio. All of our games were on Friday night and it kind of takes you back to that time. When you leave high school and go on to college and the National Football League, you don't play night games but maybe once a year. It's always fun when we can go out there and play under the lights.
We really have some great chemistry right now on the defensive side of the ball. We already know what's going to happen when we get out there. Everybody is comfortable with everybody and we call each other by our first names and let each other know when you've messed up out there. That's how you know you have a close-knit group.
We just have fun out there. This is a game, first and foremost. You should be having fun, because if you're not, you probably shouldn't be playing this game. It's great to be a part of a group that enjoys each other because we're always having fun out there.
Dashon Goldson and I take a lot of pride in our jobs at safety. We understand that we're an intricate part of this defense and this team. Turnovers translate over to wins and you can see that by the percentages. The numbers show that more turnovers increase your chance of winning and we understand that we can control a lot of that. If we can force fumbles, and we can pick up fumbles off the ground and get interceptions, or tip balls that cause interceptions – that translates into more time for our offense and ultimately more wins.
We want to be as disruptive as we can so that's why you see us working on our ball skills on the practice field so much. We're always competing to see who has the best hands, who can have the most interceptions, who can have the least amount of mental errors. That's all part of it and we enjoy it.
Dashon posted a picture of me sleeping on his Instagram, but no worries. It's all in fun, but you better believe that I'm going to get him back. Last I checked, he had 200 or 300 likes on that picture, so I'm looking forward to getting him and getting him good. It'll be my payback.
Even though we had the day off on Sunday, it was good to see so many of my teammates here at headquarters working hard. I used the day to get my body right – cold tub, hot tub, massage, chiropractor and a quick lift. Then I just went home and relaxed and watched the Olympics. But I'm glad to be back on the practice field.
Thanks for reading my blog and I hope to see you Friday night at Candlestick when we host the Minnesota Vikings!