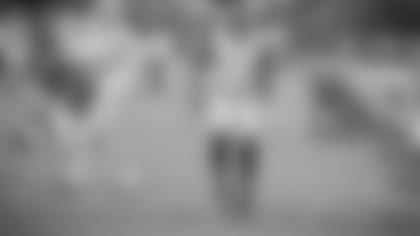 Donte Whitner emerged as a leader of the 49ers secondary in 2011 during his first season in San Francisco. A man who takes pride in his mental side of the game, Whitner has also established himself as one of the league's hardest-hitting safeties throughout his career. The veteran spoke with 49ers.com about the team's development through the first preseason game.**
It's always good playing in that first preseason game, you want to get out there. You want to get your feet wet. Being in practice and being in a game is a totally different feel. You want to get out there and get some live action. You want to let the shoulder pads pop a little bit, and you just want to fly around to get your legs back under you. That's what you want to do in your first game and I think we did that.
We gave up a play that was about 52 yards, but it was a routine defense we were in. It was just a mistake in the back end, we just have to be disciplined in what we do. They still only got three points out of that drive. Like coach Vic Fangio says all the time "They are not in until they are in." It doesn't matter if a team gets 600 yards on you if they only have seven-to-10 points. We don't want to give up that many yards, but we understand that red-zone defense is what helps you win football games in the National Football League. We held them to a field goal on that drive, but we just can't give up that big play.
It is a lot of fun seeing the younger guys get out there. They come in, a lot of them have dreams of playing in the NFL, they get here and they don't know what to expect. Then they get out on the football field and you see a lot of them have huge eyes. They don't know what the speed of the game is going to be like when they get out there in live action. Then to actually hear them when they get out on the sideline and understand it's not too different from college. It is faster. It does kick up a notch in the regular season, but right now it's not too much faster than what it is in college.
It just brings back memories of me being a rookie having to play on all the special teams and having to take the majority of the snaps in the preseason. I actually know what they are going through. It is an exciting time, but it's also a time filled with a lot of anxiety. Most of, if not all, our rookies really handled it well.
Trenton Robinson did pretty good. He had a big pass breakup, which should have been an interception. I know the receiver was also competing for the ball, but actually on that play he did get kneed in the thigh. He got a small thigh bruise so from that he took away that he's not going to be like the rest of the guys in the NFL and not wear pads. He is going to start putting pads in there. He understands that he can't get injured when you don't play that way, so we have been seeing him with pads in there. He has been doing a good job.
We sit together in the meetings. I am helping him with everything he has questions on because I know as a rookie things are moving so fast out there. There are so many checks and so many defenses, primary calls, secondary calls. Just being a vocal guy back there as a rookie is tough, but he's picking it up well, he is moving well, he is in the right spots and he is not making mental errors. That's all you can ask from a rookie right now is to not make errors, know what you are doing and give us maximum effort. That's what he is doing.
The rookies are going to hook us up with some flight food on our way to Houston this weekend. We have a couple of rookies in our room now. It is a big thing. The only thing he has done so far is get us some snacks that we keep in our meeting rooms. Whatever our guys put on the list, the rookies have to go out and get it. He does a good job keeping us stocked up in there. Other than him and Mike Thomas bringing helmets and shoulder pads out to practice, we haven't really done anything to them. They can understand that one of these nights we are going to go out to dinner. We are not going to kill them, but we are going to spend a little bit of money.
The team is very excited for this trip. Any time you go on the road to a different city it's always fun. It's just you, the organization and everybody that travels against that state and against that organization. It's almost like an us against the world type of thing.
We're going to be able to test ourselves. Last year in the preseason they were able to move the ball a little bit against us and you know they have a top-5 offense in the National Football League again. They have a running game with a zone scheme, they'll run a lot of play-action and boot-actions off of that, they have a good tight end in Owen Daniels and Andre Johnson. They have a good offense.
Even last year when they went into the playoffs against the Baltimore Ravens, they almost won that game with a backup quarterback. You know they have a good scheme and you know they're well-coached, so it's going to be good test for us to go on the road and see what we can do.
We're looking forward to it. It's going to be a good offense versus a good defense and then the young guys get to come in to play. Even though wins in the preseason don't necessarily translate to wins in the regular season, we still want to get out of there with a 'W'. It always feels better when you win. [
](http://www.pntrs.com/t/R0BKR0hFR0BKTERHREBISEtERw?website=165321)